Ahhh!!! Who else is freaking out?!? Get your tickets on our Registration page and join the fun with our Saikou Family!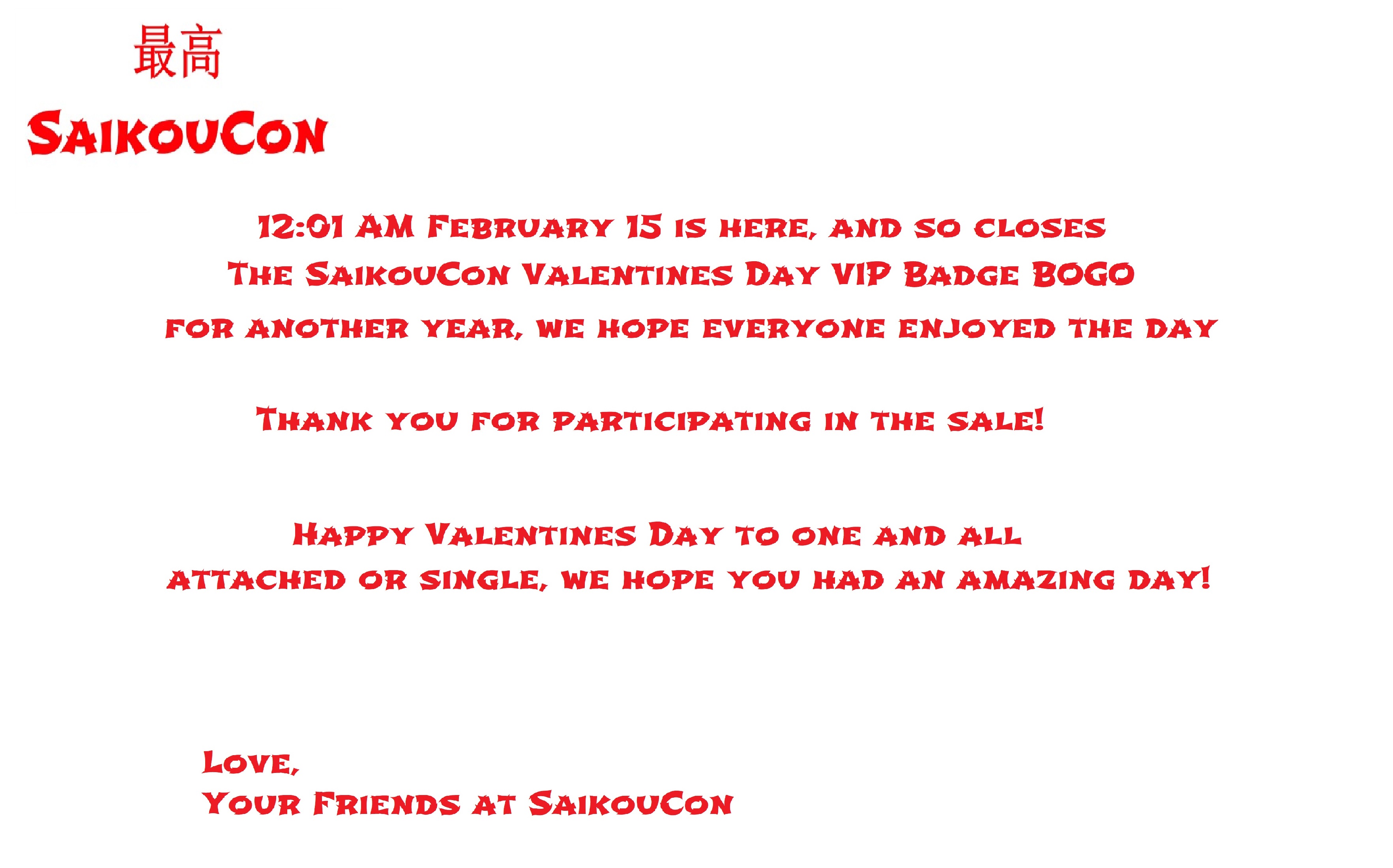 Also, congratulations to Chris D. from Toms River, NJ! Chris was selected by blind drawing as the winner of our Viz for Valentine's Manga Giveaway!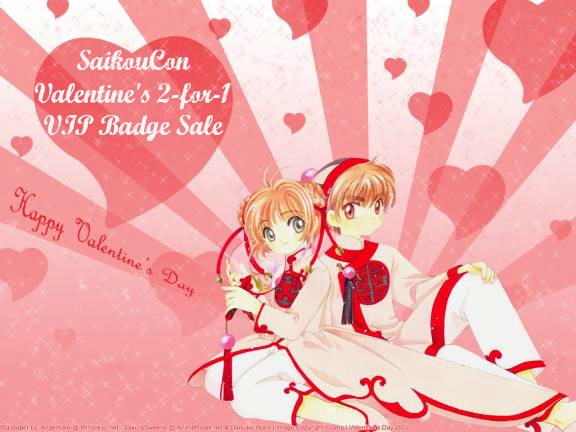 The Valentine's Two-for-One VIP Badge Sale for 2019 is on!! 24 hours only, starting at 12:01 AM on February 14 and ending at 12:01 AM on February 15, when you purchase one VIP Badge to attend SaikouCon 2019 (any VIP Badge; 3 Day, 1 Day, Adult, Teen) you automatically receive a second VIP Badge for FREE!!! Valentine's special applies to VIP Badges ONLY. No coupon codes, no extra steps, you just get an extra badge for every VIP Badge purchased! Buy one get one free, buy two get two free, and so on! It's even better than our Group Rate; details on Group Rates on the bottom of the Registration page.
As in years past, the addition of the second VIP badge is done automatically on our staff's end and will not be seen in the PayPal shopping cart. PayPal never wants to cooperate with our sales and specials, the one time we tried adjusting the shopping cart parameters for the Valentine's VIP sale, PayPal wiped our cart and purchase button links out completely. You'll see your free badges when you receive your Registration Confirmation e-mail from the con chair within 12-72 hours following your purchase; remember the confirmation messages are not sent by robot, they are typed out indivdually by the con chair to every person.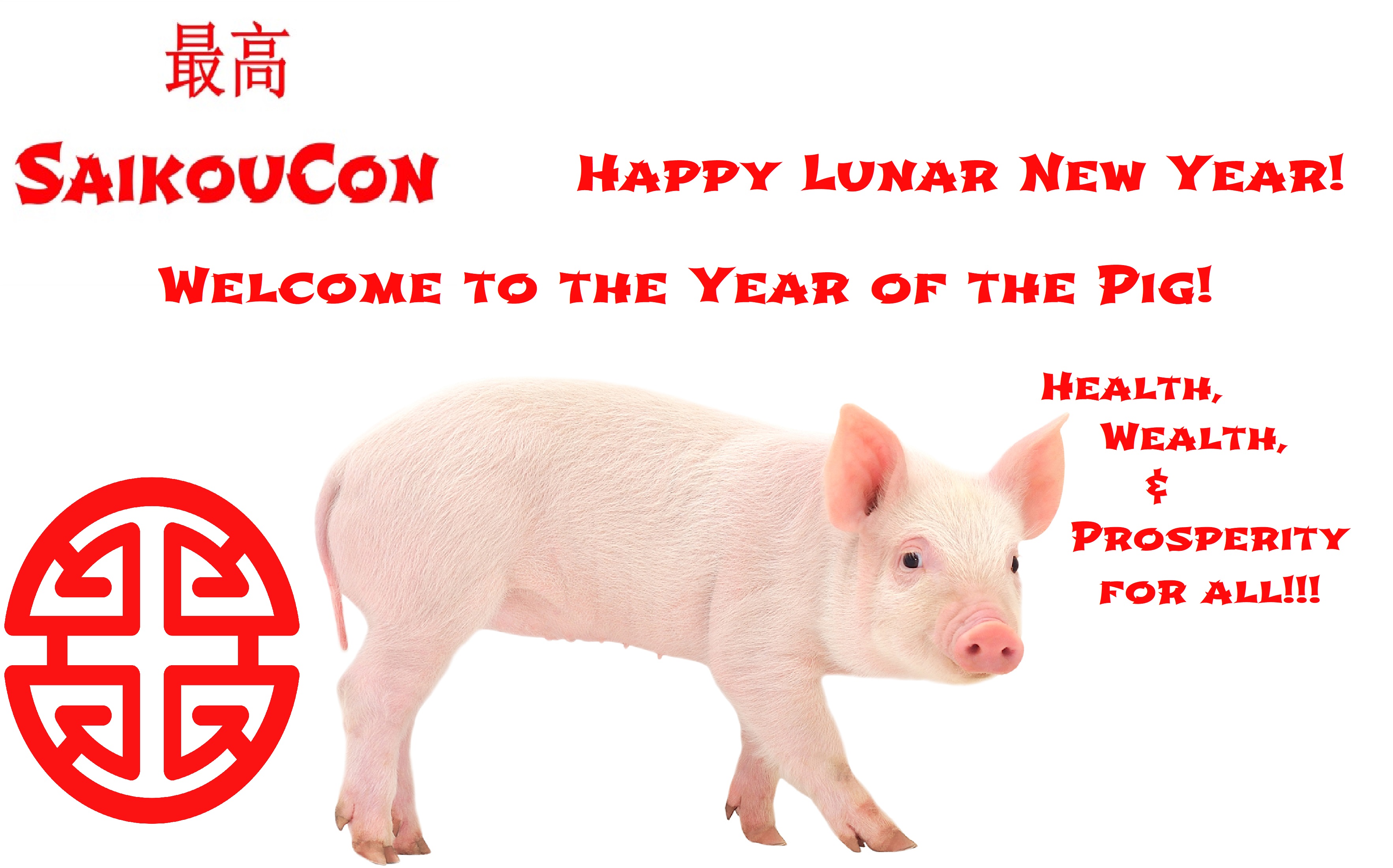 Special Guest Announcement Time!!! Please welcome back to SaikouCon 2019, Special Guest 8BIT Ambitions!! 8BIT Ambitions had such a blast with us in 2018 that she asked to come back as Special Guest once more, we had a great time with her too so we gladly obliged! 8BIT Ambitions will be helping with some of our cosplay events, will be hosting panels, having fun meeting and chatting with people at her table in Guest Star Alley, and maybe a few surprizes too! Welcome back, 8BIT Ambitions!!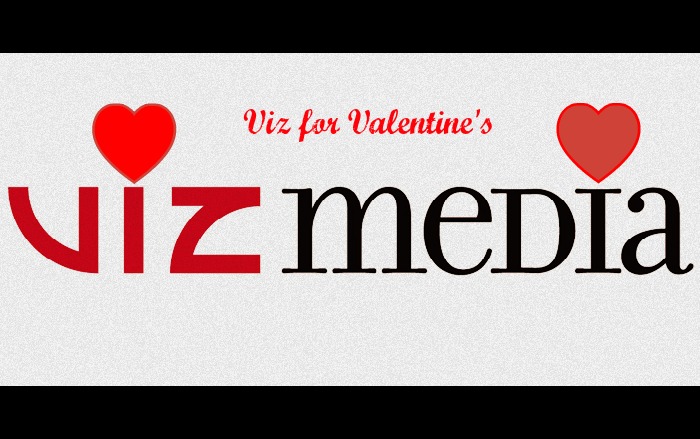 Our Viz for Valentine's Giveaway entry is now open on the Events page! Head over and enter for your chance to win two Viz Media Manga volumes for Valentine's Day! Good luck to everyone that enters!!!
Also, congratulations to Ashley H.! Ashley is the winner of our SaikouCon @ Setsucon 3 Day VIP Badge Giveaway for Setsucon attendees!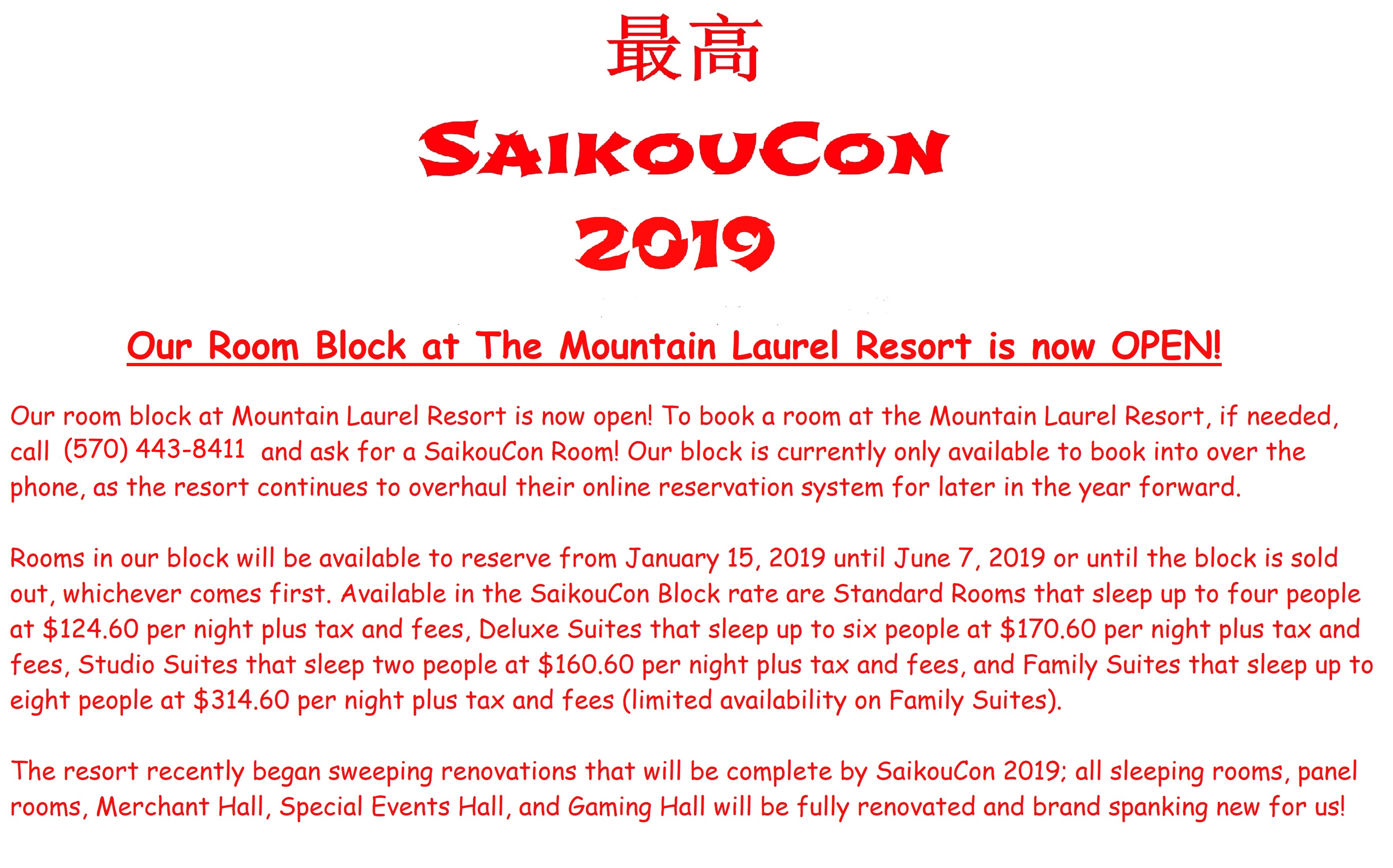 Also, in February, keep your eyes on the Merchant page here on SaikouCon.com for the list of Merchants that will be selling their wares in our 2019 Merchant Hall!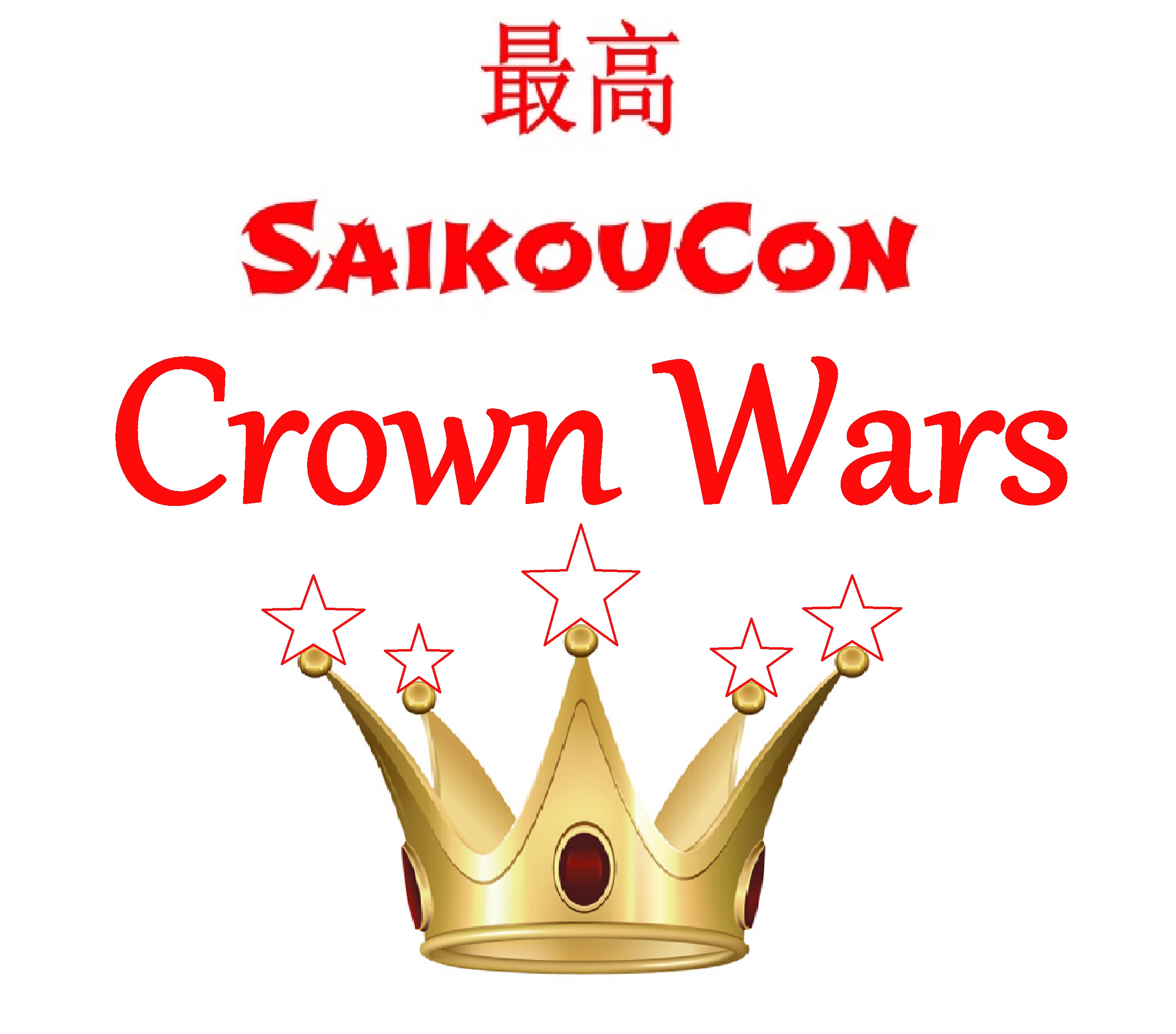 The Crown Wars stand revealed! There came to SaikouCon... a Crown. Upon the seventh year of the anime convention, the Crown arrived and brought with it war. War for the power it bestowed upon the wearer, the power of queen or king of SaikouCon! The Crown Wars will turn friend against friend, lover against lover, sibling against sibling, and parent against child. Do you have what it takes to claim the Crown and become the ruler of SaikouCon?


Visit the Events page here on SaikouCon.com and scroll down below SaikouCon 2019 to see the full gameplay set up and rules for The SaikouCon Crown Wars! Hopefully the game will become as fun as the Saikou Crew is hoping and be a yearly part of the convention.
Attention Panelists! Panel submissions for SaikouCon 2019 are now open!!! Head to the Events page here on SaikouCon.com and scroll down to the panel submission form. Please review the info and guidelines located right above the submission form; be original! Be unique! Be something you yourself haven't seen at a convention, we at SaikouCon aim to have new and unique programming every year, with some recurring attendee favorites in the mix too of course, so we can give every year the wonder and excitement of your first con experience! Let's make 2019's programming the best yet!
So, after years of requests, we are finally relenting and throwing a Masquerade at SaikouCon 2019! The SaikouCon Kamenbudōkai is here! More details will be coming soon about the Kamenbudōkai, Special Guest WildSpice Cosplay will be helping out with some of the events within the masquerade as well as a soon to be announced Featured Guest! The masquerade will be taking place on the Friday evening of SaikouCon 2019. And debuting at the Kamenbudōkai will be the SaikouCon Crown Wars, full details on this new and we hope exciting part of SaikouCon will be revealed this Saturday, January 5!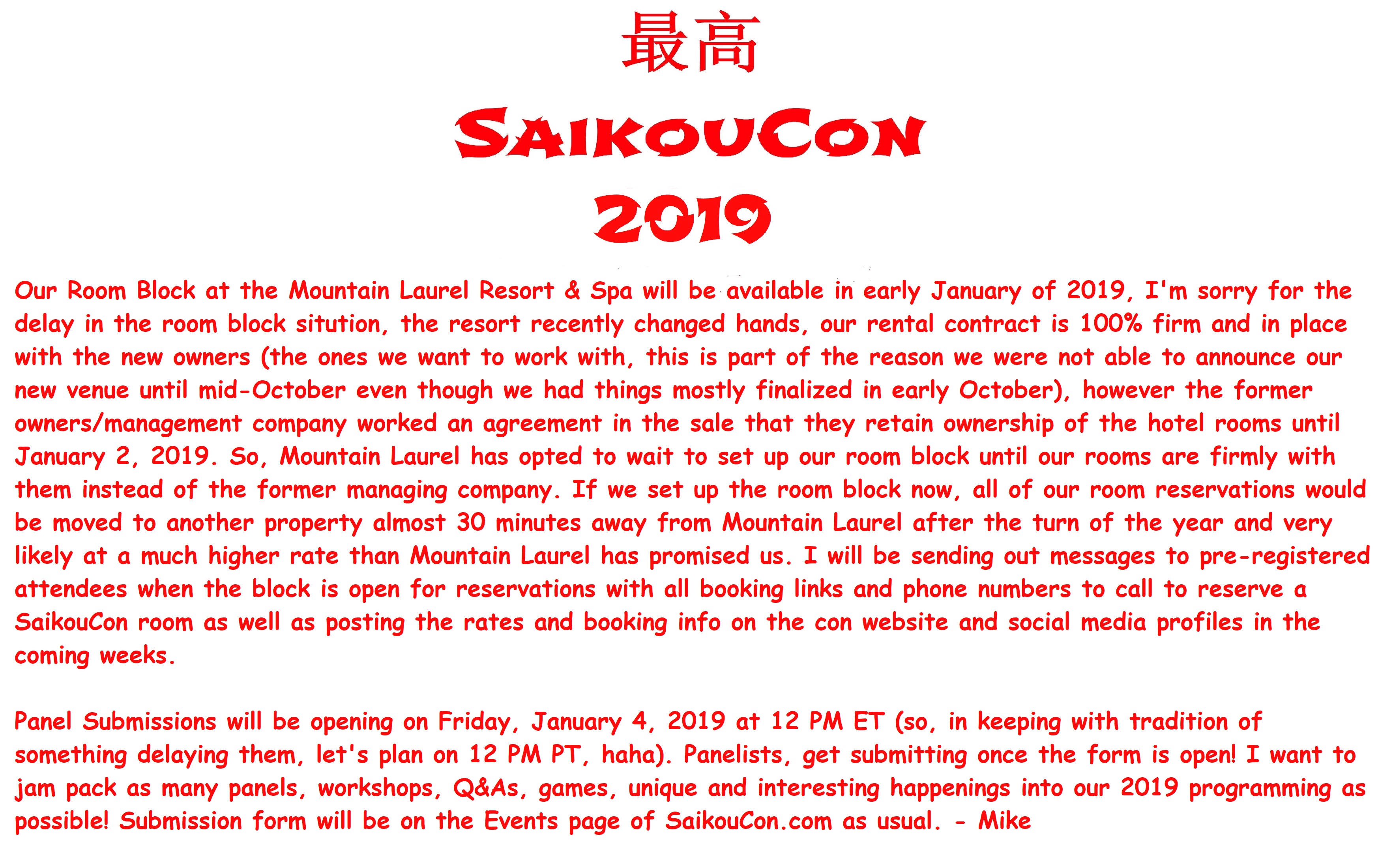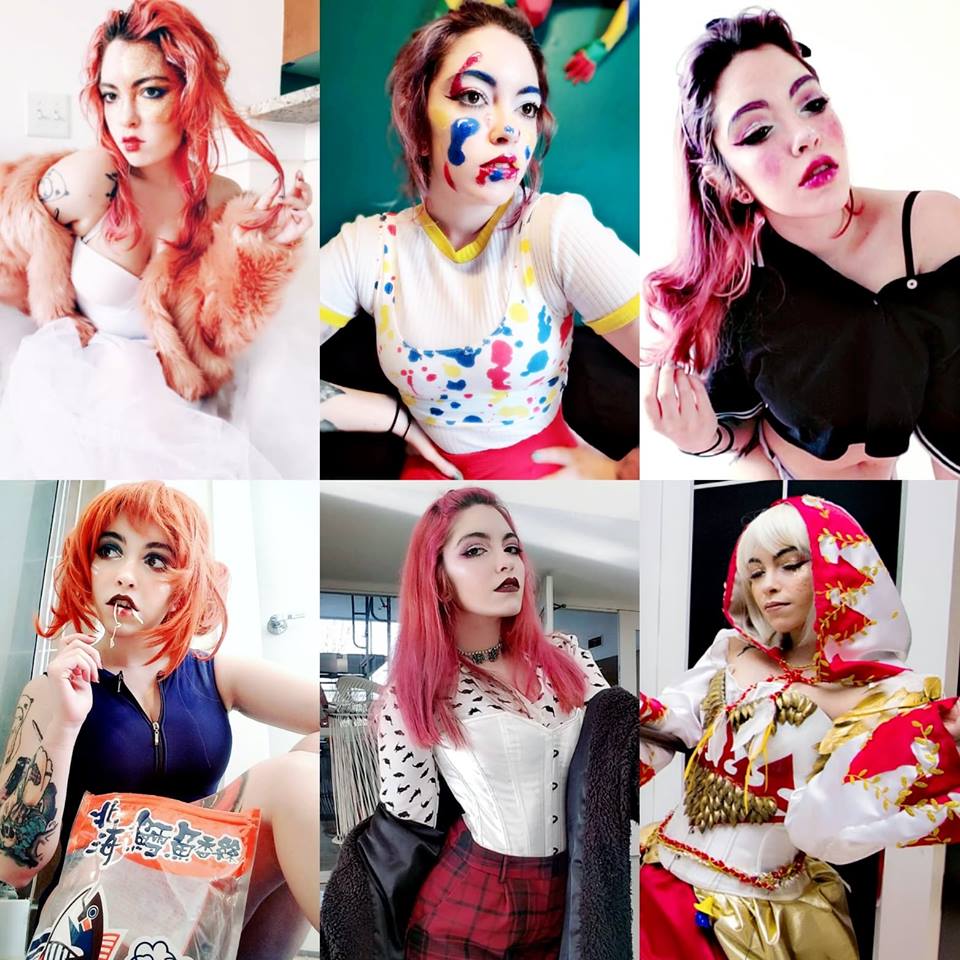 Time for our final guest announcement before the turn of the year. Joining us as a Featured Guest is our beloved Dolly Love! Dolly has been with SaikouCon since the very beginning in various capacities, this year Dolly will once again be acting as a guest judge at our Cosplay Contest, participating in some of our new cosplay events, maybe presenting and co-presenting some panels, repping Sher Magazine, and having a blast with everyone. Welcome back, Dolly! We're always happy to have as much of the Saikou Family with us as possible, and Dolly will always be part of our family, we hope you all feel the same!
Stay tuned right after the holidays for a big announcement about a new side project of SaikouCon's for next year's holiday season, more guest announcements, some new events within the con programming for 2019, and the coming of the Crown Wars... in the meantime, Happy and Healthy Holidays to you all! Many blessings and much joy to us all, have fun, be safe, be present with loved ones! Catch you all in the New Year!!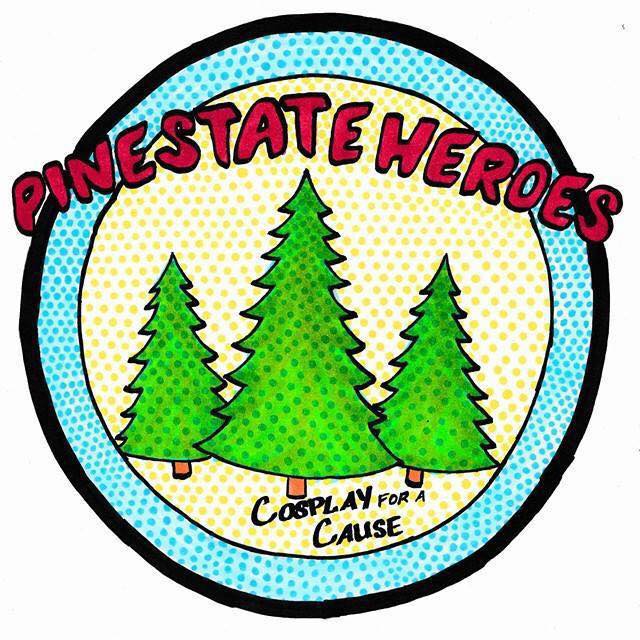 A weekend Featured Guest announcement coming at you! We are happy to announce that cosplay group the Pine State Heroes will be at SaikouCon 2019 as Featured Guests! The charitable group hails from Maine, when not at conventions they visit children's hospitals near and far cosplaying as superheroes for visits with the children, as well as charity events to help raise publicity and funds for the cause being sponsored. In that same vein, the Pine State Heroes will be helping out at our 2019 Charity Auction as guest MCs (more info about this year's charity auction, the cause proceeds will be given to, and other info coming in the New Year!), the rest of SaikouCon 2019 the group will be at their table in Guest Star Alley by the Special Events Hall and having fun throughout the other events and activities in our 2019 programming!
Entry form for our SaikouCon Holiday VIP Badge Giveaway is now open! Originally scheduled for December 1, we had to delay a day while the entry form widget's coding was being repaired, I think we're going to stop using the one that is part of our web host; head over to the Events page here on SaikouCon.com to review the contest rules and fill out the entry form!
Ready for another Guest of Honor announcement? We thought so! We are excited to welcome Ciara Hanna as a Guest of Honor to SaikouCon 2019! Ciara is best known as Gia Moran, the Yellow Megaforce and Super Megaforce Ranger, the 20th and 21st anniversary seasons of the Power Rangers franchise. Ciara has also been seen in television series such as Hawaii Five-0, New Girl, Anger Management among others of note; she has also appeared in music videos for Blessthefall and Sum 41. As well as appearing in horror film Blood Lake: Attack of the Killer Lampreys and played the role of young Heather Locklear in made-for-TV film The Unauthorized Melrose Place Story. We're all mega excited, super mega even (see what we did there?) to have Ciara with us for 2019, and we hope you are too! Welcome to the Saikou Family, Ciara!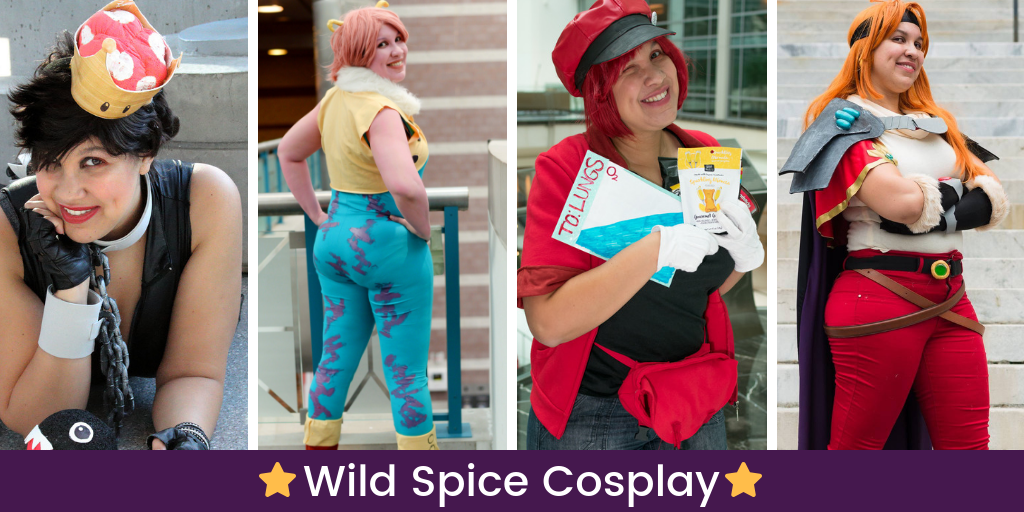 GUEST ANNOUNCEMENT! SaikouCon welcomes back as a Special Guest, WildSpice Cosplay! WildSpice previously joined us in 2017, and we're happy to have this Philadelphia, PA based cosplayer and photographer back with us for 2019! WildSpice will helping out with some of our new cosplay events this year and maybe presenting a panel or two as well. When not cosplaying or gaming (make sure to catch her streaming on Twitch!), WildSpice is also a skilled photographer, with a portfolio that includes not only cosplayers and cosplay events, but also social events, weddings, and more. For more info on WildSpice, and the rest of our Guest Star line up for 2019, head to the Guests page here on SaikouCon.com.
Thank you to everyone that took part in our Cyber Monday General Admission Badge BOGO Sale! 12:01 AM ET on November 27 has arrived, this closes the sale once more until next November; and remember, our Valentine's Day VIP Badge BOGO Sale is around the corner on Valentine's Day! Happy Holidays everyone! Stay tuned for several Featured Guest and Special Guest announcements over the rest of the week and maybe another Guest of Honor announcement this coming weekend!
IT HAS BEGUN! 24 hours only, 12:01 AM ET, November 26 until 12:01 AM ET, November 27 all General Admission Pre-Registration Badges to attend SaikouCon 2019 are Buy One, Get One Free!!!! This Cyber Monday, why not take a quick break from massive corporate retailers and double your SaikouCon fun for the price of one this holiday season?!? No coupon codes, no special directions, you just get another matching 2019 General Admission Badge for free with purchase of any SaikouCon 2019 General Admission Badge!!! 3 Day and 1 Day General Admission Badges included, VIP Badges however are excluded, don't worry, Valentine's Day is coming...
The PayPal Shopping Cart we use to process Pre-registration Badge purchases will not show the second badge, all registration file adjustments are done on our side, your Registration Confirmation email, received within 12-48 hours following pre-registration purchase (registration confirmation messages are not automated, each one is sent personally by the convention chair), will show your additional free badges. Badges may be purchased on the Registration page here on SaikouCon.com.
We are stoked to announce our first Guest of Honor for SaikouCon 2019, Chris Patton! You'll recognize Chris's voice from the English dubs of Dragon Ball Z: Tree of Might (Turles), Fullmetal Alchemist/Fullmetal Alchemist Brotherhood (Greed), Full Metal Panic!/Full Metal Panic? Fummofo/Full Metal Panic: The Second Raid (Sousuke Sagara), Soul Eater (Asura), The Guyver: Bio-Boosted Armor (Sho Fukamachi/Guyver I), Air Gear (Itsuki Minami), The World God Only Knows (Keima Katsuragi), Gatchaman: The Movie (Sabu), and many more! We had spoken with Chris a few years ago about guesting with SaikouCon, unfortunately he was already booked for another convention on the same weekend, but now everything has fallen into place and we couldn't be happier; please welcome Chris to the Saikou Family!
Chris is appearing courtesy of Pink Daisy Entertainment.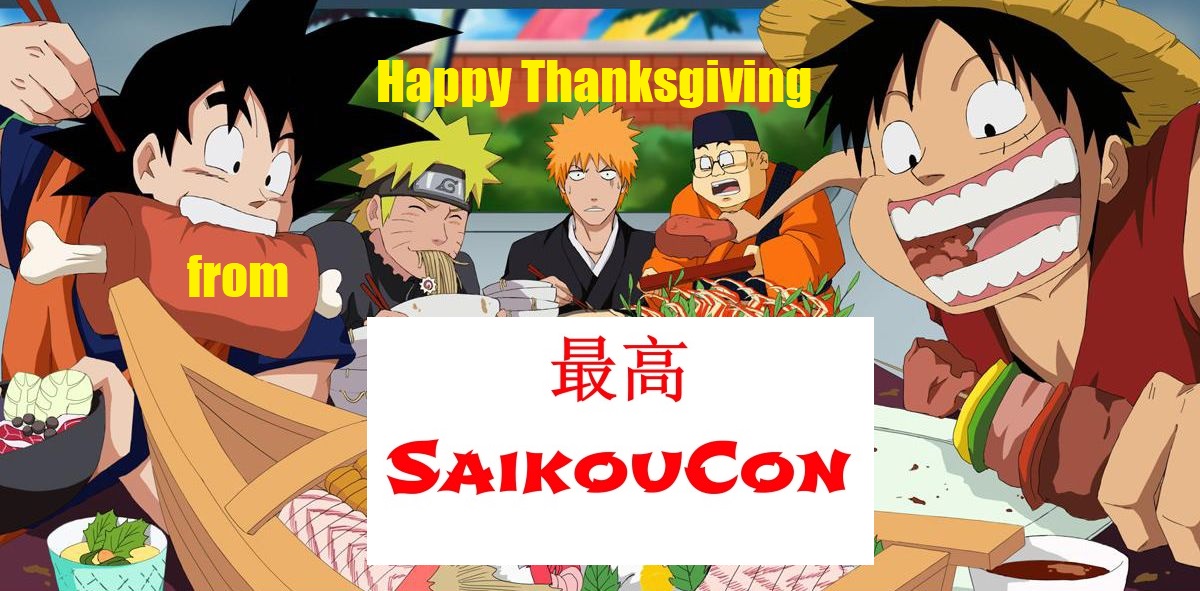 Happy Thanksgiving everyone! Thank you to all our attendees, merchants, volunteer staff, staff, friends in the con community, guest stars. Without all of you, we wouldn't be here and we wouldn't be continuing into the seventh year of SaikouCon. Thank you for making this convention a community, thank you all for being part of the Saikou Family! Be safe out there, enjoy your meal, enjoy your family and friend gatherings, be present, be grateful, be kind, be loving and compassionate in a world that likes to pretend we all forgot how to be all of the above. Please don't drink and drive, and remember to treat your designated drivers like the treasures they are.
PS - The winner of our SaikouCon Mangagiving 2018 is Becca H. from Benton, PA! Congratulations Becca!!
Our first Special Guest announcement of the year was also the first Special Guest announced last year, please welcome back Bfarve Cosplay! He had such an awesome time with us in 2018 that he asked to come back again in 2019, we're happy to oblige the request and hope you are too! BFarve will be helping with some of our cosplay events again this year, and since we're organizing some new ones we've never included in our programming before, this is the perfect time to have BFarve back. Stay tuned for the announcements about those cosplay events after the holidays have concluded along with a big announcement about a new side event tied to the holidays that SaikouCon is looking to host in 2019...
Want another Featured Guest announcement before Thanksgiving? We thought you might. Join us in welcoming to SaikouCon for the first time, Husky Entertainment LLC! Husky Entertainment will be facilitating and running a new to SaikouCon Online Gaming Lounge! We'll still have our Retro Arcade run by staff members Matt and Kate, but Husky Entertainment is going to seriously level up your video gaming experience at SaikouCon 2019 in our Gaming Hall! We hope you're truly as excited as we are to have Husky Entertainment with us this year and hopefully many to come!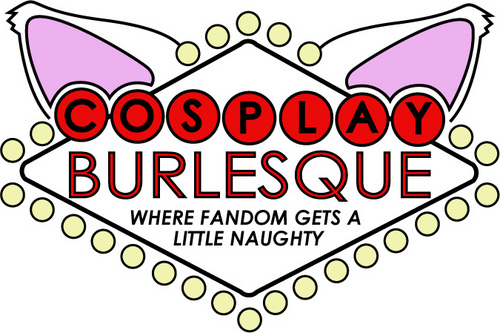 On this cold day that has brought us the first snow of the season (well, first one with any accumilation), how about a guest announcement that is sure to warm you up? SaikouCon is happy to welcome Cosplay Burlesque as Featured Guests to our 2019 show! This is Cosplay Burlesque's first time back with us since 2016, we are super excited that we have enough performance space in our 2019 venue, The Mountain Laurel Resort & Spa, for the troupe to join us and add some needed sizzle to our year.
More guest announcements will be made over this weekend and next week before the Thanksgiving holiday. Don't forget, our Mangagiving Contest is open until November 21, head over to the Events page to enter! Speaking of contests, the winner of our SaikouCon Party Table at DerpyCon 2018 VIP Badge Giveaway is Nyjahi M.! Congratulations Nyjahi!!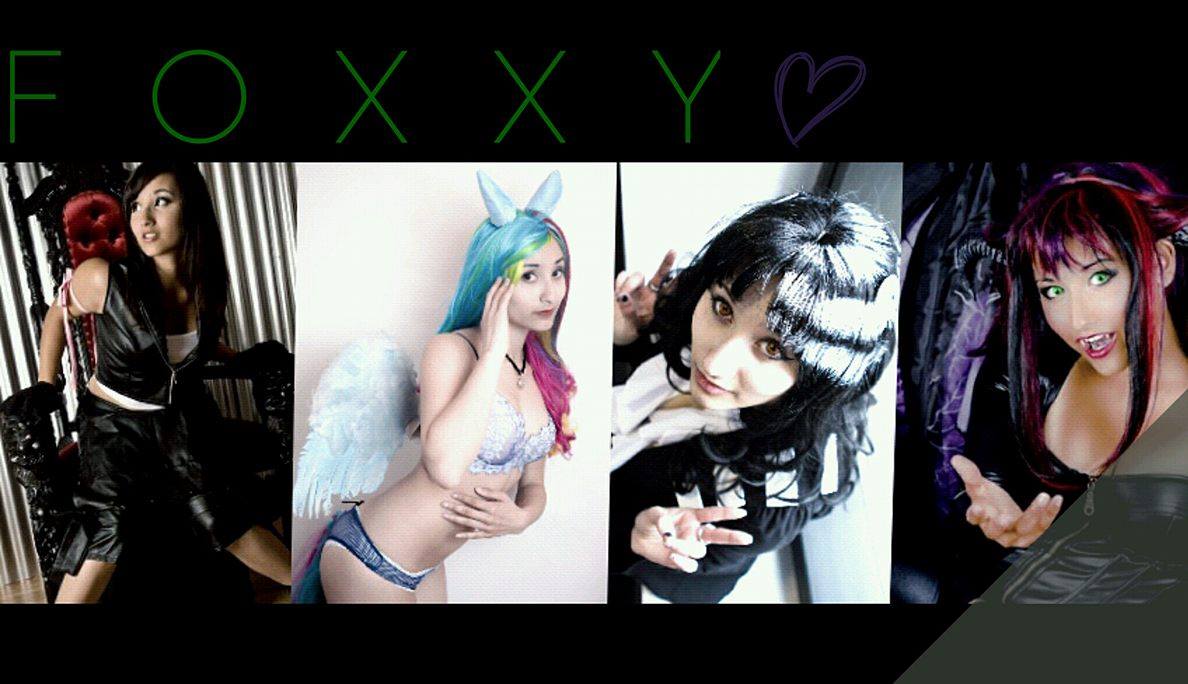 Our first Featured Guest of 2019 is our longtime friend (and let's be honest, family), Foxxy! This is Foxxy's fourth time as an official Featured Guest at SaikouCon, and we're stoked to welcome her back again! Foxxy will be one of our Cosplay Contest Judges once more this year, and possibly exploring more of her skill as a gamer and presence in the gaming community, and maybe a panel or two... stay tuned for more from Foxxy at SaikouCon and more Featured Guest announcements coming over the remainder of this week!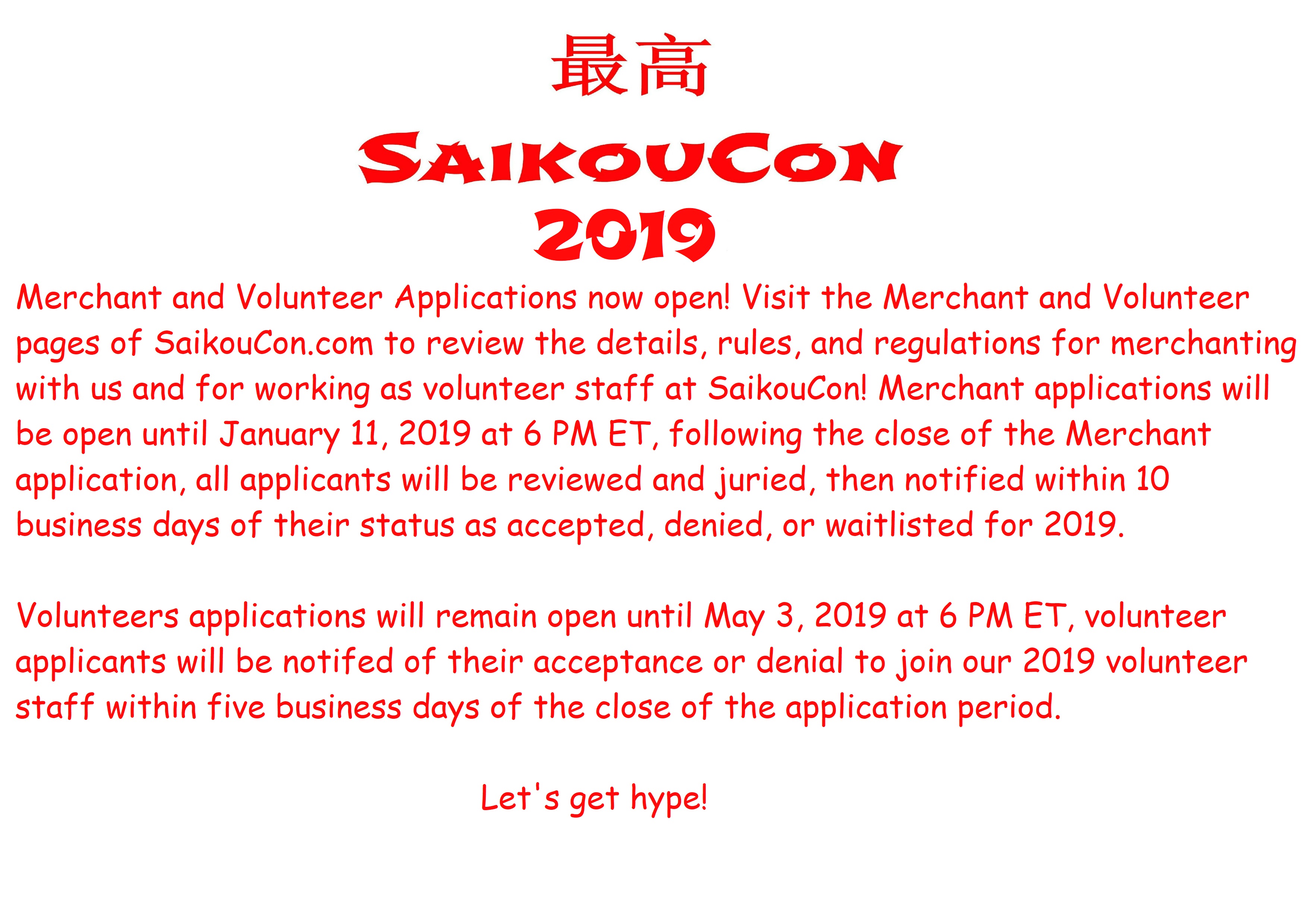 PS - Congratulations to Brandon Z. from Stroudsburg PA, Brandon is the winner of our Halloween Horror Manga Giveaway! Speaking of giveaways, our SaikouCon Mangagiving 2018 Giveaway entry is now open too!! Visit the Events page to enter!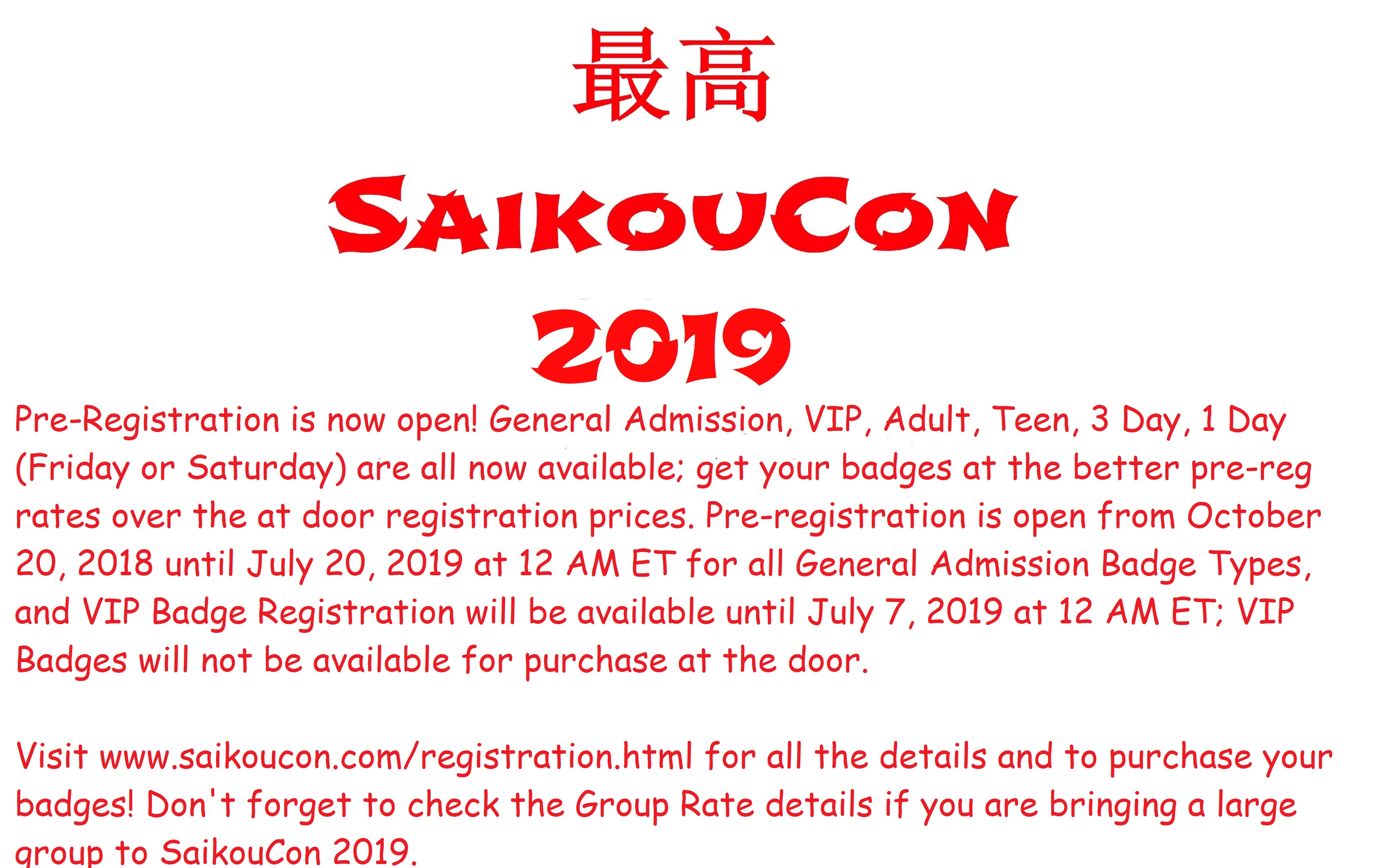 Visit the Registration page for all the details on Pre-Registration (advance ticket sales) for SaikouCon 2019!
There you have it, friends! SaikouCon is moving up to the mountains and slightly away from city life for 2019 and maybe beyond! As trepidatious as myself and the rest of the Saikou Crew were to move out of the Lehigh Valley and back up into the Pocono Mountains again after the 2016 show, moving to the Mountain Laurel Resort & Spa gives us some much needed leg room to grow, while offering our attendees many more amenities than we have been able to for a few years now. The Lehigh Valley has been great to us, and we're by no means leaving the Valley behind completely (most, if not all, of our side events, like the Anime Night Free Screenings we do with The Encounter Comics and Games, will remain in the Lehigh Valley), it's just time for us to be in a venue that allows us to grow. This is our seventh year in 2019 and our recently concluded sixth felt like the first again in all the wrong ways, so we hope you are as excited for this new beginning as we are! Stay tuned for more announcements, including guest announcements, soon. Pre-registration for SaikouCon 2019 will be opening this Saturday, October 20, 2018 at 12 PM ET, Merchant Applications and Volunteer Applications will open on November 1, 2018 at 12 PM ET, Panel Submissions will be open in December 2018 (exact date TBD), and Media Applications will open sometime after the turn of the year. Who else is stoked?!?
Sorry it's so late in the day, but SaikouCon is back August 2, 3, & 4, 2019! New venue reveal coming at 12:01 AM on October 17! Get excited!!!
EDIT: the reveal is coming 12:01 AM on October 18 everyone, my apologies, I mixed up the dates for Tuesday and Wednesday - Mike
Well, here it is a month after SaikouCon 2018. I'm sorry it took so long to write out the year end message, I've been on the road looking for a new venue pretty much non-stop since SaikouCon 2018 concluded, and it took me this long to organize my thoughts and put together what I wanted to say. First off, let me once again say thank you to all of our staff, attendees, merchants, volunteer staff, Guests of Honor, Featured Guests, Musical Guests, Special Guests, and sponsors! Without all of you this show wouldn't happen, I know I say that every year, but it doesn't make it any less true; thank you. We are thankful for your continuing support, more than I can put into words, in a lot of ways we're undeserving of the continual second chances so many of you give SaikouCon year in and year out as we seem to take two steps back for every step forward as we get closer to the decade mark for the show, particularly when it comes to venues. That said, we are on the hunt for a new venue again, we have been scouting locations and interviewing with venue management pretty much since post-show clean up concluded. So far, nada, zip, zilch, no sale, better luck next time. Same old story, the places that want to work with us aren't large enough and the places that are large enough either don't want to or can't accommodate us as in the case of the Sands Casino; they want to work with us, but we would have to ban cosplay totally if we went there persuant to Pennsylvania laws concerning costuming on casino property. We've been from one end of Allentown to the other, currently we are waiting for some proposals from the last couple of viable venues in Allentown proper for SaikouCon; viable in terms of enough space for a decently sized Merchant Hall, space for special events (our concerts, cosplay contest, charity auction, perhaps finally the addition of a true masquerade), and of course rooms for panel presentations. I hope to have news before we're too deep into Septtember, but as I said at the SaikouCon 2018 closing ceremonies, I will not settle for a venue that presents workable space issues again, I am confident we will find a suitable venue and Year Seven SaikouCon will happen in 2019, but if we don't then we will wait until we find a space we can truly grow and evolve in. SaikouCon will not be nicknamed "Claustrophobicon" again, I promise!
PS - Thank you to everyone that signed the card for me that The Adarna organized, the young ladies that baked me the Dragon Ball cookies (they were delicious!), Bfarve Cosplay for the Captain Spidey print, Koyuki Panda for the Shuri print, and Christina Kelly for the signed character art cards. They all mean a lot to me, I appreciate your gifts and thoughtfullness very much! - Mike
The search for a new venue is on again.... stay tuned for news, we're hoping to have a new hosting venue and confirmed dates for 2019 before August, 2018 is out!