SaikouCon 2014 Guests of Honor
Jessie Pridemore, also known as AnimeAngel or RuffleButt, is a 14 year veteran of the diverse and colorful cosplay community. An accomplished seamstress in her own right, she has served as a character model for some of the biggest companies in the Anime and gaming industry, including Aniplex, Funimation, Bandai and NIS America among others. For conventions, she has judged numerous Masquerades and coordinated competitions of all kinds.
Jessie also directs her passion for all ages of fandom by working with 2K Play to involve kids in better fitness through games during the Nickelodeon Worldwide Day of Play.
When not working on her latest costume creation, Jessie's passion is photography, with her work being included in various online and print publications including Newsweek. Follow RuffleButt on Facebook: www.facebook.com/RuffleButtCosplay.
Biography courtesy of AnimeCons.com
Greg Houser - Voice Actor
Greg joined the voice acting ranks through his background in IT and Engineering (no, seriously). That was 13 years ago... since then Greg is proud to have been in titles such as "Evangelion", "Shiki", "Tales of Vesperia", "One Piece", and "Ikki Tousen: Great Guardians".
Since Pennsylvania isn't known for its anime studios, Greg has also provided vocal talent for companies such as AstraZenica, DuPont, Lockheed Martin, CBS, Honda of America, and the NBA, among others.
Additionally, Greg has earned advanced degrees from Pennsylvania State University and studied with the Walnut St. Theatre, the Wilma Theatre, and the People's Improv Theatre, in addition to having performed in numerous musical productions in the region.
Bill Rogers - Voice Actor
Since his debut in "Assemble Insert" back in 2001, Bill has been providing voices to some of your favorite characters in some of your favorite shows. If you've watched "Shingu", "KO Beast", "His and Her Circumstances", "Magical Witch Punie-Chan", "Joe vs. Joe", "Madara, "To Heart", "Kujibiki Unbalance", "Queen's Blade", "Gokudo", or "Comic Party" you've probably heard his voice. But he is best known for his work in "Gravitation" (Touma Seguchi), "Boogiepop Phantom" (Yamamoto), "Genshiken" (Tanaka Souichiro), "The Third" (Kevin) and "Ikki Tousen" (Gakushuu). He can also be heard on Saturday mornings as the voice of Brock in "Pokémon", (as well as over 40 creatures that appear in the show).
In the world of video games, Bill has lent his voice to the X-Box game "Bullet Witch". On the Wii console he voiced cartoon legend Heathcliff in "Heathcliff: Fast and the Furriest" as well as supplying the voices for Red, Yellow and other fun characters in the "m&m Adventure" and "m&m Kart Racing". He has also voiced various Pokémon in the game "Poképark" and it's sequel "Poképark: Wonders Beyond". But fans best know him as the legendary Lucario in the smash hit "Super Smash Bros. Brawl".
Outside of the anime & video game field, Bill has worked with English dubbing groups for live action and animated programs from Italy, Korea, India and Turkey. He has also been seen on stage in various theatre productions and has worked on numerous independent films. He can also be heard in audiobooks "The Privilege of the Sword" and "The Fall of the Kings" available on audible.com.
Native to Philadelphia, Marc Swint is a new-media generation voice actor, writer and producer. For more than ten years he's pinballed as a voice talent, working in small machinima and indie film, medium flash animation and indie games and one large anime project; Mass Effect: Paragon Lost as the voice of Mason. More commonly known as "The Engineer", he works on podcasts and web-shows (Anime Abandon w/ Bennett The Sage, The Spoony Experiment, BadCall TV) wearing the hats of "acting monkey", "graphics guy", "joke writer dude" and "oh no, oh no, it's broke please fix it demon".
During Toonami's off-air days, Marc provided the voice of Toonami Aftermath's T.O.M. for a short series of bumps and wrote/directed Aftermath's short video event "The Reveille" run during the #BringBackToonami days.
Sonny Strait - Voice Actor
Most recognized as the voice of Krillin on the wildly popular, animated TV show Dragon Ball Z and as an illustrator for, arguably, the most famous, independently published comic book series Elfquest. Strait has over 20 years of experience in the arts.As a voice actor, Strait is considered to be one of the most recognized voice actors in the business. Besides Dragon Ball Z's Krillin he has worked on many popular animated characters including Usopp in One Piece, Maes Hughes in Fullmetal Alchemist, and Cartoon Network's laid back, robot host Toonami TOM. He has also worked as a writer and director on several TV series including Dragon Ball series, Case Closed, and Lupin the Third.
As a comic book artist he has 17 published works to date including his debuted self-published series Mr. Average featured in The Comics Journal and Elfquest which was published by both WARP Graphics , DC Comics and now Dark Horse Comics. He is considered one of the top Elfquest artists from its over 30 year history and is currently providing colors on the latest installment, Elfquest: Final Quest.
In 2007, he wrote and illustrated a graphic novel about a reluctant punk rock, faerie princess named Goat. The book, called We Shadows, was published by Tokyopop and was nominated by The American Library Association for Best Graphic Novel in 2008. The book received glowing reviews in many trade magazines including Publishers Weekly, Newtype, Play and Anime Insider. New volumes of We Shadows currently available on Sonny's website for the series, www.weshadows.com.
Sonny has over 50 voice roles to his credit in both anime and video games. He is a yearly fan favorite and star attraction at several anime conventions.
SaikouCon 2014 Featured Guests
It's all about lights, camera, action! And Jei, the Sci-Fi Photo Guys' professional photographer, is at the helm. Jei sets up the green screen, lighting, and readies his camera, working with people to ensure he always gets a great shot!
Sci-Fi Photo Guys have over 100 professional, print ready backgrounds. Whether sci-fi, fantasy, horror, anime, or something fantastic, we've got it. And we're adding more all the time!
D, the Sci-Fi Photo Guys' professional artist and computer wiz, separates the main image from the green screen and works it into the selected background. Shadows and lighting are added to help the image blend in. Special effects are added as well to add that special zing!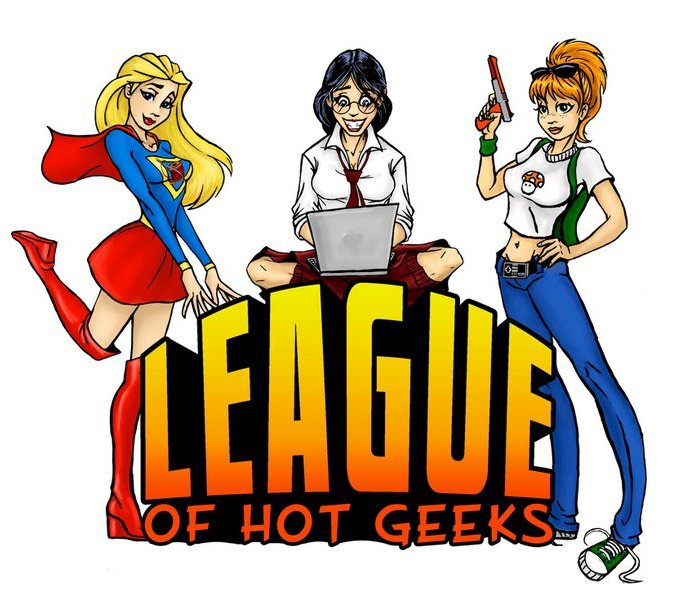 League of Hot Geeks is an organization that represents geeks all over the world through their love of cosplay. Our goal is to show people there's nothing wrong with being a geek. We also do reviews, news, promotions, convention coverage and other geeky events.
Cosplay Burlesque is a performing arts group of burlesque performers and cosplayers dedicated to combining the two for your entertainment. Their mission is to take the characters fans already enjoy and make them naughty through a humorous and provocative stage show. There is no fandom that they leave untouched in their quest for great source material. They are fan fiction come to life!
The Gamer's Edge Comics and Games

The Gamer's Edge Comics and Games will be hosting a board game/CCG demo room at SaikouCon 2014. We will teach interested people how to play, show some basic strategies for the games, and have the games available for purchase (while supplies last). Each game hosts a maximum number of players, but each session can handle more than one demo. We will have players play one game then allow other players to come in and play the same game. For CCGs, we will have several pairs playing at once.
Tokaido is a beautiful travel game, taking the player on a sight-seeing tour through ancient Japan. (5 players)
Tsuro is a fast-paced tile-laying game where the player plays the part of a dragon trying to drive its rivals out of the sky. (8 players)
Coup is a secret identity game in the Resistance Universe. Players have different roles but cannot allow others to find out what role they are playing. Identify the traitor before it's too late! (6 players)
Click-Clack Lumberjack is Korea's #1 selling game. Players use an axe to knock bark off the tree in the center of the table, but be careful, don't knock the tree apart! (6 players)
Fluxx is a classic card game where the cards stay the same, but the rules keep changing. Can you figure out how to win? (5 players)
Mai-Star is a card-style game where the player plays the part of a Geisha in Ancient Japan. Have people in town advertise for you to get the best clientele for each of three rounds to be declared the highest artist of the form. (5 players)
Takenoko is a unique game where players share control of an ever-expanding board and a panda bear needing to eat. Achieve the goals dictated by the cards to win.
The board games will include Tokaido, Tsuro, Coup, Click-Clack Lumberjack, Fluxx, Mai-star and Takenoko. The CCGs (Customizable Card Game) will include Pokemon, Weiss/Schwarz, and Kaijudo.
The CCGs are all based on popular anime shows. Pokemon and Kaijudo each have their own show. Weiss/Schwarz has card sets from several animes including Sword Art Online, Bakemonogatari, LoveLive!, and more!
The Gamer's Edge, located at 580 Main Street, Stroudsburg, PA 18360, is an inclusive gaming establishment. We encourage gaming for all ages for both personal and educational purposes.