SaikouKaiju Summer Giveaway
Our new mascots seem to be a success! Most of the first wave sold out at SaikouCon 2018, but we saved a few to giveaway in our August contest! Enter by filling out the form below for your chance to win two of our Wave 1 SaikouKaiju! The first wave are all handmade, created with Isaac Mirahi yarn; take the chance on winning two of the original wave while they're still around!

Giveaway entry is open August 6 at 12 PM ET until August 31 at 6 PM ET. Winner will be chosen by blind drawing following the close of the entry period and announced on SaikouCon.com and all convention social media, winner will also be notified e-mail. One entry per person, multiple entries under the same name will not be entered in the drawing multiple times, multiple entries from the same household are acceptable however.
SaikouKaiju Summer Giveaway Entry Form
*
= Required Field, entries with missing required information will be considered void and will not be entered into the drawing
The Encounter & SaikouCon Present:
Anime Night Free Screening
Schwarzes Marken

Our first Anime Night post-SaikouCon 2018, are you ready? This month we will be screening Schwarzes Marken, with original Japanese audio with English subtitles, sponsored by Crunchyroll. We'll also have a trivia game with prizes and maybe some other fun activities to spice up Anime Night. Please note the time change to Saturday at 8 PM over our regular Sunday at 7 PM; we're going to try Saturday night for a few months and see if that works out better for attendees of the screening nights.

Anime Night will be taking place at The Encounter Comics and Games located at 811 Union Boulevard, Allentown, PA 18101
Tickets are not needed to attend this event, but please RSVP at our Facebook event for this month's Anime Night so we have an expected headcount and are able to optimize the seating arrangement for a small, medium, or large crowd: https://www.facebook.com/events/297326824374155/
Schwarzes Marken Synopsis:
The year is 1983. The Cold War is in full effect, and humanity is under attack. Strange aliens, given the name "BETA," have descended to Earth with the goal of destroying all life. Soldiers have been tasked with piloting large combat suits called Tactical Surface Fighters (TSF) to repel the alien invaders, but the front line is slowly being pushed back towards the surviving cities.

Schwarzes Marken follows the story of Second Lieutenant Theodor Eberbach and the other members of the 666th TSF squadron, a ruthless unit that values a mission's completion over human life. Stationed in East Germany and led by war hero Captain Irisdina Bernhard, the unit specializes in counterassault attacks on laser-class BETA. But the 666th squadron finds itself with more enemies than just the alien forces when optimistic rookie Katia Waldheim joins the squadron, drawing the attention of East Germany's secret police, the Stasi.

Genres: Action, Military, Sci-Fi, Historical, Drama, Mecha

Duration: 23 minutes per episode

Rating: R - 17+ (violence & profanity)

Episodes 1-4 will be screened, sponsored by Crunchyroll
SaikouCon at The Pickledelphia™ Pickle Festival
SaikouCon staff will be at The Pickledelphia™ Pickle Festival in Philadelphia for their first year! We will not have a stationary Party Table at the event, we may not even be promoting SaikouCon 2019 at this event, we just want to go and enjoy the festival (the con chair is an avid pickle enthusiast!), and since it is the first year for the Pickledelphia™ Pickle Festival we wanted to let people know about it to ensure it becomes an annual Philly event for years to come! Check them out, and if you're going to the free admission event, look for SaikouCon staff, a few of us will be wearing con shirts so you can find us in the crowd.
Official Pickledelphia™ Pickle Festival Information:
Pickledelphia is Philadelphia's first large-scale pickle festival. Pickledelphia is for everyone – from pickle fanatics to just pickle curious. Of course, there will be everything pickle products from fried pickles, pickles on a stick, pickle chips, pickle ice cream and many more pickled delights. But it's not just about pickled foods. No celebration would be complete without LIVE music, cocktails plus interactive pickle events throughout the festival. Local cover bands will be rocking the stage playing everyone's favorite top 40 singalongs in addition to modern country music hits. There will be a large-scale pickle eating contest with America's top competitive eaters. 21 plus festival attendees will be able to enjoy a Craft Beer Garden with a top selection of craft beers and specialty cocktails on tap. In addition, there will exclusive custom pickle memorabilia on hand to satisfy the curiosity of any pickle lover. Pickledelphia is the quintessential Philadelphia "fun" festival built for pickle enthusiasts of all walks of life.
SaikouCon Party Table at J1-Con 2018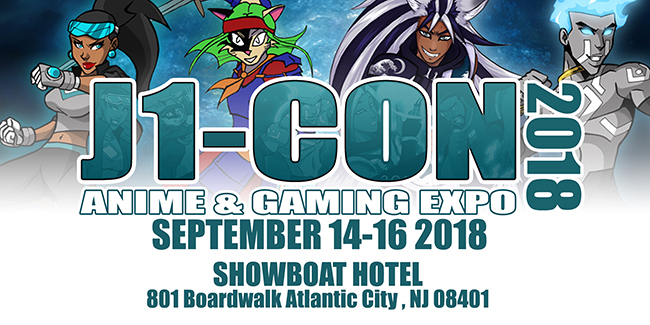 SaikouCon will finally be attending J1-Con! We've been wanting to team up with our friends at J1 Studios for a while now and it's finally happening! We'll be at J1-Con 2018 with a Party Table, come hang out and jam to some good tunes with us, enter a giveaway just for J1-Con attendees for two 3 Day VIP Badges to attend SaikouCon 2019, maybe some games, and lots of fun!

J1-Con will be take place at the Showboat Hotel in Atlantic City! The Showboat is located at 801 Boardwalk, Atlantic City, NJ 08401
J1-Con Official Information:
J1-Con, known as Philadelphia's #1 ANIME convention, has moved to Atlantic City! Are you a fan of geek culture? We provide so many amazing things it could make your head melt a la Indiana Jones. President and Founder, Jason Richardson created J1-Con in 2012, with the hopes of bringing ANIME culture together in a MAJOR city like Philadelphia. Amidst his many awards and accomplishments, including winner of the coveted 2014 Philly Geek Awards' "Geek of the Year", Jason is the founder of the geek hub J1 Studios, where they not only make comics, music, novels (and soon to be gaming); they also review all things nerdy! Jason is also one of the hosts of the multi-award wining geek FM radio show Black Tribbles, J1-Con was also NOMINATED for "Event of the Year" at the Philly Geek Awards in 2015. In 2016 CBSPHILLY named J1-Con "One of the Five Most Talked About Conventions of the Summer (comparing it to the Democratic National Convention) In 2017, Jason became a feature in the Encyclopedia of Black Comics noted for the creation and success of J1 Studios and J1-Con. Visit www.j1con.com for more info, guest list, and to get your tickets!
SaikouCon at Imagi-Con 2018
SaikouCon will be at Imagi-Con 2018! We will be giving away two VIP passes to SaikouCon 2019 through Imagi-Con's Cosplay Contest at 3 PM!


Imagi-Con 2018 Official Info:
Celebrating Imagination in Adults and Kids. From Sci-Fi to Fantasy, Imagi-Con brings imagination alive! Cosplay, Discovery, Imagination.
Let's imagine together! FREE Event, Family Friendly, and Entertaining!
*** Tickets are NOT required, but will give you an entry in Imagi-Con's Raffle ***
Amazing guest lineup for speakers, entertainers, writers and artists! Cosplay Contest at 3pm!
Hosted by Imagine Event Concepts, Eccentric Quarterly, and WeDiscoverGeeks.
SaikouCon Party Table at Yushi-Con 2018

SaikouCon will be having a Party Table at Yushi-Con 2018! We're super excited to take part in YushiCon again now that they are back, this is the first Yushi-Con since 2015! Wishing our friends the greatest success this year and many more to come!

Stop by the Party Table, we'll have some giveaways happening, music playing as always, and SaikouCon staff will be ready and willing to hang out and chat. If you're attending Yushi-Con, come and have some fun with the SaikouCon Crew!
Yushi-Con 2018 is taking place in the East Stroudsburg University Science and Technology Building from 10 AM until 1 AM! While Yushi-Con's return is only a one-day event, please stay tuned for other events Yushi-Con may sponsor for post-con on Sunday, and pre-con on Friday. Stay tuned to www.yushi-con.com for updated information throughout the year.
SaikouCon Party Table at Shikkaricon 2018
SaikouCon will have a Party Table at Shikkaricon 2018! If you're attending Shikkaricon 2018, make sure you stop by our Party Table to enjoy some music, hang time with SaikouCon's organizers, a contest or two just for Shikkaricon attendees, and maybe a few surprises!
Shikkaricon is back after a long hiatus! We are an anime and video gaming convention that was started back in 2006 at Bucks County Community College in Newtown, PA. We are back and better than ever, but now we are being held in Philadelphia! We hope you'll join us for the return of Shikkaricon, and we're excited to be back!
SaikouCon Party Table at DerpyCon 2018

SaikouCon will have a Party Table at DerpyCon 2018! If you're attending DerpyCon 2018, stop on by our Party Table to enjoy some music, hang time with SaikouCon's organizers, a contest or two just for DerpyCon attendees, possibly a suprise or two!
DerpyCon 2018 Official Info:
DerpyCon 2018, taking place November 9-11, 2018, at the Hyatt Regency Morristown in Morristown, NJ! DerpyCon is a small, fun multi genre sci fi convention, celebrating the culture of science fiction, fantasy, animation, and beyond. For more infomation visit www.derpycon.com.
Saikou Movie Meet Up - Alita: Battle Angel
SaikouCon attendees, friends, and fans: who wants to meet up on the release night of the live action adaptation of Battle Angel Alita? Everyone attending the meet up will be responsible for purchasing their own ticket to the movie, which would be the normal set up for a club anyway.



Time is subject to change once screening times of Alita: Battle Angel are released for the AMC Allentown 16. Theater is located at 1700 Catasaqua Road, Allentown, PA 18109; visit www.amctheatres.com for more information on the AMC Allentown 16.
Update: the release of Alita: Battle Angel has been pushed back to December 21, 2018 from its original release date of July 21, 2018. RSVP on our Facebook event page, so we have an expected head count for people attending the Movie Meet Up, at https://www.facebook.com/events/360402291036774/. If there are any further changes to the release of this film or if the Movie Meet Up is cancelled due to bad weather, now that it is in winter instead of summer, it will be announced on the Facebook Event page as well as here on SaikouCon.com.
Alita: Battle Angel Official Details:
Based on the Manga Series Gunnm (Battle Angel Alita in the US) By Yukito Kishiro, visionary filmmakers James Cameron (AVATAR) and Robert Rodriguez (SIN CITY) create a groundbreaking new heroine in ALITA: BATTLE ANGEL, an action-packed story of hope, love and empowerment. Set several centuries in the future, the abandoned Alita (Rosa Salazar) is found in the scrapyard of Iron City by Ido (Christoph Waltz), a compassionate cyber-doctor who takes the unconscious cyborg Alita to his clinic. When Alita awakens she has no memory of who she is, nor does she have any recognition of the world she finds herself in. Everything is new to Alita, every experience a first. As she learns to navigate her new life and the treacherous streets of Iron City, Ido tries to shield Alita from her mysterious past while her street-smart new friend, Hugo (Keean Johnson), offers instead to help trigger her memories. A growing affection develops between the two until deadly forces come after Alita and threaten her newfound relationships. It is then that Alita discovers she has extraordinary fighting abilities that could be used to save the friends and family she's grown to love. Determined to uncover the truth behind her origin, Alita sets out on a journey that will lead her to take on the injustices of this dark, corrupt world, and discover that one young woman can change the world in which she lives.

Film not yet Rated
SaikouCon Party Table at Setsucon 2019

We'll be bringing our Party Booth set up to Setsucon 2019... music, exclusive giveaways just for Setsucon attendees, some SaikouKaiju, an appearance or two by Uncle Iroh Order of the White Lotus, and may a surprise or two!



Setsucon 2018's official information:
Join us for Setsucon 2018, a family-friendly anime convention that people of all ages have come to love in the past 13 years! This year is the second year we are at the Blair County Convention Center in Altoona, PA located in Central Pennsylvania.
Setsucon is a 2 day con featuring:
Guests of Honor, including Voice Actor Jason Liebrecht

Attendee hosted panels

An exhibitors hall with a variety of Artists and Vendors

A Game Room with games from many different consoles

Card Gaming Tournaments

Our unique Iron Cosplay event

And much more!

Come and make our 13th year, not only out of this world, but out of this UNIVERSE!! Visit www.setsucon.com for tickets and more information!
Setsucon is hosted by the Penn State Anime Organization (PSAO). Since September 2001, the PSAO has been bringing anime, manga and Japanese pop culture to the University Park campus. Working to provide both weekly screenings and a social environment for Penn State's anime/manga fan base, the PSAO is continually broadening its horizons. The PSAO meetings serve multiple functions, including our free weekly anime screenings. We also arrange trips to conventions, have club social events, facilitate DDR events on campus, and much much more!