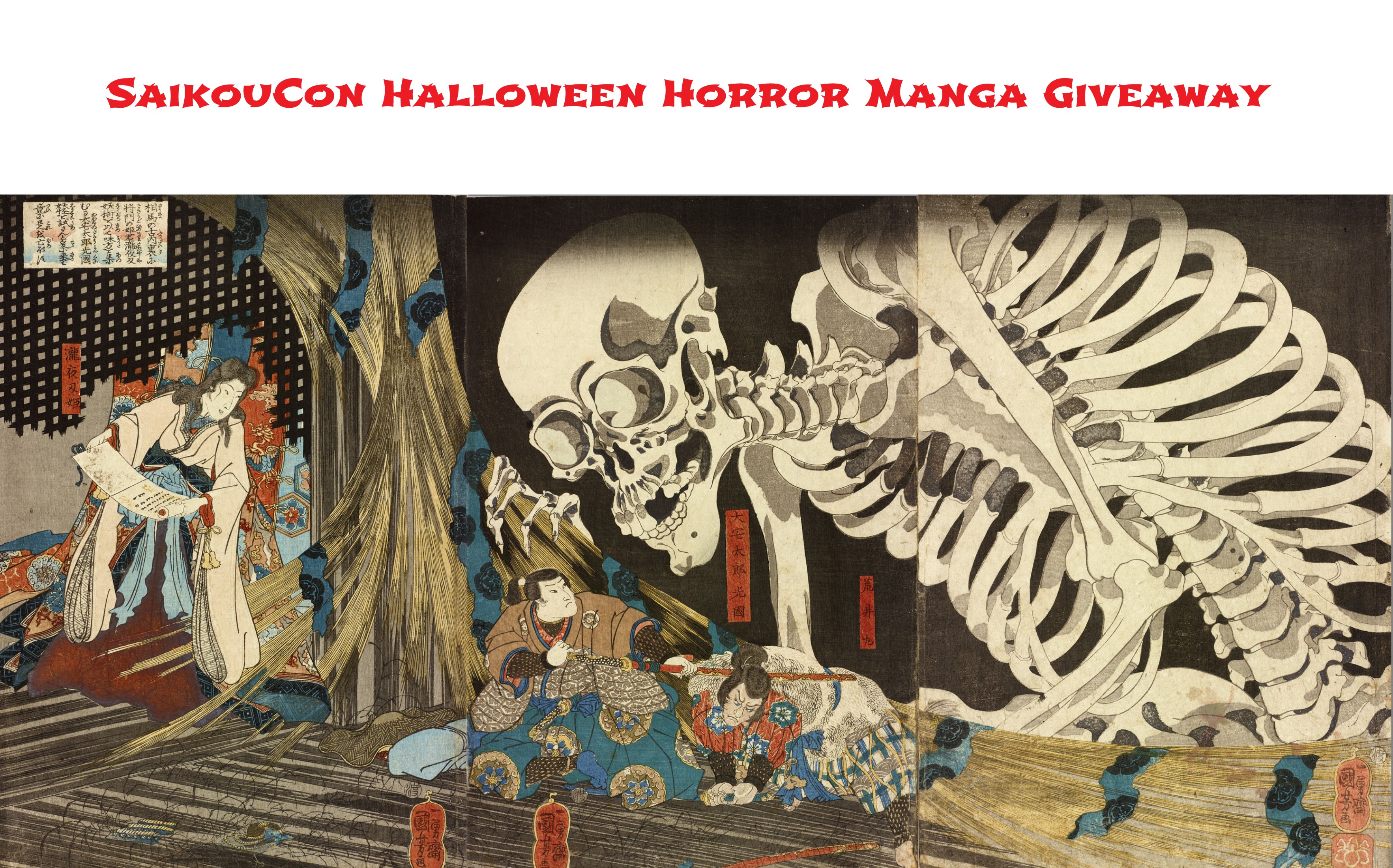 Looking for something to read for Halloween that will send a chill down your spine? Make your heart race faster? Maybe even give you nightmares? Allow us to be your guide to the darker side of manga! *evil laughter*

Enter below for your chance to win a randomly selected horror manga for Halloween 2017! Entry period will be from October 2, 2017 at 12 PM ET until October 30 at 6 PM ET.

One entry per person to make sure every person that enters the contest has a fair shot at winning. Multiple entries from the same household are fine, but only one per person

Multiple entries from the same person will not be entered into the blind drawing that the winner is picked from after the entry period has passed

Fill out the entry form in its entirety, entries that leave required fields empty will be void and not entered into the drawing

Halloween Horror Manga Giveaway Entry Form
The Encounter & SaikouCon Present:
Anime Night Free Screening
Yamishibai: Japanese Ghost Stories & Blood-C: The Last Dark
October Anime Night Round Two! Halloween is two days away, how about some HORROR anime to get your blood pumping? Come to The Encounter Comics & Games for a double feature of Yamishibai: Japanese Ghost Stories (full series marathon, since the episodes top out at about four minutes we can show the full run) and Blood-C: The Last Dark! In-between Yamishibai and Blood-C, SaikouCon will be giving away some horror themed manga volumes to Anime Night attendees through trivia questions, read up on your anime and manga facts and funnies so you're ready to win!.


Sponsored by Funimation and Crunchyroll

Yamishibai: Japanese Ghost Stories Synopsis:
The mysterious, yellow-masked Storyteller is a man whose true name and origin are both unknown. He appears at dusk where children gather and recites sinister tales based on Japanese urban legends, to which his young audience eerily intakes. However, the Storyteller is no ordinary teller of tales. He incorporates a kamishibai, a traditional paper-scrolling device, to add visuals to his already demented narration.
A series of short horror stories, Yami Shibai begins with a bachelor who, after moving into a new apartment, immediately starts sensing a malevolent glare being pressed into him. A single talisman rests on his ceiling, but he has no way of knowing it is one of the few safeguards that separate him from a bottomless pit of suffering. Each story is more terrifying, more appalling, and more sickening than the last as the Storyteller's audience find themselves being sucked into the vicious world of his words.
Genres: Dementia, Horror, Supernatural

Duration: 4 min. per ep.

Rating: PG-13 - Teens 13 or older

Blood-C: The Last Dark Synopsis:
Having escaped the many horrors of her village, Saya Kisaragi vows to hunt down the monster responsible and make him pay with his life. As she tears through flesh and bone for her vendetta, she encounters SIRRUT, a group of ingenious hackers, who enlist Saya to help them defeat a common enemy—someone she knows all too well. Unfortunately, the path she follows is paved with tragedy, as once again, Saya faces betrayal at the hands of those she has come to trust. With her back against the wall, the fearsome monster slayer must fight with all her strength and skill if she is to overcome this final mission and exact vengeance.
Genres: Action, Horror, Supernatural, Vampire

Duration: 1 hr. 50 min.

Rating: R+ - Mild Nudity, Adult Language, Violence and Gore

Mangagiving Giveaway 2017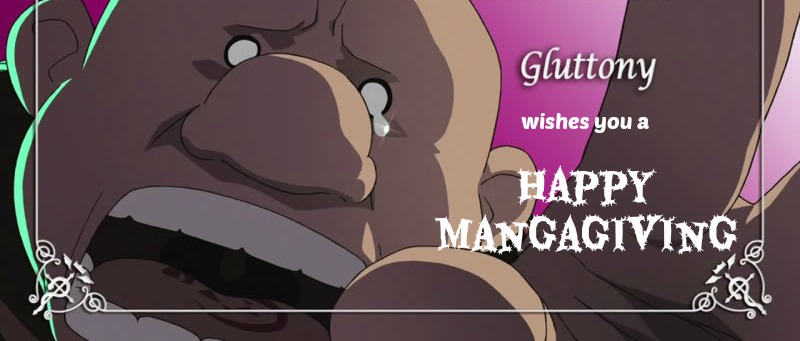 Our annual Mangagiving Giveaway is back for 2017! This year we're giving away two randomly selected manga volumes! Fill out the entry form that will open below starting November 1, 2017 at 12 PM! Entry will close at 6 PM ET on Wednesday, November 22. The winner will be selected by blind drawing and announced on Thanksgiving Day, November 23, 2017 (Facebook events are no longer allowed to last longer than two weeks). One valid entry per person, multiple people per household is fine, but duplicate entries from one name will not be counted to give all entrants an equal shot at winning the prize.
SaikouCon Party Table at DerpyCon 2017

SaikouCon will have a party table with our friends DerpyCon again for their 2017 show! We'll have giveaways, hang time, music, and more fun at our table this year, stop by and have some fun if you're attending DerpyCon 2017!
DerpyCon 2017's information:
DerpyCon 2017, taking place November 17-19, 2017, at the Hyatt Regency Morristown in Morristown, NJ!
DerpyCon is a small, fun multi-genre sci-fi convention, celebrating the culture of science fiction, fantasy, animation, and beyond.The three day event will offer workshops, panels, concerts, dances, video gaming, vendors, an artist alley, table-top gaming, and more!
SaikouCon 2018 Panel Submission
Selected panelists will receive free badges, up to four per panelist group, to not only present their panels at SaikouCon 2018, but also enjoy all three days of the convention. Please note that while in character panels are welcome, we tend to give them a slightly lower rate of acceptance than other types of panels at SaikouCon. In 2014 we were inundated with close to a hundred panel submissions that were nearly identical in-character dating games and Q&As from only two fandoms, while these panels are fun and beloved by both attendees and con staff, we simply cannot make an entire weekend of programming around nearly identical panels. So, be original! Be unique! Be something you yourself haven't seen at a convention, we at SaikouCon aim to have new and unique programming every year, with some recurring attendee favorites in the mix too, so we can give every year the wonder and excitement of your first con experience! Panel submissions will open on January 8, 2018 at 12 PM, the submission form will be located below once the submission period has opened.
3/24, 2018, 8:30-9:30 PM:
The staff of SaikouCon will be taking part in Earth Hour again in 2018, we encourage as many of you as possible to do so as well this year, science has become a realm of politics, but our Mother Earth is bigger than petty arguments in Washington, DC about what is real and what is not. The previous hurricane season should be proof enough that the environment is pushing back and screaming at humanity for help. It is time for people to stand up and provide that help, we need to start treating our relationship with the planet as a symbiotic one rather than an a virulent one where we are the virus. One hour of your time without non-essential electric appliances and devices running is all that is required for you to participate. One hour out of the year can do more than you imagine with the simple act of turning off your lights and unplugging from the electrical grid of we all participate. Granted, Earth Hour is largely a symbolic act, but it can help raise awareness of energy conservation and alternative/green energy sources with enough of us participating and spreading the word about this simple declaration that we stand with the Earth.
Earth Hour History and Official Information:
Earth Hour is a worldwide movement organized by the World Wide Fund for Nature (WWF). The event is held annually encouraging individuals, communities, and businesses to turn off non-essential electric lights for one hour, from 8:30 to 9:30 p.m. on the last Saturday of March, as a symbol of commitment to the planet. It was started as a lights-off event in Sydney, Australia, in 2007. Since then, it has grown to engage more than 7,000 cities and towns across 172 countries. Earth Hour is supported around the world by Woodland, CBRE Group, the National Hockey League, FIFA, UEFA, Hilton Worldwide, Girl Scouts of the US, World Organisation of the Scouts Movement, UNESCO, the UN Environment Programme, the International Trade Union Confederation, HSBC, World Association of the Girl Guides and Girl Scouts, Philips, IKEA, The Body Shop, ING Vysya Bank, and more.
SaikouCon 2018 Press Coverage Application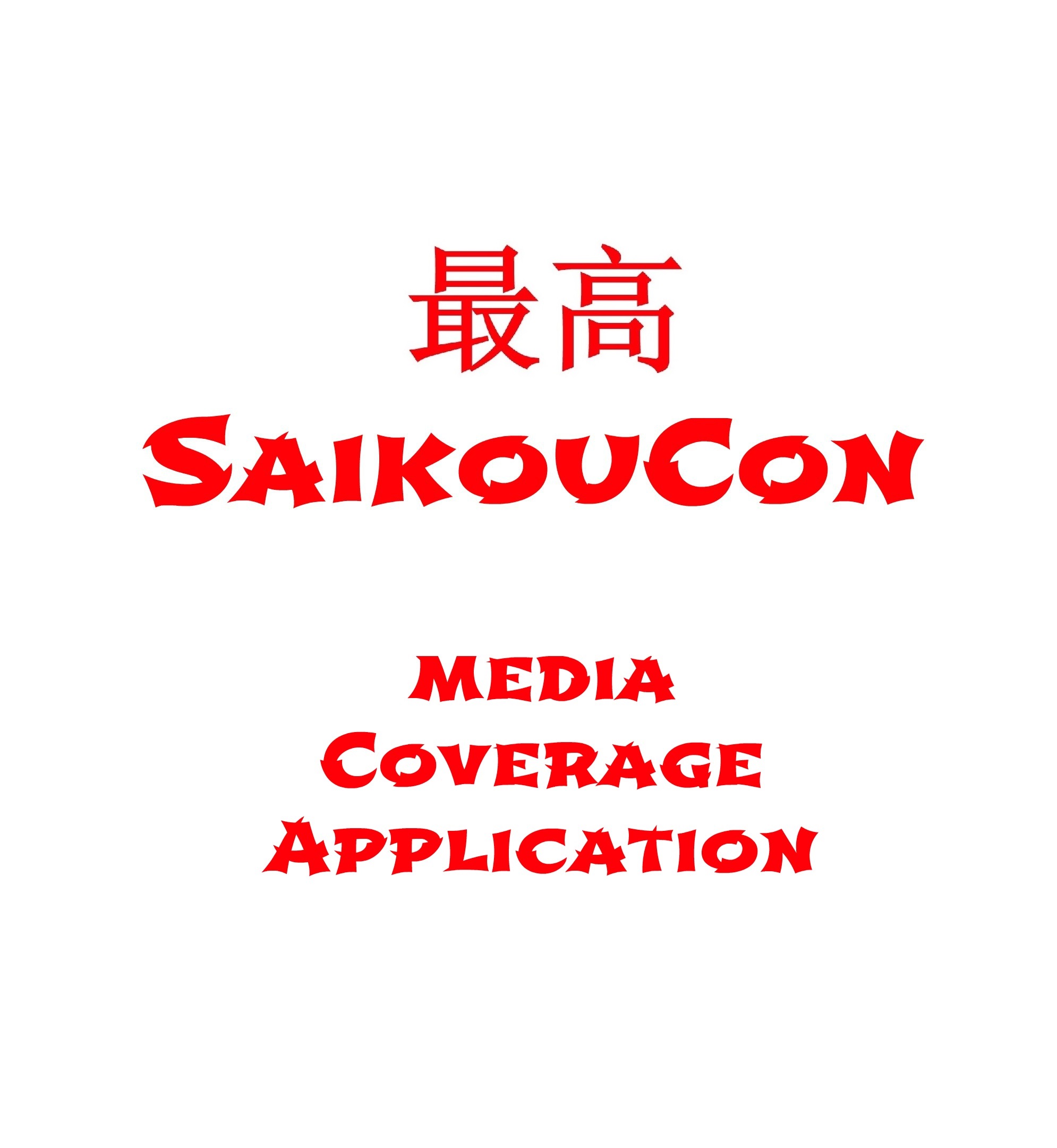 Press applications to attend and cover SaikouCon 2018 will open at 12 PM on April 3, 2018; visit SaikouCon's Press page to review our rules and regulations for reporters, photographers, videographers, bloggers covering SaikouCon 2018. Application form will also be located on the Press page of this website once it opens on April 3, 2018. Press representatives are expected to follow the rules and regulations as laid out on the Press page, these rules will be enforced by our security team.
Accepted press representatives will be notfied of acceptance no later than June 25, 2018; as will press outlets that are not accepted for coverage of SaikouCon 2018.
SaikouCon 2018 Volunteer Applications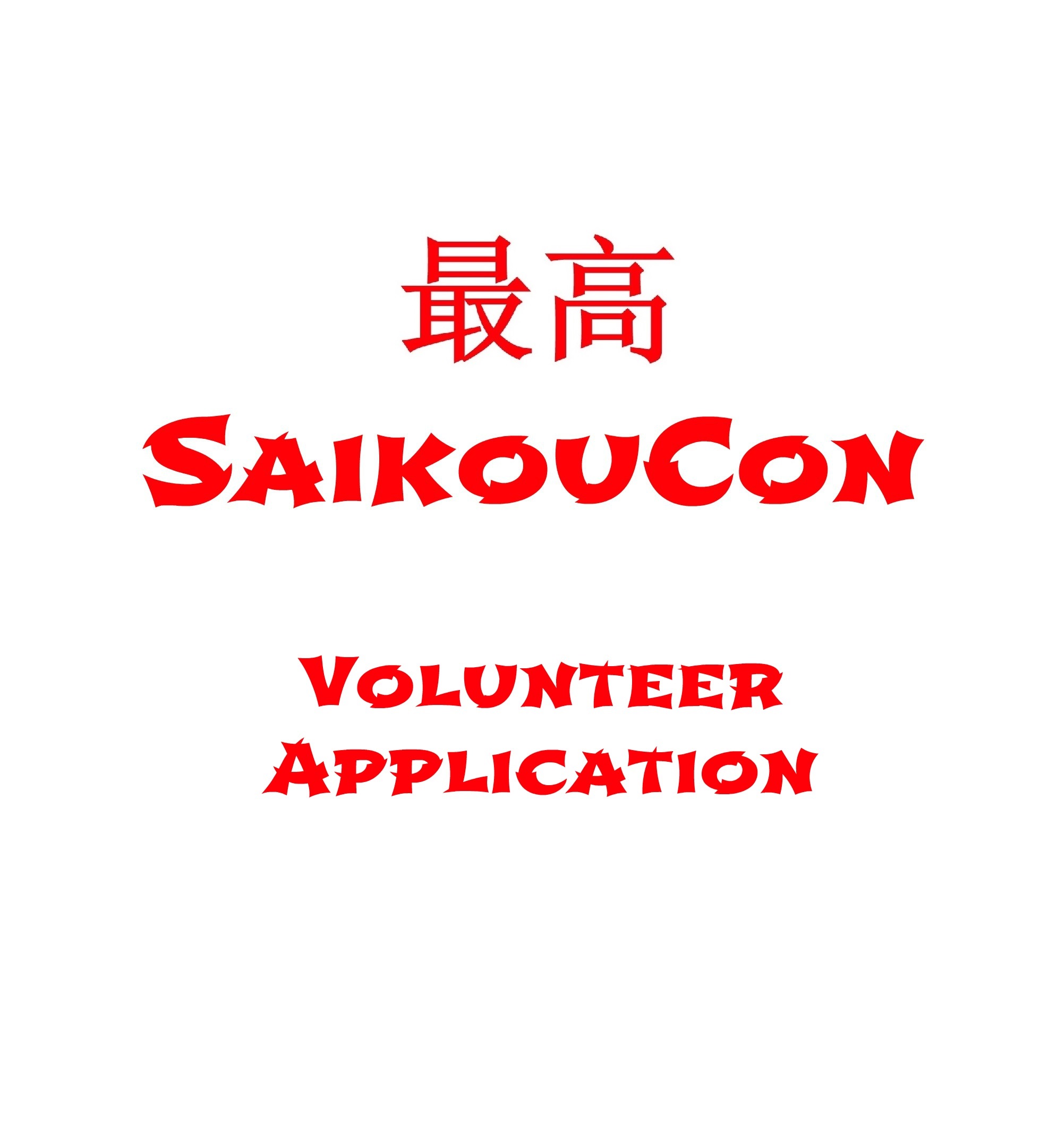 Volunteer acceptance is not guaranteed for all applicants, applicants that have already bought an Attendance Badge to attend SaikouCon 2018 will be offered monetary reimbursement for their 2018 badge upon completion of their chosen number of volunteer hours. Those that are accepted as volunteers that have not purchased a badge prior to applying will be rewarded with a SaikouCon Souvenir Gift Pack that includes a VIP Badge to attend SaikouCon 2019 or the option to automatically be accepted back as a volunteer again without having to apply. Before applying, please review the Guest Codes of Conduct and Guidelines on our Convention Info page as you will still be held to these codes and guidelines as a volunteer and may be called upon to know them for non-volunteer guests during your service time for SaikouCon 2018. Please also review the details and rules of volunteering at SaikouCon located on the Volunteers page, this is also where you will find the application form to volunteer once applications have opened on April 6, 2018 at 12 PM.

SaikouCon Volunteers must be age 18 or older due to insurance liability rules from our insurance provider. Accepted and denied applicants will be notified of their application status beginning as soon as the application has closed on June 29, 2018 at 6 PM ET.
SaikouCon 2018 Cosplay Contest Sign Up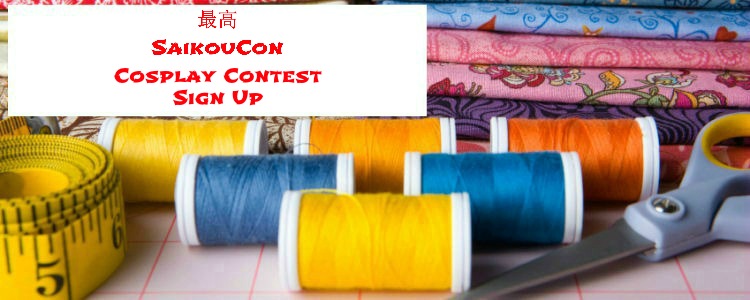 Sign up for the SaikouCon 2018 Cosplay Contest will open on May 1, 2018 at 12 PM ET, sign up will close on July 13 at 6 PM ET . The sign up form will be located on the Cosplay page of SaikouCon.com. We will be having the same competition categories as we did in 2017, Single Cosplay with subcategories of Novice and Experienced; Group Cosplays for groups of two or more with no subcategories as group members may not all be of the same experience level. Below are the rules and guidelines for this year's contest:
There is no additional fee to enter and compete in the contest, but every contestant must be a SaikouCon 2018 Attendance Badge Holder, Teen or Adult Badges, cosplayers 13 and older are welcome to compete

Cosplays must be 70% handmade, this does not count props and accessories (weaponry, "animal companions", costume/armor accents like brooches and hairpins, over-sized sigils), while it is awesome when they are handmade as well as the actual costumes and armor, the guest judges will not deduct points as long as the costume itself meets the 70% handmade requirement

The Novice subcategory is for cosplayers that have been cosplaying for less than two years (cosplaying in general, not competing in competitions) and the Experienced subcategory is for cosplayers that have been cosplaying for two or more years.

There will be no pre-judging for 2018, there is no need to submit progress and reference photos before the contest, but by all means please bring progress and reference photos to the competition as our guest judges may wish to see them as visual aids to their questions about your cosplay

Original Characters, genderbends, and crossplays are welcome and encouraged at SaikouCon's Cosplay Contest

All cosplays must adhere to convention dress codes regarding nudity and partial nudity, see general dress code rules on the Convention Info page of SaikouCon.com

Skits will be allowed to be performed by competitors again in 2018, but are not required if you do not wish to perform one. Time limit on competitor skits is three (3) and a half minutes maximum, the competition must be concluded no later than 8 PM on SaikouCon Saturday, July 28. If skits are musical in nature, and instruments will not be played live by competitors, competitors must provide their own music on PC compatible flash drive

Competitors must arrive at Section IV of Holiday Inn Center City's Grande Ballroom 15 minutes in advance of the Cosplay Contest dressed and ready to compete. SaikouCon staff will help competitors to line up according to their categories and subcategories

Winners of the competition will receive VIP badges to attend SaikouCon 2019, framed award certificates from SaikouCon 2018 signed by our guest judges and con chair to show authenticity, more prizes to be announced

Decisions by our guest judges are final. Any one that attempts to verbally berate or bully in any way our guest judges for their decisions, will be escorted from the convention by convention security and have their badges revoked without refund; and depending on severity of actions, may be permanently banned from the convention and possibly subject to criminal charges

SaikouCon Party Booth at Zenkaikon 2018

SaikouCon will be at Zenkaikon in Lancaster, PA again this year for our usual Party Booth! Stop by to listen to some J-Rock and J-Pop, sign up for Zenkaikon only giveaways, and maybe free photo ops with some of our 2018 Cosplay Guests!
Zenkaikon 2018 Information:
The three day event will include panels, workshops, anime & live action screenings, concerts, cosplay, video gaming, tabletop gaming, LARP, AMVs, dances, vendors, artists, and more! For more information, visit https://www.zenkaikon.com/
First, there was a Resurgance, now comes the Evolution. SaikouCon 2018 is coming at you July 27-29, get ready, get hype; it's time to evolve. SaikouCon is taking things to the next level in its quest to live up to its name, and be the best con it can be. Can you feel it coming? The static electricity in the air? The energy running up and down your spine? We feel it too. Join us as we do more than level up, we're Evolving... more Japanse Culture, more activities, more events, more gaming, more cosplay, more anime, more fun.
Pre-registration (advance ticket sales) opened at 12 PM ET on Friday, September 8 and will close for the year on Friday, July 20 at 12 AM ET (the midnight going into Saturday, July 21), there will be no pre-registration extension for 2018; this closing date is our customary 7 days before showtime. At door tickets will be available for all three days of the convention, please review the Registration page of SaikouCon.com for both pre-registration and at door registration details in full.
More information will be coming fast over the next few months, keep an eye out on the Home page of SaikouCon.com where our news posts are displayed as well as across our social media profiles. Guest announcements will begin within September and October of 2017. Merchant Application, Cosplay Contest Sign Up, Volunteer Application, Media Application, and Panel Submission opening and closing dates will be also be announced over the last few weeks of September 2017; this way everyone can prepare and plan accordingly for the parts of SaikouCon they want to take part in or work in.
SaikouCon is a three day, anime and cosplay convention located in the heart of Allentown, Pennsylvania. SaikouCon, which means "best convention", is the annual anime convention of Pennsylvania's Lehigh Valley, boasting a dedicated staff of longtime Japanese anime and manga fans. SaikouCon builds programming made to make memories every year, always striving for panel diversity and a balance between Japanese Pop Culture, Classical Japanese Culture, Cosplay, fun and games, original music, original music, and more original music!
Guest List and full programming schedule will fill as the Fall, Winter, and Spring move forward. Full Programming Schedule for SaikouCon 2018 will be released on June 1, 2018 at 12 PM ET
Christina Kelly
Voice Actress
Gigi Edgley
Film & Stage Actress, Musician
More Coming Soon!
Koralene
More Coming Soon!
SaikouCon 2018 Programming Schedule Coming Soon!