SaikouCon 2018 Panel Submission
Selected panelists will receive free badges, up to four per panelist/panelist group, to not only present their panels at SaikouCon 2018, but also enjoy all three days of the convention. Please note that while in character panels are welcome, we tend to give them a slightly lower rate of acceptance to these types of panels. In 2014 we were inundated with close to a hundred panel submissions (90% of what we received in submissions for that year) that were nearly identical in-character dating games and Q&As from only two fandoms, while these panels are fun and beloved by both attendees and con staff, we simply cannot make an entire weekend of programming around nearly identical panels. So, be original! Be unique! Be something you yourself haven't seen at an anime convention, we at SaikouCon aim to have new and unique programming every year, with some recurring attendee favorites in the mix too, so we can give every year the wonder and excitement of your first con experience! Panel submissions will open on January 8, 2018 at 12 PM and close on May 11, 2018 at 6 PM ET, all panelists will receive notice if they have been accepted or denied for this year no later than May 21, 2018 with full programming schedule released to the public on June 1, 2018 at 12 PM! If you are not accepted for 2018, please do not hesitate to apply again in 2019, we welcome and appreciate everyone's submission, but there are only so many hours over the course of the convention that we can run panels. The submission form is located below:
SaikouCon 2018 Panel Submission
* = Required Field, submissions with Required Fields left blank will be considered void and will not be considered for acceptance into SaikouCon 2018's programming
** We will do our best to accommodate your chosen time of day for your presentation, but there may be variances
SaikouCon 2018 Press Coverage Application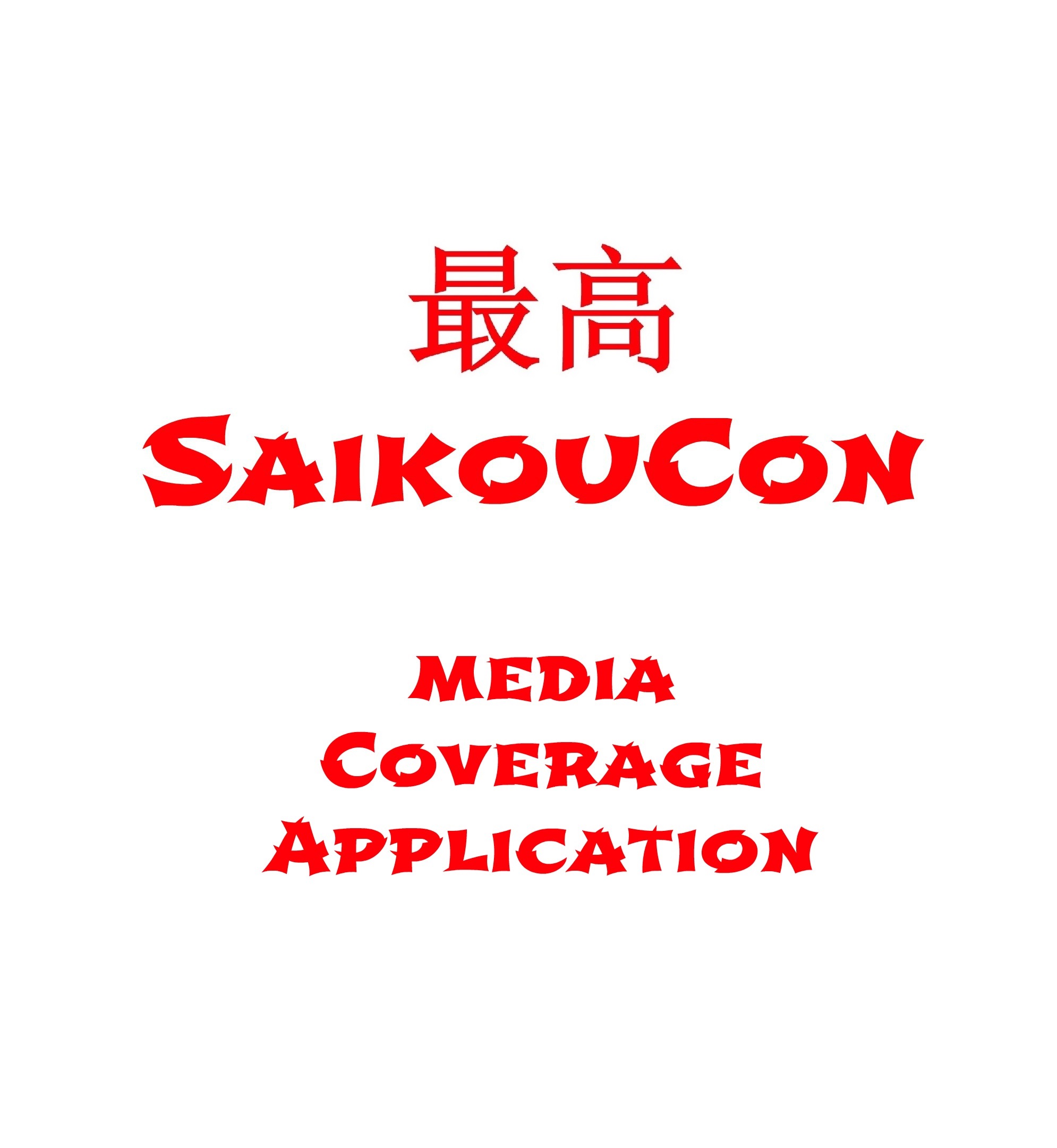 Press applications to attend and cover SaikouCon 2018 will open at 12 PM on April 3, 2018; visit SaikouCon's Press page to review our rules and regulations for reporters, photographers, videographers, bloggers covering SaikouCon 2018. Application form will also be located on the Press page of this website once it opens on April 3, 2018. Press representatives are expected to follow the rules and regulations as laid out on the Press page, these rules will be enforced by our security team.
Accepted press representatives will be notfied of acceptance no later than June 25, 2018; as will press outlets that are not accepted for coverage of SaikouCon 2018.
SaikouCon 2018 Volunteer Applications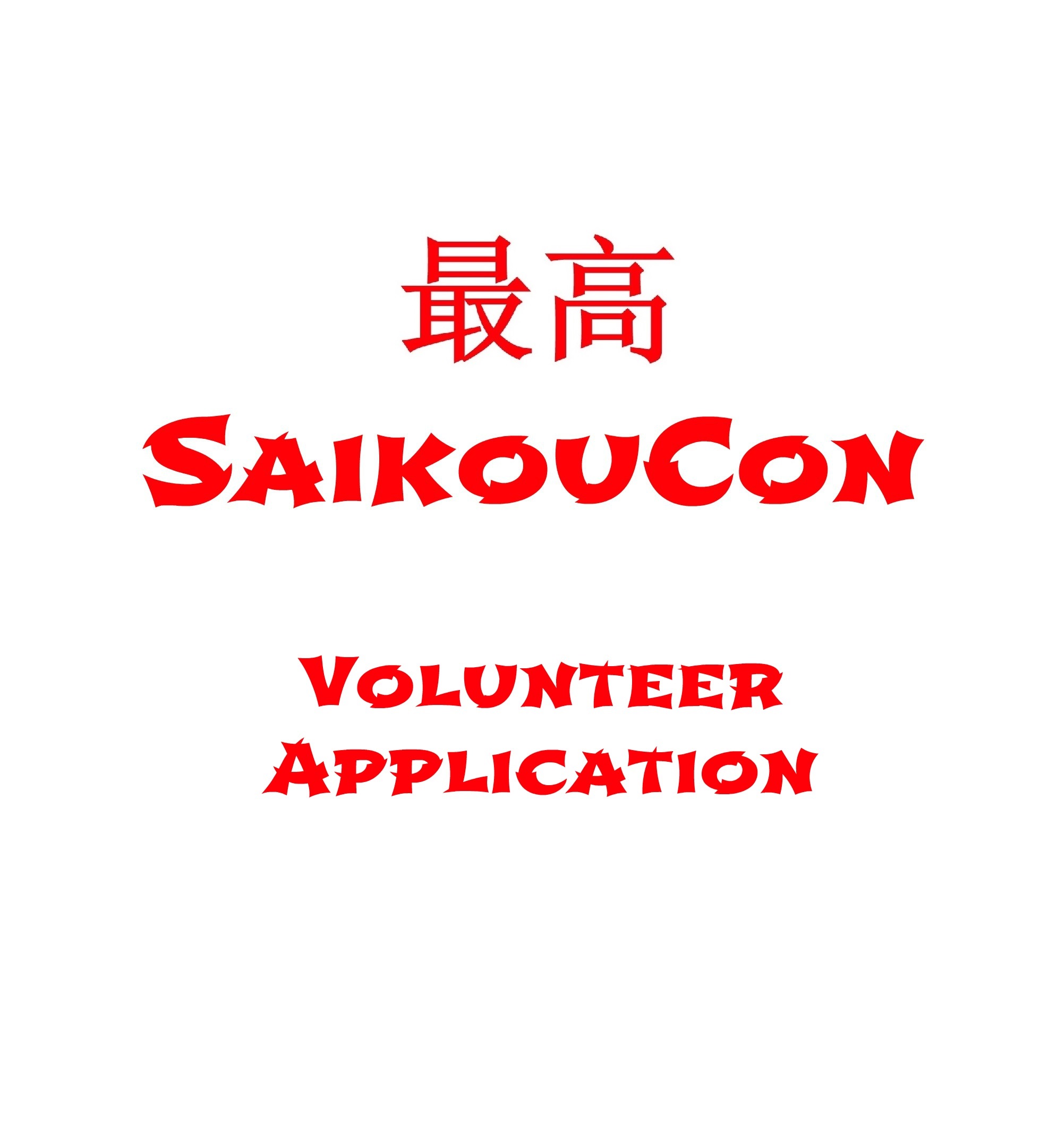 Volunteer acceptance is not guaranteed for all applicants, applicants that have already bought an Attendance Badge to attend SaikouCon 2018 will be offered monetary reimbursement for their 2018 badge upon completion of their chosen number of volunteer hours. Those that are accepted as volunteers that have not purchased a badge prior to applying will be rewarded with a SaikouCon Souvenir Gift Pack that includes a VIP Badge to attend SaikouCon 2019 or the option to automatically be accepted back as a volunteer again without having to apply. Before applying, please review the Guest Codes of Conduct and Guidelines on our Convention Info page as you will still be held to these codes and guidelines as a volunteer and may be called upon to know them for non-volunteer guests during your service time for SaikouCon 2018. Please also review the details and rules of volunteering at SaikouCon located on the Volunteers page, this is also where you will find the application form to volunteer once applications have opened on April 7, 2018 at 12 PM.

SaikouCon Volunteers must be age 18 or older due to insurance liability rules from our insurance provider. Accepted and denied applicants will be notified of their application status beginning as soon as the application has closed on June 30, 2018 at 6 PM ET.
Saikou Movie Meet Up - Ghibli Fest: The Cat Returns
Let's try some Ghibli Fest for our April Saikou Movie Meet Up!! The Cat Returns is the feature of the month for Fathom Events' Ghibli Fest event, and it's about time we all took in a Studio Ghibli feature together! We're going to meet up for the dub presentation of The Cat Returns for the 12:55 PM showing at Tilghman Square 8 theater in Allentown, PA on Sunday, April 22.
Tilghman Square 8 is located at 4608 Broadway, Allentown, PA 18104. Please RSVP for the Movie Meet Up on our Facebook Event page at https://www.facebook.com/events/190294268413712/ so we have an expected headcount and can easily coordinate meeting up at the Meet Up.
The Cat Returns Synopsis:
Haru is walking home after a dreary day of school when she spies a cat with a small gift box in its mouth crossing a busy street, and she jumps in front of traffic to save the cat from an oncoming truck. To her amazement, the cat gets up on its hind legs, brushes itself off, and thanks her very politely. But things take an even stranger turn when later than night, the King of Cats shows up at her doorstep in a feline motorcade. He showers Haru with gifts, and decrees that she shall marry the Prince and come live in the Kingdom of Cats!
Genres: Adventure, Drama, Fantasy

Duration: 1 hr. 15 minutes

Rating: G - All Ages

The Encounter & SaikouCon Present:
Anime Night Free Screening - YOU DECIDE!
Black Clover won the Vote
This month for Anime Night, we've (SaikouCon and The Enounter) decided to let you decide what title we'll be screening for you out of the anime we have permission to screen from Funimation and from Crunchyroll! Poll will close on Monday, April 2 at 6 PM. Titles up for voting are below and the link to our Facebook Event page for April's Anime Night, you can vote either here on SaikouCon.com or at the Facebook page, let us know what you want to see!! Vote totals will be the combined tally between votes here on SaikouCon.com and from votes on our FB Event page.

The Encounter is located at 811 Union Blvd, Allentown, PA 18101
Please RSVP on our Facebook Event page at https://www.facebook.com/events/1716577848423783/, tickets are not needed, but we like to have an expected headcount to optimize seating arrangements if a large crowd is attending. You can also vote for the anime to be screened on the Facebook page if you prefer it to voting above. After voting closes on April 2, we will announce the winning titles and update this area with the synopsis of the title as usual and update the FB page with the winning titles information.
Black Clover has won the vote with four votes, Gintama came in second with three votes, and Juni Saisen Zodiac Wars came in third with one vote. Terrafomars and Idolish7 both had zero votes.
Asta and Yuno were abandoned at the same church on the same day. Raised together as children, they came to know of the "Wizard King"—a title given to the strongest mage in the kingdom—and promised that they would compete against each other for the position of the next Wizard King. However, as they grew up, the stark difference between them became evident. While Yuno is able to wield magic with amazing power and control, Asta cannot use magic at all and desperately tries to awaken his powers by training physically.
Genres: Action, Comedy, Magic, Fantasy, Shounen

Duration: 23 min. per episode

Rating: PG-13 - Teens 13 or older

SaikouCon 2018 Cosplay Contest Sign Up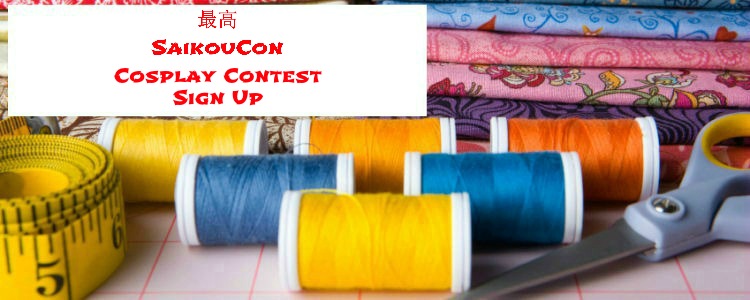 Sign up for the SaikouCon 2018 Cosplay Contest will open on May 1, 2018 at 12 PM ET, sign up will close on July 13 at 6 PM ET . The sign up form will be located on the Cosplay page of SaikouCon.com. We will be having the same competition categories as we did in 2017, Single Cosplay with subcategories of Novice and Experienced; Group Cosplays for groups of two or more with no subcategories as group members may not all be of the same experience level. Below are the rules and guidelines for this year's contest:
There is no additional fee to enter and compete in the contest, but every contestant must be a SaikouCon 2018 Attendance Badge Holder, Teen or Adult Badges, cosplayers 13 and older are welcome to compete

Cosplays must be 70% handmade, this does not count props and accessories (weaponry, "animal companions", costume/armor accents like brooches and hairpins, over-sized sigils), while it is awesome when they are handmade as well as the actual costumes and armor, the guest judges will not deduct points as long as the costume itself meets the 70% handmade requirement

The Novice subcategory is for cosplayers that have been cosplaying for less than two years (cosplaying in general, not competing in competitions) and the Experienced subcategory is for cosplayers that have been cosplaying for two or more years.

There will be no pre-judging for 2018, there is no need to submit progress and reference photos before the contest, but by all means please bring progress and reference photos to the competition as our guest judges may wish to see them as visual aids to their questions about your cosplay

Original Characters, genderbends, and crossplays are welcome and encouraged at SaikouCon's Cosplay Contest; the more creative and intriguing the better! This contest is all about creativity and showcasing your skill as a costumer

All cosplays must adhere to convention dress codes regarding nudity and partial nudity, see general dress code rules on the Convention Info page of SaikouCon.com

Skits will be allowed to be performed by competitors again in 2018, but are not required if you do not wish to perform one. Time limit on competitor skits is three (3) and a half minutes maximum, the competition must be concluded no later than 8 PM on SaikouCon Saturday, July 28. If skits are musical in nature, and instruments will not be played live by competitors, competitors must provide their own music on PC compatible flash drive

Competitors must arrive at Special Events Hall 15 minutes in advance of the Cosplay Contest dressed and ready to compete. SaikouCon staff will help competitors to line up according to their categories and subcategories

Winners of the competition will receive VIP badges to attend SaikouCon 2019, framed award certificates from SaikouCon 2018 signed by our guest judges and con chair to show authenticity, more prizes to be announced

Decisions by our guest judges are final. Any one that attempts to verbally berate or bully in any way our guest judges for their decisions, will be escorted from the convention by convention security and have their badges revoked without refund; and depending on severity of actions, may be permanently banned from the convention and possibly subject to criminal charges

SaikouCon Party Booth at Zenkaikon 2018

SaikouCon will be at Zenkaikon in Lancaster, PA again this year for our usual Party Booth! Stop by to listen to some J-Rock and J-Pop, sign up for Zenkaikon only giveaways, and maybe free photo ops with some of our 2018 Cosplay Guests!
Zenkaikon 2018 Information:
The three day event will include panels, workshops, anime & live action screenings, concerts, cosplay, video gaming, tabletop gaming, LARP, AMVs, dances, vendors, artists, and more! For more information, visit https://www.zenkaikon.com/
SaikouCon Party Table at UNI-Con 2018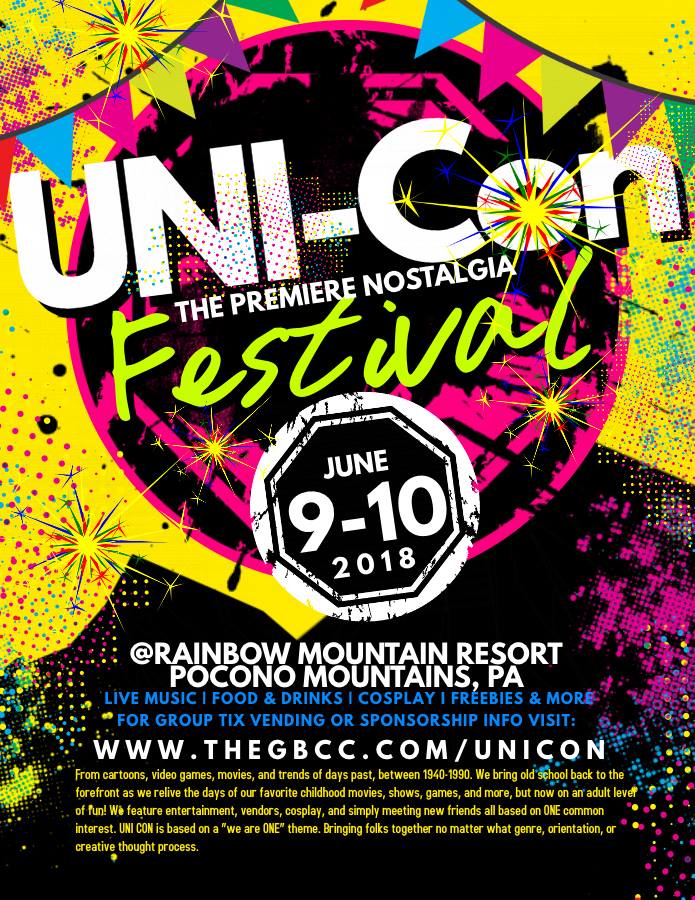 SaikouCon will have a Party Table at UNI-Con 2018! We'll be set up with good tunes, some fun, giveaways just for Uni-Con 2018 attendees! If you're attending this awesome pop culture event, official Uni-Con 2018 info below:

UNICON is an adults only 21+ COSPLAY FESTIVAL! The convention will be held at the Rainbow Mountain Resort, located high up in the Pocono mountains overlooking 25 acres of spectacular views. As an adult convention, UNICON focuses on uniting everyone with a love for fun, entertainment, and all things nostalgic. From cartoons, video games, movies, and trends of days past, between 1940-1990. We bring old school back to the forefront as we relive the days of our favorite childhood movies, shows, games, and more, but now on an adult level of fun! We feature entertainment, vendors, cosplay, and simply meeting new friends all based on ONE common interest. UNI CON is based on a "we are ONE" theme. Bringing folks together no matter what genre, orientation, or creative thought process.

UNI-CON encourages you to cosplay or costume as your favorite childhood love! Come as a superhero, a movie character, a book character, or just come with your favorite music record or hat that you loved as a child! We just want you to share who YOU are!

This event is open to EVERYONE ages 21+ Tickets and Registration are required. Rainbow Mountain Resort will be taking reservations for hotel accomodations from June 7th-10th with 2 days pre-reception and relaxation prior to the full Event on June 9th and 10th. Tickets for the event are $20 per person.
Pre Event Parties starting June 7, 2018!!!
First, there was a Resurgance, now comes the Evolution. SaikouCon 2018 is coming at you July 27-29, get ready, get hype; it's time to evolve. SaikouCon is taking things to the next level in its quest to live up to its name, and be the best con it can be. Can you feel it coming? The static electricity in the air? The energy running up and down your spine? We feel it too. Join us as we do more than level up, we're Evolving... more Japanse Culture, more activities, more events, more gaming, more cosplay, more anime, more fun.


SaikouCon 2018 will be taking place this July at the Econo Lodge Conference Center located at 1151 Bulldog Drive, Allentown, PA 18104



Pre-registration (advance ticket sales) opened at 12 PM ET on Friday, September 8 and will close for the year on Friday, July 20 at 12 AM ET (the midnight going into Saturday, July 21), there will be no pre-registration extension for 2018; this closing date is our customary 7 days before showtime with VIP Registration closing earlier on June 23, 2018 at midnight. This earlier closing for VIP Badges to attend SaikouCon 2018 is give con staff time to order and receive the mini-posters that VIP Badge Holders receive, we only order an exact count of posters to make the VIP experience at SaikouCon that much more exclusive. At door general admission tickets will be available for all three days of the convention, please review the Registration page of SaikouCon.com for both pre-registration and at door registration details and rates in full.
SaikouCon is a three day, anime and cosplay convention located in the heart of Allentown, Pennsylvania. SaikouCon, which means "best convention", is the annual anime convention of Pennsylvania's Lehigh Valley, boasting a dedicated staff of longtime Japanese anime and manga fans. SaikouCon builds programming made to make memories every year, always striving for panel diversity and a balance between Japanese Pop Culture, Classical Japanese Culture, Cosplay, fun and games, original music, original music, and more original music!
Guest List and full programming schedule will fill in as the Fall, Winter, and Spring move forward.
Full Programming Schedule for SaikouCon 2018 will be released on June 1, 2018 at 12 PM ET
Christina Marie Kelly
Voice, Film, & Stage Actress
Gigi Edgley
Film & Stage Actress, Musician
Erin Cahill
Film & Television Actress,
Pink Time Force Power Ranger
More Coming Soon!
Koralene
Foxxy
More Coming Soon!
The Adarna
TiA
Kohei Hattori
DJ Awesomus_Prime
REAKT
The Wanderland Tour
feat. Gigi Edgley & Jake Edgley
DJ OZNO
Bfarve Cosplay

8BITAmbitions
SaikouCon 2018 Preliminary Programming Schedule - Full Schedule will be released on 6/1/18
9 AM:
Pre-Reg Pick-Up & At Door Registration Open


Econo Lodge Main Hall

10 AM:
Pre-Show Anime Screening - TBD
Theater Room (Oak Room) of the
Econo Lodge Conference Center
12 PM:
Show Open
1 PM:
SaikouCon Opening Ceremonies
Special Events Hall (North Room) of the
Econo Lodge Conference Center
7 PM:
Registration/Info Tables & Merchant Hall Close
8 PM:
Friday Night Concert
feat. The Adarna
Special Events Hall (North Room) of the
Econo Lodge Conference Center
8 PM:
Attack on Titan Season 2
Mega 5 Hour Marathon
(Dub) Screening
Theater Room (Oak Room) of the
Econo Lodge Conference Center
10 PM:
SaikouCon Eclipse Party
feat. REAKT & DJ Awesomus_Prime
Special Events Hall (North Room) of the
Econo Lodge Conference Center


8 AM:
Pre-Reg Pick-Up & At Door Registration Open


Econo Lodge Main Hall

10 AM:
Show Open
12 PM:
SaikouCon Charity Auction Concert
feat. REAKT
Special Events Hall (North Room) of the
Econo Lodge Conference Center
3 PM:
VIP Group Meet 'n Greet with 2018 Guests of Honor
Special Events Hall (North Room) of the
Econo Lodge Conference Center
5:30 PM:
SaikouCon 2018 Cosplay Contest
Special Events Hall (North Room) of the
Econo Lodge Conference Center
7 PM:
Registration/Info Tables & Merchant Hall Close
8 PM:
My Hero Academia Season 2
(Dub) Screening
Theater Room (Oak Room) of the
Econo Lodge Conference Center
8 PM:
Saikou Cosplay Concert
feat. The Wanderland Tour w/
Gigi Edgley & Jake Edgley,
Kohei & TiA, & The Adarna
Special Events Hall (North Room) of the
Econo Lodge Conference Center
10 PM:
Drifters 18+ (Dub) Screening


Theater Room (Oak Room) of the




Econo Lodge Conference Center
9 AM:
At Door Registration Open


Econo Lodge Main Hall

10 AM:
Show Open
1 PM:
Registration/Info Tables Close


Econo Lodge Main Hall

5 PM:
Merchant Hall Close

5:30 PM:
SaikouCon Closing Ceremonies
Special Events Hall (North Room) of the
Econo Lodge Conference Center
6 PM:
2018 Show Close
Thank you all for coming and supporting SaikouCon for the sixth year of the show!
Can't wait to see you all in 2019!!
SaikouCon Party Table at Yushi-Con 2018

SaikouCon will be having a Party Table at Yushi-Con 2018! We're super excited to take part in YushiCon again now that they are back, this is the first Yushi-Con since 2015! Wishing our friends the greatest success this year and many more to come!

Stop by the Party Table, we'll have some giveaways happening, music playing as always, and SaikouCon staff will be ready and willing to hang out and chat. If you're attending Yushi-Con, come and have some fun with the SaikouCon Crew!
Yushi-Con 2018 is taking place in the East Stroudsburg University Science and Technology Building from 10 AM until 1 AM! While Yushi-Con's return is only a one-day event, please stay tuned for other events Yushi-Con may sponsor for post-con on Sunday, and pre-con on Friday. Stay tuned to www.yushi-con.com for updated information throughout the year.
SaikouCon Party Table at Shikkaricon 2018
SaikouCon will have a Party Table at Shikkaricon 2018! If you're attending Shikkaricon 2018, make sure you stop by our Party Table to enjoy some music, hang time with SaikouCon's organizers, a contest or two just for Shikkaricon attendees, and maybe a few surprises!
Shikkaricon is back after a long hiatus! We are an anime and video gaming convention that was started back in 2006 at Bucks County Community College in Newtown, PA. We are back and better than ever, but now we are being held in Philadelphia! We hope you'll join us for the return of Shikkaricon, and we're excited to be back!
SaikouCon Party Table at DerpyCon 2018

SaikouCon will have a Party Table at DerpyCon 2018! If you're attending DerpyCon 2018, stop on by our Party Table to enjoy some music, hang time with SaikouCon's organizers, a contest or two just for DerpyCon attendees, possibly a suprise or two!
DerpyCon 2018 Official Info:
DerpyCon 2018, taking place November 9-11, 2018, at the Hyatt Regency Morristown in Morristown, NJ! DerpyCon is a small, fun multi genre sci fi convention, celebrating the culture of science fiction, fantasy, animation, and beyond. For more infomation visit www.derpycon.com.
Saikou Movie Meet Up - Alita: Battle Angel
SaikouCon attendees, friends, and fans: who wants to meet up on the release night of the live action adaptation of Battle Angel Alita? If enough people are down, maybe we can make this a normal thing when anime and/or anime based live action films are in theaters. For this first time, everyone attending the meet up will be responsible for purchasing their ticket to the movie, which would be the normal set up for a club anyway (and how we would operate in the future if we make these Movie Meet Ups a regular thing)/ However, if we get a large enough group together, we may be able to set up a group rate on tickets with the theater.

No guarantee there of course, most theaters will give group rates but usually request 25-30+ people be guaranteed in the group before granting group rates on tickets, so it depends more than anything on how many people wish to take part.
Time is subject to change once screening times of Alita: Battle Angel are released for the AMC Allentown 16. Theater is located at 1700 Catasaqua Road, Allentown, PA 18109; visit www.amctheatres.com for more information on the AMC Allentown 16.
Update: the release of Alita: Battle Angel has been pushed back to December 21, 2018 from its original release date of July 21, 2018. RSVP on our Facebook event page, so we have an expected head count for people attending the Movie Meet Up, at https://www.facebook.com/events/360402291036774/. If there are any further changes to the release of this film or if the Movie Meet Up is cancelled due to bad weather, now that it is in winter instead of summer, it will be announced on the Facebook Event page as well as here on SaikouCon.com.
Alita: Battle Angel Official Details:
Based on the Graphic Novel ("Manga") Series "Gunnm" (Battle Angel Alita) By Yukito Kishiro, visionary filmmakers James Cameron (AVATAR) and Robert Rodriguez (SIN CITY) create a groundbreaking new heroine in ALITA: BATTLE ANGEL, an action-packed story of hope, love and empowerment. Set several centuries in the future, the abandoned Alita (Rosa Salazar) is found in the scrapyard of Iron City by Ido (Christoph Waltz), a compassionate cyber-doctor who takes the unconscious cyborg Alita to his clinic. When Alita awakens she has no memory of who she is, nor does she have any recognition of the world she finds herself in. Everything is new to Alita, every experience a first. As she learns to navigate her new life and the treacherous streets of Iron City, Ido tries to shield Alita from her mysterious past while her street-smart new friend, Hugo (Keean Johnson), offers instead to help trigger her memories. A growing affection develops between the two until deadly forces come after Alita and threaten her newfound relationships. It is then that Alita discovers she has extraordinary fighting abilities that could be used to save the friends and family she's grown to love. Determined to uncover the truth behind her origin, Alita sets out on a journey that will lead her to take on the injustices of this dark, corrupt world, and discover that one young woman can change the world in which she lives.

Film not yet Rated