Saikou Movie Meet Up - Promare (English Dub Version)
Ready for another Saikou Movie Meet Up? We are! The first feature-length film from the acclaimed Studio TRIGGER, creators of the hit series KILL la KILL and Little Witch Academia, and director Hiroyuki Imaishi (GURREN LAGANN, KILL la KILL), Promare uses a bold cel-shaded visual style to tell a blistering action-adventure story, and is the spiritual successor to many of director Imaishi's former works.
This Saikou Movie Meet Up will take place at the AMC Allentown Classic 16 located at 1700 Catasauqua Road, Allentown, PA 18109. As in the past, those joining this Movie Meet Up will be responsible for purchasing their own tickets. Advance tickets are available at https://www.fathomevents.com/events/promare?date=2019-09-17. Please RSVP on our Facebook Event page for this Saikou Movie Meet Up, https://www.facebook.com/events/2528709184029824/, this way we have an expected headcount and can attempt to sit together or at least in proximity to each other during the showing.
Thirty years has passed since the appearance of Burnish, a race of flame-wielding mutant beings, who destroyed half of the world with fire. When a new group of aggressive mutants calling themselves "Mad Burnish" appears, the epic battle between Galo Thymos, a new member of the anti-Burnish rescue team "Burning Rescue," and Lio Fotia, the leader of "Mad Burnish" begins.
Genres: Action, Mecha, Sci-Fi, Super Power

Duration: 1 hour and 51 minutes (Fathom's website is listing the film as 2 hours and 1 minute however)
Rating: PG-13 - Teens 13 or older
SaikouCon Party Table at Shikkaricon 2019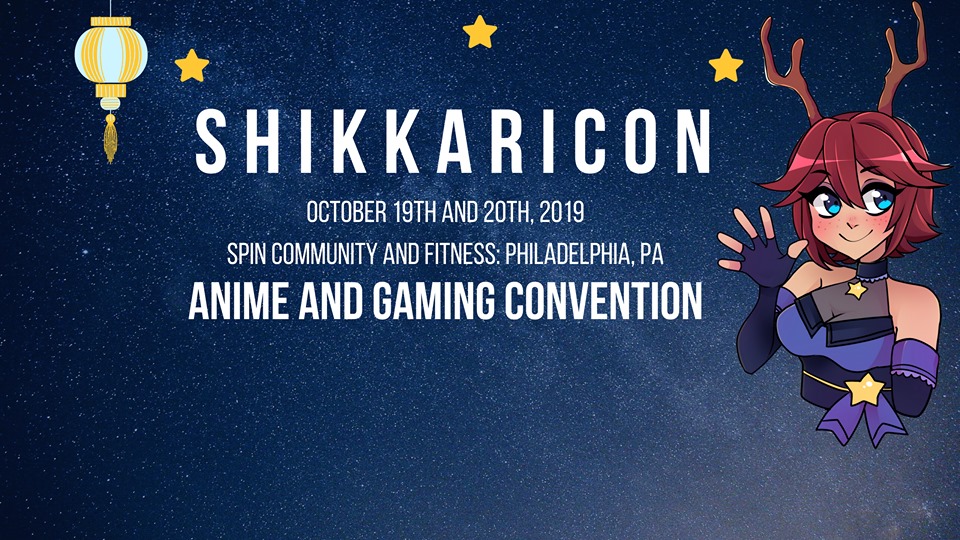 SaikouCon will have a Party Table at Shikkaricon 2019! If you're attending Shikkaricon 2019, make sure you stop by our Party Table to enjoy some music, hang time with SaikouCon's organizers, a contest or two just for Shikkaricon attendees, and maybe a few surprises!
Shikkaricon is back after a long hiatus! We are an anime and video gaming convention that was started back in 2006 at Bucks County Community College in Newtown, PA. We are back and better than ever, but now we are being held in Philadelphia! We hope you'll join us for the return of Shikkaricon, and we're excited to be back!
SaikouCon Party Table at DerpyCon 2019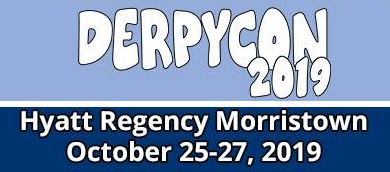 Party Table for the Saikou Crew? Don't mind if we do, Year Six of DerpyCon here we come!!! Get ready for one heck of a blowout from our New Jersey based buddies, DerpyCon! This is not only the convention's sixth year, but it is their last in Morristown, NJ, having outgrown their longtime home at the Hyatt Regency Morristown, DerpyCon will be moving to the Hyatt Regency New Brunswick in 2020!





So, come on out, help DerpyCon have an amazing last year in Morristown, and stop on by the SaikouCon Party Table where the Saikou Crew will hanging out, jamming, with some giveaways and fun just for DerpyCon 2019 attendees!!! How many more exclamation points can we fit in this paragraph of Party Table info?!?!?!?!?!?
DerpyCon 2019 Official Information:
Join us for the sixth annual DerpyCon in Morristown, NJ. DerpyCon is New Jersey's Anime, Gaming, Sci-Fi, and Comic Convention! Visit www.derpycon.com for all the latest information on DerpyCon's 2019 convention, including guest announcements, programming schedule, and pre-registraiton news and updates!
Saikou Movie Meet Up - Sonic The Hedgehog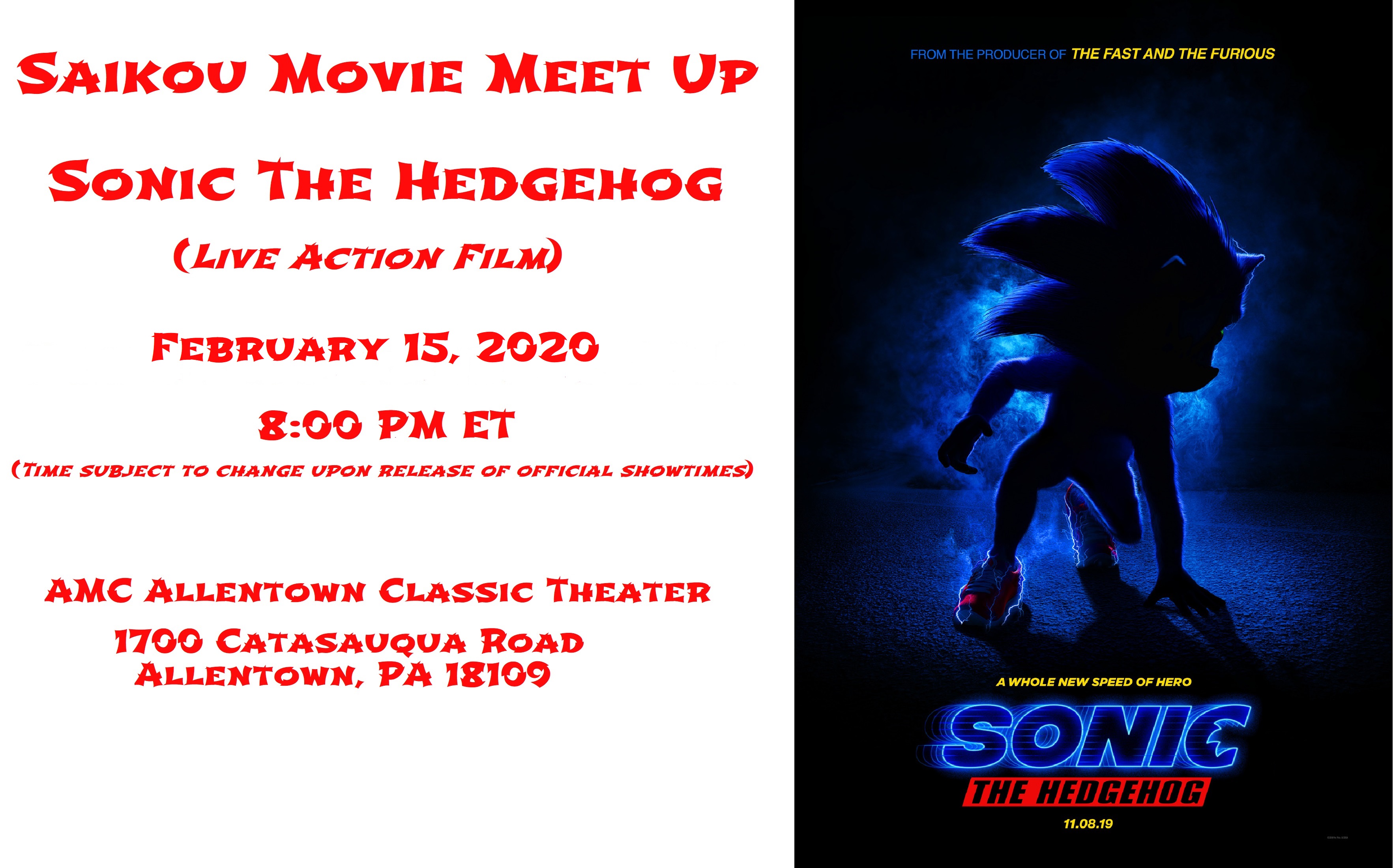 Gotta go faster, faster, faster... oh, sorry, that's the song from the Sonic X anime. So, the character design of Sonic and Jim Carrey as Eggman has divided the Sonic fandom well in advance of the film's release, but we're game to see it, wanna come with? We can debate whether it sucked or not as hardcore (short of rage quitting the Meet Up) we want leading up to the movie and continue after the credits roll. The most vocal of us will likely be the con chair, Mike, just warning you... even though he thinks it'll be better than Sonic Boom. He only hates Sonic Boom because they made his favorite character, Knuckles, a meathead.



UPDATE: Sonic The Hedgehog's release date has been pushed back to February 14, 2020 due to the backlash from fans and rumored backlash from Sega over the character design for Sonic. This push back is reportedly to give time for Sonic to redesigned and the film to be recut with the new character design, hopefully closer to Sonic's original design from the video games, as opposed to the original design seen in the first trailer for the film. We have decided to reschedule this Saikou Movie Meet Up for February 15, 2020, if you wish to see it on it's actual release date, we completely understand, we're scheduling the Meet Up for the 15th for anyone that has a date on Valentine's Day and doesn't want to make it a group date with the SaikouCrew.
Please RSVP on our Facebook event page, https://www.facebook.com/events/582380028894731/, so we know how many are expected, that way we can plot out how early to arrive at the theater so we can all sit together or at least in proximity to each other. Everyone will be responsible for purchasing their own tickets once they are available. The listed time above is just a placeholder at present and is subject to change once official showtimes have been released to the public. Tickets, once open for pre-purchase, may be acquired at https://www.amctheatres.com/movie-theatres/philadelphia/amc-classic-allentown-16 (updated link will be posted once there is a landing page for Sonic tickets).
Sonic The Hedgehog Synopsis:
Juvenile delinquent Sonic the Hedgehog and local policeman Tom Wachowski must stop Dr. Eggman from completing his plans for world domination.

Film is not yet rated
Ben Shwartz as Sonic The Hedgehog

Jim Carrey as Dr. Eggman/Robotnik

James Marsden as Tom Wachowski

Tika Sumpter in a yet to revealed role

Adam Pally in a yet to be revealed role

Neal McDonough in a yet to be revealed role

Lee Maljoub as Stone

Frank C. Turner as Crazy Carl

Natasha Rothwell in a yet to be revealed role

Debs Howard in a yet to be revealed role

Elfina Luk in a yet to be revealed role