Saikou Movie Meet Up - The Tale of The Princess Kaguya
(English Dub Version)
The final entry of GhibliFest 2019 presented by GKids, The Tale of The Princess Kaguya and we're going to see it for the last Saikou Movie Meet Up of the year! Come hang out with us and see the English Dub version of one of the most critically acclaimed anime films from Studio Ghibli! It is billed as a powerful and soaring epic that redefines animated storytelling and marks a triumphant highpoint within an extraordinary filmmaking career for director and studio co-founder Isao Takahata.

The English Dub stars the voice talents of James Caan, John Cho, Darren Criss, Lucy Liu, James Marsden, and Chloë Grace Moretz. The Tale of The Princess Kaguya was director Isao Takahata's final film was nominated for an Academy Award®.
The Tale of The Princess Kaguya Synopsis:
Deep in the countryside, a man named Okina works as a bamboo cutter in a forest, chopping away at the hollow plants day after day. One day, he discovers a small baby inside a glowing shoot. He immediately takes her home, convinced that she is a princess sent to Earth as a divine blessing from heaven. Okina and his wife Ouna take it upon themselves to raise the infant as their own, watching over her as she quickly grows into an energetic young girl. Given the name Kaguya, she fits right in with the village she has come to call home, going on adventures with the other children and enjoying what youth has to offer.
Genres: Fantasy, Historical

Duration: 2 hours & 17 minutes (billed as 2 hours & 35 minutes by Fathom Events)

Rated PG for some Adult Situations
1/11, 2020 - 8 PM (postponed from 12/14/19):
SaikouCon & The Encounter Present
Anime Night Free Screening
Persona 5 The Animation
(Japanese Dub w/English Subtitles)
To cap off 2019, we're showing the anime based on the smash hit PS4 game, Persona 5! Enter the Metaverse with us as we follow protagonist Ren Amamiya as he awakens his Persona and battles the Shadows to keep those important to him, and the rest of Tokyo, safe while punishing people that prey on their fellow humans.
As always, tickets are not needed for our Anime Night Free Screenings, but please RSVP on our Facebook Event page for this screening; https://www.facebook.com/events/414313759487625/. We ask so we have an expected head count and can optimize the seating in the game room of The Encounter Comics and Games. The Encounter is located at 811 Union Boulevard, Allentown PA 18109, please use the side door on the left of the building to enter as the shop front door will be locked at 8 PM when they the main part of the shop closes for the night. Parking is available in the front of the shop and behind the shop, please do not park in the parking lot of the restaurant to the left of The Encounter; the owners will have your vehicle towed at your expense.
Persona 5 The Animation Synopsis:
Ren Amamiya, a new transfer student at Shujin Academy, is sent to Tokyo to live with his family friend Sojiro Sakura after wrongly being put on probation for defending a woman from sexual assault. While on the way to attend his first day at his new school, Ren notices a strange app has appeared on his phone, transferring him to a world known as the Metaverse, which contains people's "shadows": distorted depictions of their true selves. In the Metaverse, he awakens his Persona, a power from deep within that gives him the strength to fight the shadows. With the help of similarly troubled students, he forms the Phantom Thieves of Hearts, attempting to save people from their sinful desires by "taking their heart," making evildoers regret their actions and turn over a new leaf. The group's reputation continues to grow explosively, bringing along fame both positive and negative.
Genres: Action, Fantasy, Supernatural

Duration: 24 minutes per episode

Rating: R - 17+ (violence & profanity)

Episodes 0-4 will be screened. Sponsored by Crunchyroll.
SaikouCon Party Table at Setsucon 2020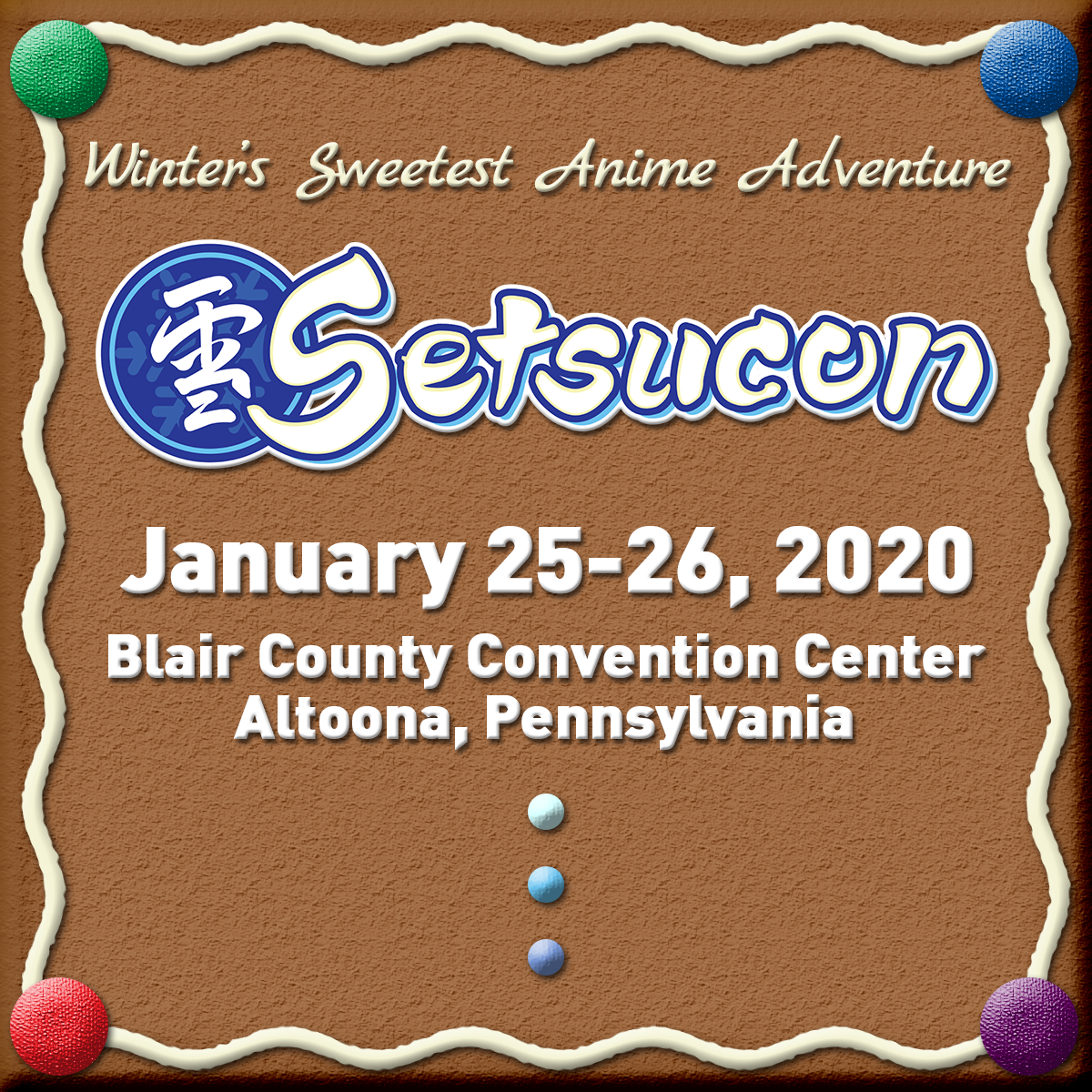 SaikouCon is returning to Setsucon's Con Row this January! This is our third time hanging out and partying up with our friends Setsucon and we recommend you check them out too if you haven't! We'll be set up in Con Row with some giveaways, groovin' to some tunes, and meeting n' greeting everyone that wants to hang out and talk anime, video games, and cosplay! Come hang out if you're hitting up the show to combat any winter blues or post holiday malaze; we'll even let you take pictures with our Party Table Venusaur!
Setsucon 2020 Official Info:
Join us for Setsucon 2020 - where anime, gaming, cosplay, and Japanese culture collide with the Pennsylvania winter!
We will be celebrating our 14th year on January 25-26, 2020 at the Blair County Convention Center in Altoona, Pennsylvania.
Meet the voices of Naofumi and Myne in The Rising of the Shield Hero, Billy Kametz and Faye Mata!
For more information, visit:
setsucon.com
.
Saikou Movie Meet Up - Sonic The Hedgehog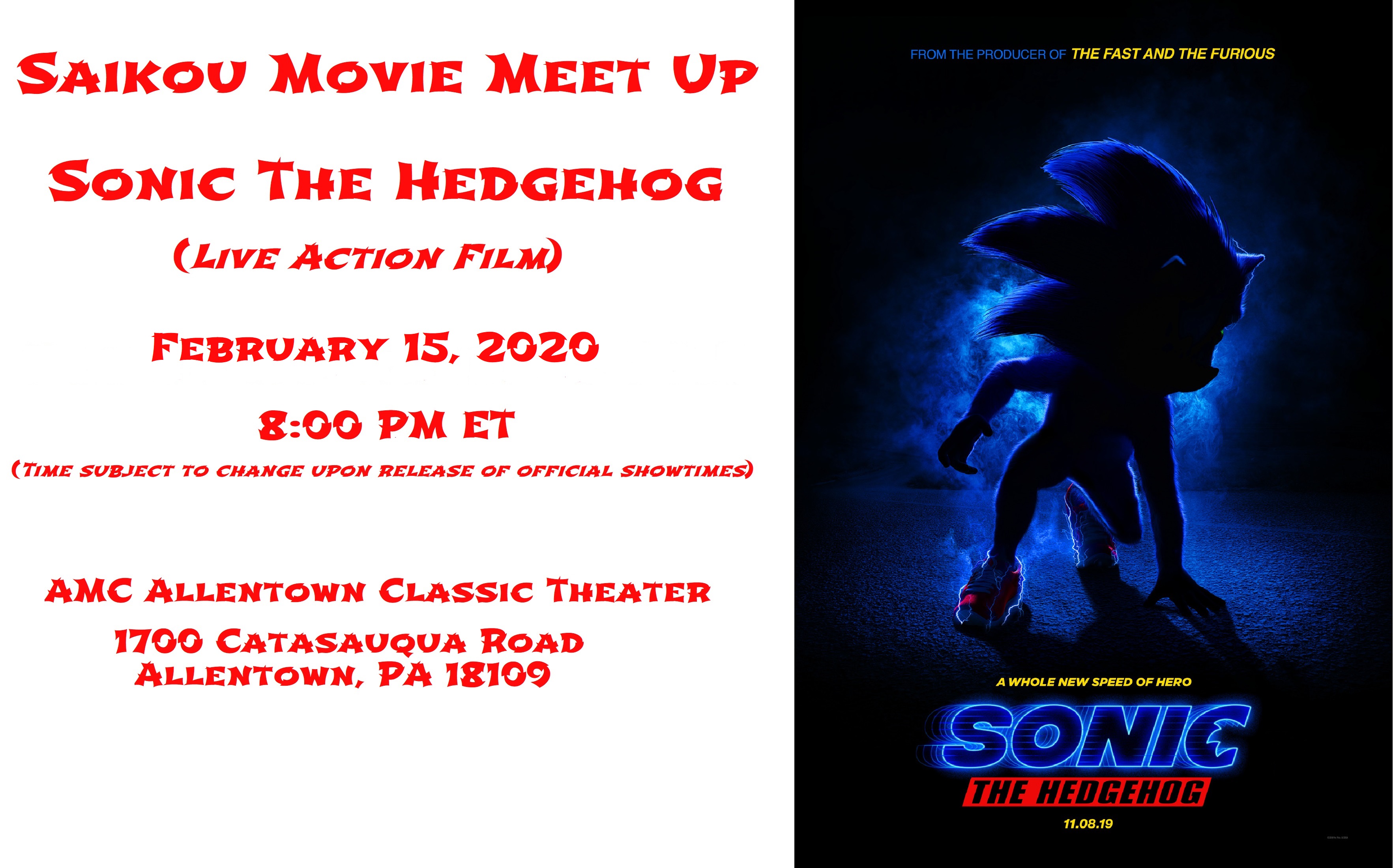 Gotta go faster, faster, faster... oh, sorry, that's the theme song from the Sonic X anime. So, the character design of Sonic and Jim Carrey as Eggman has divided the Sonic fandom well in advance of the film's release, but we're game to see it, wanna come with? We can debate whether it sucked or not as hardcore (short of rage quitting the Meet Up) as we want leading up to the movie and continue after the credits roll. The most vocal of us will likely be the con chair, Mike, just warning you... even though he thinks it'll be better than Sonic Boom. He only hates Sonic Boom because they made his favorite character, Knuckles, a meathead.



UPDATE: Sonic The Hedgehog's release date has been pushed back to February 14, 2020 due to the backlash from fans and rumored backlash from Sega over the character design for Sonic. This push back is reportedly to give time for Sonic to be redesigned and the film to be recut with the new character design, hopefully closer to Sonic's original design from the video games, in place as opposed to the original design seen in the first trailer for the film. We have decided to reschedule this Saikou Movie Meet Up for February 15, 2020, if you wish to see it on it's actual release date, we completely understand, we're scheduling the Meet Up for the 15th for anyone that has a date on Valentine's Day and doesn't want to make it a group date with the SaikouSquad.
Please RSVP on our Facebook event page, https://www.facebook.com/events/582380028894731/, so we know how many are expected, that way we can plot out how early to arrive at the theater so we can all sit together or at least in proximity to each other. Everyone will be responsible for purchasing their own tickets once they are available. The listed time above is just a placeholder at present and is subject to change once official showtimes have been released to the public. Tickets, once open for pre-purchase, may be acquired at https://www.amctheatres.com/movie-theatres/philadelphia/amc-classic-allentown-16 (updated link will be posted once there is a landing page for Sonic tickets).
Sonic The Hedgehog Synopsis:
Juvenile delinquent Sonic the Hedgehog and local policeman Tom Wachowski must stop Dr. Eggman from completing his plans for world domination.

Film is not yet rated
Ben Shwartz as Sonic The Hedgehog

Jim Carrey as Dr. Eggman/Robotnik

James Marsden as Tom Wachowski

Tika Sumpter in a yet to revealed role

Adam Pally in a yet to be revealed role

Neal McDonough in a yet to be revealed role

Lee Maljoub as Stone

Frank C. Turner as Crazy Carl

Natasha Rothwell in a yet to be revealed role

Debs Howard in a yet to be revealed role

Elfina Luk in a yet to be revealed role

SaikouCon Party Booth at Zenkaikon 2020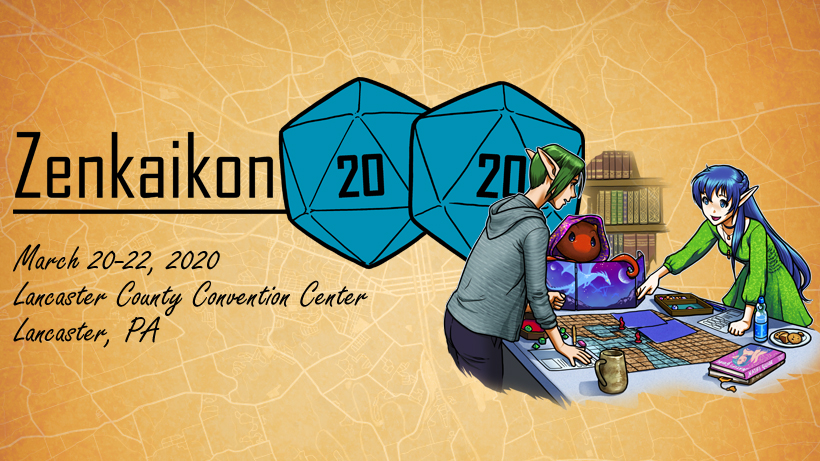 SaikouCon is back at Zenkaikon again in 2020! You know the drill... our standard Party Booth set up... hang time with members of the SaikouSquad... giveaways just for Zenkaikon attendees... fun... photos with our imfamous Party Booth Venusaur... maybe a surprise or two... alright, enough ellipses. If you're attending Zenkaikon, stop by our Party Booth for all of the above, minus the ellipses, and have some fun with the Squad from SaikouCon!
Zenkaikon 2020 Official Info:
The three day event will include panels, workshops, screenings, concerts, cosplay, video gaming, tabletop gaming, LARP, AMVs, dances, vendors, artists, and more!
SaikouCon Party Booth at Thy Geekdom Con 2020
SaikouCon takes Philadelphia! We will be set up at Thy Geekdom Con VII (2020) with our standard Party Booth, this will be our first time actually getting to Thy Geekdom Con, our friends there invited us out last year and set us up with a table, but last minute car repairs kept us away, so we are stoked to actually make it to Thy Geekdom this year. Give them a visit if you haven't already, they have some awesome plans for their seventh year!
Thy Geekdom Con Official Info:
Thy Geekdom Con is a pop culture convention and is back for our 7th con! We will be back at the Greater Philadelphia Expo Center in Oaks, PA. You can expect to see Acts, Anime, Artists, Comics, Cosplay, Crafters, Panels, Tabletop Games, TV/Movies, and Video Games! For more information visit www.facebook.com/ThyGeekdomCon.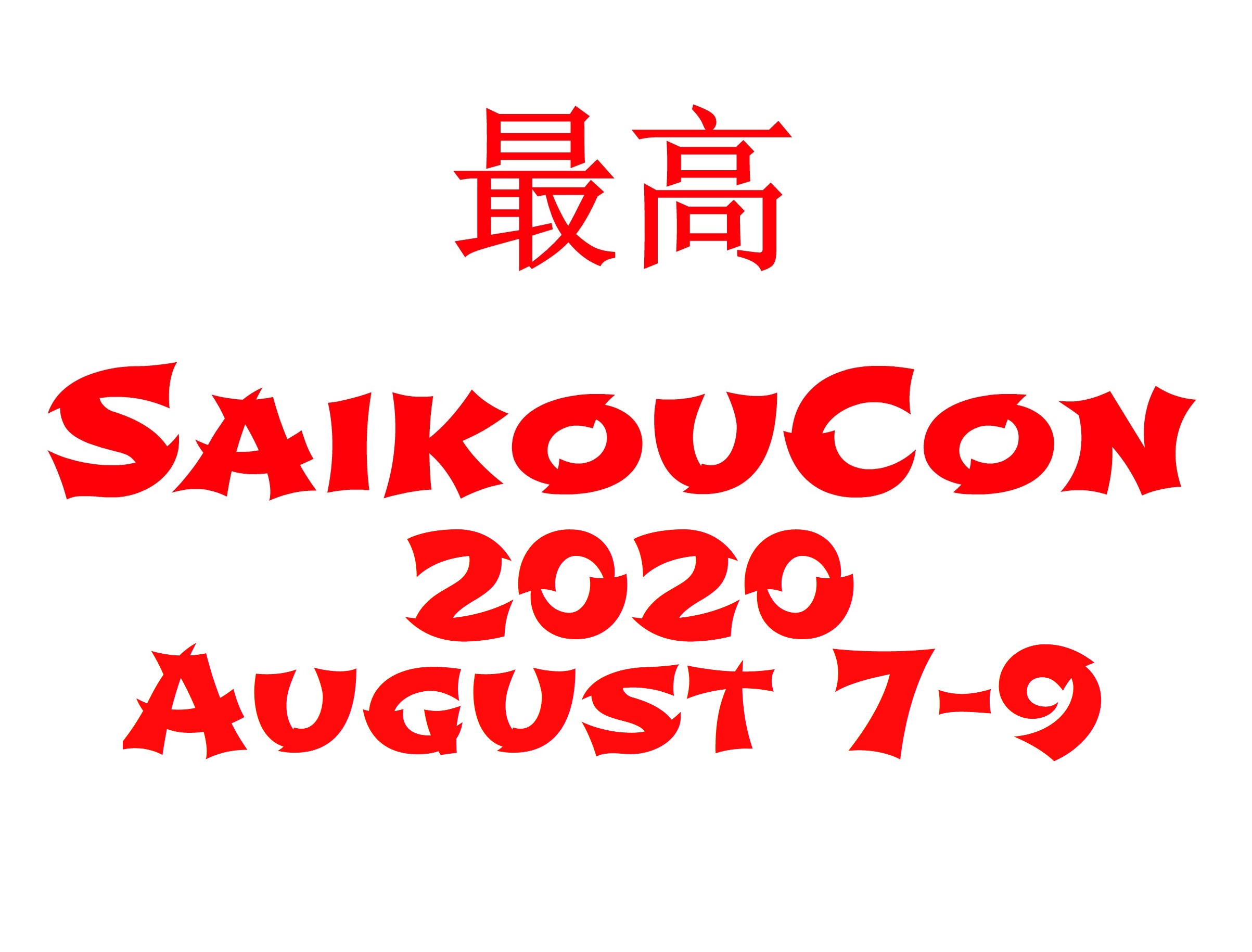 SaikouCon 2020, the convention's eighth year! Kick off a new decade with your friends at SaikouCon, the roaring 20s of the new millenium are here, let the party begin! SaikouCon 2020 will take place at The Mountain Laurel Resort located at 81 Treetops Drive, White Haven PA 18661 on August 7, 8, and 9 of 2020. As the new decade begins, we edge closer to the tenth anniversary of the convention... and what a ride those previous years have been! Now that SaikouCon has found a consistent home in Mountain Laurel Resort & Spa, we can finally give our all to the show itself rather than hunting for new digs for half the year's build up time, and we are ready to rock 2020 harder than any year of SaikouCon that has come before.

Are you ready to put the ROAR into the new Roarin' 20s with us?!?
Let's ROCK It!!!!

Pre-Registration (Advance Tickets) is available on the Registration page here on SaikouCon.com, General Admission pre-reg is open from September 15, 2019 until July 25, 2020 and VIP Registration is open from September 15, 2019 until July 10, 2020; VIP Badges will not be available at the door. VIP Registration closes earlier in the year than General Admission to ensure there is time to design the exclusive VIP Mini-Poster that VIP Badge Holders are given for autograph purposes at the VIP Meet and Greet with our 2020 Guests of Honor (no other items for autographs are allowed to be brought into the Meet and Greet). Merchant Applications will open on the Merchants page on October 1, 2019, stay tuned for more info as there will be some changes to our Merchant Hall for 2020. Panel Submissions and Volunteer Applications will both open on November 1, 2019. Below you will find the guest list and schedule for SaikouCon 2020; schedule is tentative and will filled in as it is finalized until the full schedule is released on June 15, 2020.
SaikouCon 2020 Guest Stars
Aaron Roberts - Voice Actor
More Coming Soon!
SaikouCon 2020 Programming Schedule
Schedule will fill in as the year moves closer to SaikouCon Weekend, with full schedule set for release on June 15, 2020
9 AM -
Pre-Reg Pick Up & At Door Registration Open


Mountain Laurel Resort & Spa Lobby

10 AM -
Pre-Show Screening: TBA
Duration: 2 Hours


Theater Room (North & South Packer Rooms of the Mountain Laurel Resort)

12 PM -
Show Open:
Panel Programming & Screenings
12 PM -
Merchant Hall Open
1 PM -
2020 Opening Ceremonies
Duration: 45 Minutes
Special Event Hall (North Ballroom of
the Mountain Laurel Resort & Spa)
6 PM -
My Hero Academia Prom
Duration: 3 Hours
Special Events Hall (North Ballroom of
the Mountain Laurel Resort)
7 PM -
Merchant Hall Close

7:30 PM -
Registration Close
8 AM -
Pre-Reg Pick Up & At Door Registration Open


Mountain Laurel Resort & Spa Lobby

10 AM -
Show Open:
Panel Programming & Screenings
10 AM -
Merchant Hall Open
12 PM -
Charity Auction Benefitting
Claire's Place Foundation
Duration: 2 Hours
Special Events Hall (North Ballroom of
the Mountain Laurel Resort & Spa)
3 PM -
VIP Badge Holder Meet n' Greet w/ SaikouCon 2020 Guests of Honor
Duration: 1 Hour
Special Events Hall (North Ballroom of
the Mountain Laurel Resort & Spa)
5:30 PM -
SaikouCon 2020 Cosplay Contest
Duration: 3 Hours
Special Events Hall (North Ballroom of
the Mountain Laurel Resort & Spa)
7 PM -
Merchant Hall Close

7:30 PM -
Registration Close
9:30 PM -
SaikouCon 2020 Cosplay Concert feat. TBA
Duration: 3 Hours
Special Events Hall (North Ballroom of
the Mountain Laurel Resort & Spa)
9 AM -
Registration Open


Mountain Laurel & Spa Lobby

10 AM -
Show Open:
Panel Programming & Screenings
10 AM -
Merchant Hall Open
2 PM -
Registration Close
5 PM -
Merchant Hall Close
5:30 PM -
2020 Closing Ceremonies
Duration: 30 Minutes
Special Events Hall (North Ballroom of
the Mountain Laurel Resort & Spa)