SaikouCon Halloween Horror Manga Giveaway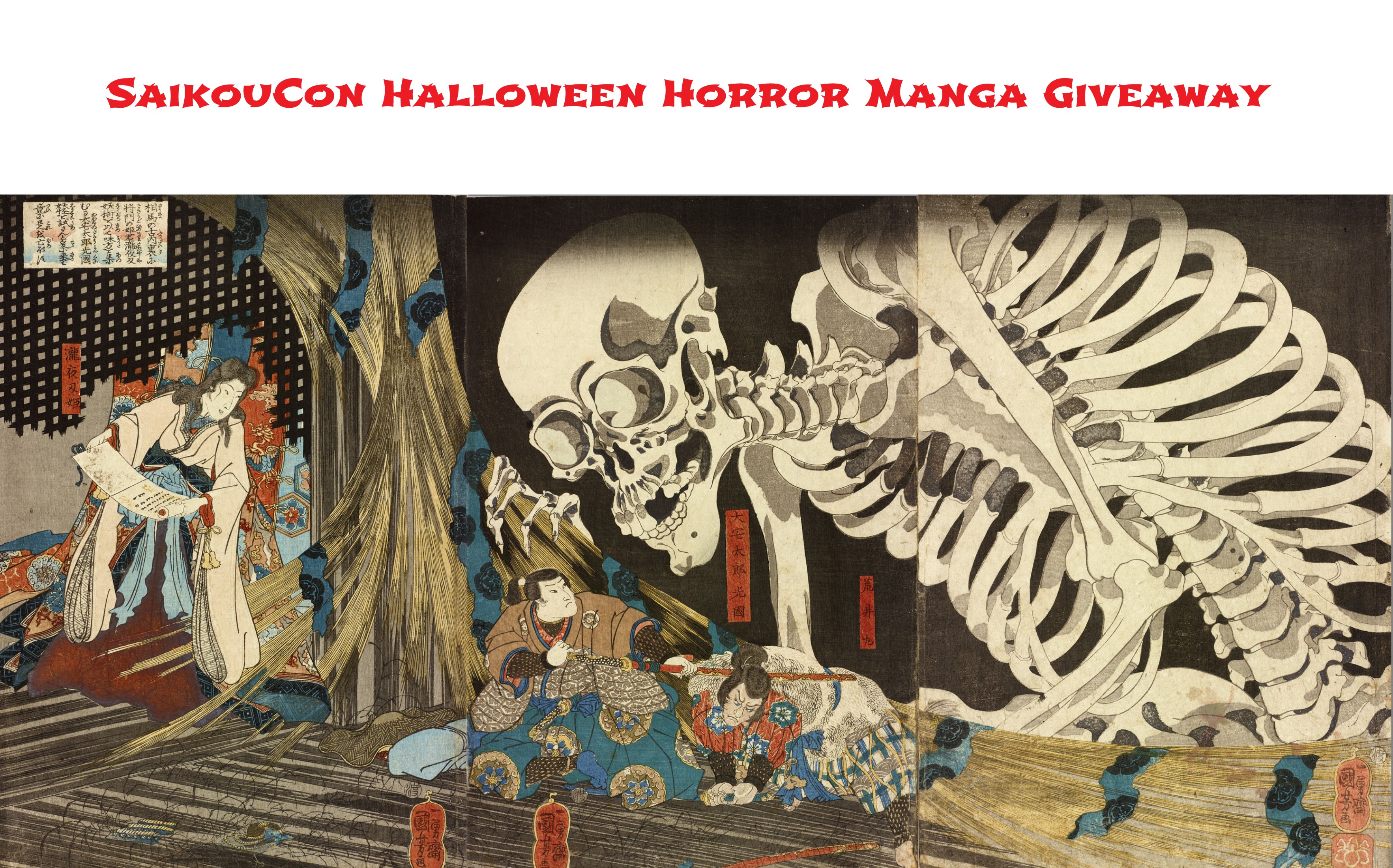 Looking for something to read for Halloween that will send a chill down your spine? Make your heart race faster? Maybe even give you some nightmares? Allow us to be your guide to the darker side of manga! *evil laughter*

UPDATE: Due to unexpected and extended server maintainance by our web host, we unable to edit the convention website for seven days (maintenance began 9/28/18) thus delaying the opening of the entry form from October 1 to October 5, so we have extended the closing of the form until October 30. The original end date of October 24 was so we could the prize sent to the winner in time for Halloween, we apologize for the delay.
Enter for your chance to win two randomly selected horror manga tankoben for Halloween 2018! Entry period will be from October 5, 2018 at 12 PM ET until October 30 at 6 PM ET.
One entry per person to make sure every person that enters the contest has a fair shot at winning. Multiple entries from the same household are fine, but only one entry per person

Multiple entries from the same person will not be entered into the blind drawing that the winner is picked from after the entry period has passed

Fill out the entry form in its entirety, entries that leave required fields empty will be void and not entered into the drawing

Halloween Horror Manga Giveaway Entry Form
* = Required Field, entries with missing information will not be entered into the drawing for the prize
The Encounter & SaikouCon Present
Anime Night Free Screening Halloween Edition
Tokyo Ghoul & Hellsing
This is Halloween, this is Hallo... oops, wrong genre... Double Creature Feature for Anime Night to celebrate Halloween! We've got some Tokyo Ghoul Season 1 for you with a bloody dessert of Hellsing, the night will also feature some giveaway treats, games with horror manga and anime prizes, and maybe some tricks with three episodes of each series to sink your fangs into.

Please note, we're still on Saturday night this month at 8 PM instead of Sunday night at 7 PM.

The Encounter is located at 811 Union Blvd., Allentown PA 18101
Please RSVP on our Facebook Event page for October 2018's Anime Night at: https://www.facebook.com/events/297459027704139/ Tickets are not needed to attend this screening, we only need an expected headcount of attendees to plan optimal seating arrangements if a large crowd will be attending the anime screening.
Tokyo has become a cruel and merciless city—a place where vicious creatures called "ghouls" exist alongside humans. The citizens of this once great metropolis live in constant fear of these bloodthirsty savages and their thirst for human flesh. However, the greatest threat these ghouls pose is their dangerous ability to masquerade as humans and blend in with society. Based on the best-selling supernatural horror manga by Sui Ishida, Tokyo Ghoul follows Ken Kaneki, a shy, bookish college student, who is instantly drawn to Rize Kamishiro, an avid reader like himself. However, Rize is not exactly who she seems, and this unfortunate meeting pushes Kaneki into the dark depths of the ghouls' inhuman world. In a twist of fate, Kaneki is saved by the enigmatic waitress Touka Kirishima, and thus begins his new, secret life as a half-ghoul/half-human who must find a way to integrate into both societies.
Genres: Action, Mystery, Horror, Psychological, Supernatural, Drama, Seinen

Duration: 24 minutes per episode

Rating: R - 17+ (violence & profanity)

Hellsing is named after and centered around the Royal Order of Protestant Knights originally led by Abraham Van Helsing. The mission of Hellsing is to search for and destroy the undead and other supernatural forces of evil that threaten the queen and the country. This organization is currently led by Sir Integra Fairbrook Wingates Hellsing, who inherited the leadership of Hellsing as a child after the death of her father. She witnessed his death which turned her from a once innocent and shy little girl to a tough and deadly force. She is protected by the faithful Hellsing family butler Walter C. Dornez, a deadly foe in his own right, and Alucard, the original and most powerful vampire, who swore loyalty to the Helsing family after being defeated by Van Helsing one hundred years before the story takes place.
Genres: Genres: Action, Horror, Supernatural, Vampire, Seinen

Duration: 23 minutes per episode

Rating: R - 17+ (violence & profanity)

Episodes 1-3 of Tokyo Ghoul, sponsored by Funimation, and Episodes 1-3 of Hellsing, sponsored by Crunchyroll, will be screened.
SaikouCon Mangagiving 2018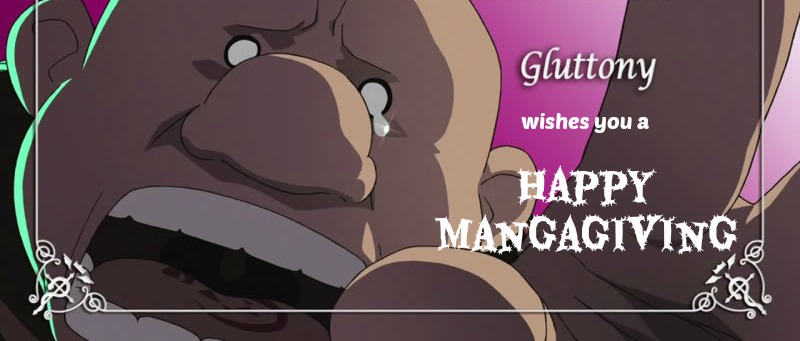 Our annual Mangagiving Giveaway is back for 2018! This year we're giving away two randomly selected manga volumes! Fill out the entry form below to enter starting November 1, 2018 at 12 PM! Entry will close at 6 PM ET on Wednesday, November 21. The winner will be selected by blind drawing and announced on Thanksgiving Day, November 22, 2018. Multiple entries from the same household are welcome, but only one valid entry per person will entered into the drawing, duplicate entries will not be counted to give all entrants an equal shot at winning the prize.
SaikouCon Party Table at DerpyCon 2018

SaikouCon will have a Party Table at DerpyCon 2018! If you're attending DerpyCon 2018, stop on by our Party Table to enjoy some music, hang time with SaikouCon's organizers, a contest or two just for DerpyCon attendees, possibly a suprise or two!
DerpyCon 2018 Official Info:
DerpyCon 2018, taking place November 9-11, 2018, at the Hyatt Regency Morristown in Morristown, NJ! DerpyCon is a small, fun multi genre sci fi convention, celebrating the culture of science fiction, fantasy, animation, and beyond. For more infomation visit www.derpycon.com.
The Encounter & SaikouCon Present:
Anime Night Free Screening
Darling in the FranXX
"You got Shoujo in my mecha!"
"No, you got mecha in my Shoujo!"

Can't we have both? For November's Anime Night we're giving Darling in the FranXX a try, an interesting spin on the mecha genre combined with Shoujo and straight up sci-fi monster bashing! Join the fun with SaikouCon and The Encounter!

Taking place on Saturday, November 17 at 8 PM, we're jamming out the first five episodes of this series, hanging out, and having some fun.

The Encounter is located at 811 Union Blvd, Allentown PA 18101
Please RSVP on our Facebook Event page at https://www.facebook.com/events/1560531764048411/
Tickets are not needed to attend this screening, we only need an expected headcount of attendees to plan optimal seating arrangements if a large crowd will be attending the anime screening.
Darling in the FranXX Synopsis:
In the distant future, humanity has been driven to near-extinction by giant beasts known as Klaxosaurs, forcing the surviving humans to take refuge in massive fortress cities called Plantations. Children raised here are trained to pilot giant mechas known as FranXX—the only weapons known to be effective against the Klaxosaurs—in boy-girl pairs. Bred for the sole purpose of piloting these machines, these children know nothing of the outside world and are only able to prove their existence by defending their race. Hiro, an aspiring FranXX pilot, has lost his motivation and self-confidence after failing an aptitude test. Skipping out on his class' graduation ceremony, Hiro retreats to a forest lake, where he encounters a mysterious girl with two horns growing out of her head. She introduces herself by her codename Zero Two, which is known to belong to an infamous FranXX pilot known as the "Partner Killer." Before Hiro can digest the encounter, the Plantation is rocked by a sudden Klaxosaur attack. Zero Two engages the creature in her FranXX, but it is heavily damaged in the skirmish and crashes near Hiro. Finding her partner dead, Zero Two invites Hiro to pilot the mecha with her, and the duo easily defeats the Klaxosaur in the ensuing fight. With a new partner by his side, Hiro has been given a chance at redemption for his past failures, but at what cost?
Genres: Action, Drama, Mecha, Romance, Sci-Fi

Duration: 24 minutes per episode
Rating: PG-13 - Teens 13 or older
Episodes 1-5 of Darling in the FranXX will be screened, sponsored by Crunchyroll.
The Encounter & SaikouCon Present
Anime Night Free Screening
Space Battleship Yamato 2199
We started the Anime Nights of 2018 with Yamato and now we are closing the year out the same way with the final four episodes of Space Battleship Yamato 2199. It has been a fun year with a lot of great anime screened courtesy of Funimation and Crunchyroll both, stop by for fun, games, some giveaways, and holiday cheer!

Please note we are continuing our new Saturday night at 8 PM timeslot for Anime Night that we have been in since August, 2018. Also, a reminder, Anime Night is taking January, 2019 off and will return in February!

The Encounter is located at 811 Union Boulevard, Allentown PA
Please RSVP on our Facebook Event page for December, 2018's Anime Night at: https://www.facebook.com/events/632689013792139/
Tickets are not needed to attend this screening, we only need an expected headcount of attendees to plan optimal seating arrangements if a large crowd is attending the anime screening.
Space Battleship Yamato 2199 Synopsis:
In the year 2199, Earth faces its greatest crisis. Due to unrelenting bombings by the alien race known as "Gamilas," the planet can no longer sustain its inhabitants. In exactly one year, humanity is set to become extinct. In desperation, the people of Earth establish the Earth Defense Force, their last defense against the power-hungry Gamilas Empire. However, humanity finds a glimmer of hope after receiving a message from the mysterious planet Iscandar, which offers them a device that would restore Earth to its former glory. With salvation in sight, the Earth Defense Force calls on the prolific Space Battleship Yamato and swiftly assembles a crew to make the 148,000 light-year trek to Iscandar and receive their aid. Among the crew are young officers Susumu Kodai and Daisuke Shima, along with several other newly promoted leaders, all under the command of the distinguished Captain Juuzou Okita. Forced to learn how to handle the ship's innovative technology while dealing with the onslaught of Gamilas fleets, the inexperienced crew of Space Battleship Yamato must summon every inch of their resolve to survive the many hardships aboard the Yamato and complete their mission: to save humanity before it's too late.
Genres: Action, Drama, Military, Sci-Fi, Space

Duration: 25 minutes per episode

Rating: PG-13 - Teens 13 or older

Episodes 22-26 will be shown, screening sponsored by Funimation.
Saikou Movie Meet Up - Dragon Ball Super: Broly
Who else is ready for some post-Tournament of Power Dragon Ball Super? How about Universe 7 Broly? New Super Saiyan forms? The return of Mastered Ultra Instinct? Some much needed new power levels for Piccolo? Gohan getting to be Buu Saga level bad @$$ again?!?! Alright, enough fan hypotheses; who else is hype for Dragon Ball Super: Broly???
Theater location we'll be setting the Saikou Movie Meet Up at and link to tickets will be listed here as soon as more than the North American and Canadian theatrical release date are released to the public.
Dragon Ball Super: Broly Official Synopsis:
This is the story of a new Saiyan. Earth is peaceful following the Tournament of Power. Realizing that the universes still hold many more strong people yet to see, Goku spends all his days training to reach even greater heights. Then one day, Goku and Vegeta are faced by a Saiyan called 'Broly' who they've never seen before. The Saiyans were supposed to have been almost completely wiped out in the destruction of Planet Vegeta, so what's this one doing on Earth? This encounter between the three Saiyans who have followed completely different destinies turns into a stupendous battle, with even Frieza (back from Hell) getting caught up in the mix.
Genres: Action, Adventure, Comedy, Super Power, Martial Arts, Fantasy, Shounen

Duration: 1 hour and 30 minutes

Rating: PG-13 - Teens 13 or older

SaikouCon Party Table at Setsucon 2019

We'll be bringing our Party Booth set up to Setsucon 2019... music, exclusive giveaways just for Setsucon attendees, some SaikouKaiju, an appearance or two by Uncle Iroh Order of the White Lotus, and may a surprise or two!



Setsucon 2019's official information:
Join us for Setsucon 2019, a family-friendly anime convention that people of all ages have come to love in the past 13 years! This year is the second year we are at the Blair County Convention Center in Altoona, PA located in Central Pennsylvania.
Setsucon is a 2 day con featuring:
Guests of Honor, including Voice Actor Jason Liebrecht

Attendee hosted panels

An exhibitors hall with a variety of Artists and Vendors

A Game Room with games from many different consoles

Card Gaming Tournaments

Our unique Iron Cosplay event

And much more!

Come and make our 13th year, not only out of this world, but out of this UNIVERSE!! Visit www.setsucon.com for tickets and more information!
Setsucon is hosted by the Penn State Anime Organization (PSAO). Since September 2001, the PSAO has been bringing anime, manga and Japanese pop culture to the University Park campus. Working to provide both weekly screenings and a social environment for Penn State's anime/manga fan base, the PSAO is continually broadening its horizons. The PSAO meetings serve multiple functions, including our free weekly anime screenings. We also arrange trips to conventions, have club social events, facilitate DDR events on campus, and much much more!
Saikou Movie Meet Up - Alita: Battle Angel
SaikouCon attendees, friends, and fans: who wants to meet up on the release night of the live action adaptation of Battle Angel Alita? Everyone attending the meet up will be responsible for purchasing their own ticket to the movie, which would be the normal set up for a club anyway.



Time is subject to change once screening times of Alita: Battle Angel are released for the AMC Allentown 16. Theater is located at 1700 Catasaqua Road, Allentown, PA 18109; visit www.amctheatres.com for more information on the AMC Allentown 16.
Update: the release of Alita: Battle Angel has been pushed back once more now to February 14, 2019 from December 21, 2018 which was the second release date from its original release date of July 21, 2018. If the release of the film is pushed back again, we will cancel this movie meet up fully and we will all have to see the movie on our own. RSVP on our Facebook event page, so we have an expected head count for people attending the Movie Meet Up, at https://www.facebook.com/events/360402291036774/. If there are any further changes to the release of this film or if the Movie Meet Up is cancelled due to bad weather, now that it is in winter instead of summer, it will be announced on the Facebook Event page as well as here on SaikouCon.com.
Alita: Battle Angel Official Details:
Based on the Manga Series Gunnm (Battle Angel Alita in the US) By Yukito Kishiro, visionary filmmakers James Cameron (AVATAR) and Robert Rodriguez (SIN CITY) create a groundbreaking new heroine in ALITA: BATTLE ANGEL, an action-packed story of hope, love and empowerment. Set several centuries in the future, the abandoned Alita (Rosa Salazar) is found in the scrapyard of Iron City by Ido (Christoph Waltz), a compassionate cyber-doctor who takes the unconscious cyborg Alita to his clinic. When Alita awakens she has no memory of who she is, nor does she have any recognition of the world she finds herself in. Everything is new to Alita, every experience a first. As she learns to navigate her new life and the treacherous streets of Iron City, Ido tries to shield Alita from her mysterious past while her street-smart new friend, Hugo (Keean Johnson), offers instead to help trigger her memories. A growing affection develops between the two until deadly forces come after Alita and threaten her newfound relationships. It is then that Alita discovers she has extraordinary fighting abilities that could be used to save the friends and family she's grown to love. Determined to uncover the truth behind her origin, Alita sets out on a journey that will lead her to take on the injustices of this dark, corrupt world, and discover that one young woman can change the world in which she lives.

Film not yet Rated
SaikouCon Party Booth at Zenkaikon 2019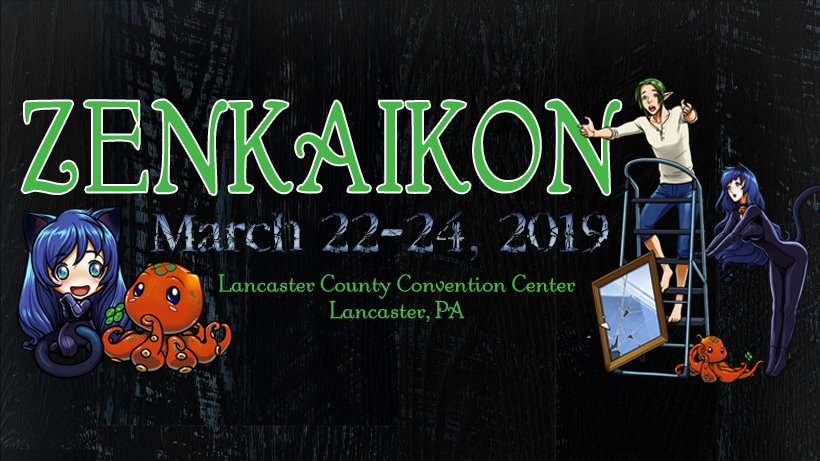 Return to our friends Zenkaikon with another Saikou Party Booth you say? Don't mind if we do! Zenkaikon is putting on a heck of a show for their 13th Year! You won't want to miss it! If you're in attendance, stop by our Party Booth for some tunes, some hang time with SaikouCon staffers, some giveaways just for Zenkaikon attendees, and some surprises!
Zenkaikon 2019 is taking place March 22-24, 2019. Join us at the Lancaster County Convention Center for the 13th annual Zenkaikon! The three day event will include panels, workshops, screenings, concerts, cosplay, video gaming, tabletop gaming, LARP, AMVs, dances, vendors, artists, and more!
SaikouCon at Itz-A-Con 2019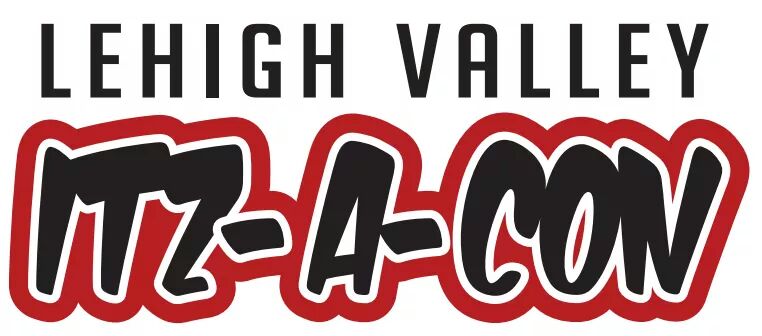 SaikouCon will be at Itz-A-Con 2019! Come join the fun at our friends at IMAGINE Events Concepts' big show, don't miss the fun at one of the Valley's best fan conventions! Come hang out with some of the Saikou Crew at Itz-A-Con!! Our crew is splitting up this weekend between Itz-A-Con 2019 in the Lehigh Valley and Zenkaikon 2019 in Lancaster, PA, but you'll be able to spot us here at Itz-A-Con by our SaikouCon t-shirts.
Lehigh Valley Itza-A-Con Info:
Once again. IMAGINE Event Concepts is taking over the ENTIRE South Mall in Allentown, PA to give you a Truly Awesome local comic-con experience featuring artist, performers, cosplayers, contests and collectibles. It's name is ITZ-A-CON !!!
The Lehigh Valley ITZ-A-CON is a one of a kind Pop Culture event that showcases vendors, artists, comic book writers/artists, cosplayers, and much more!
The Lehigh Valley ITZ-A-CON is a Pop Culture event that show cases all that is both retro and current in the Imagination industry!
PLUS WE ARE STILL FREE TO ENTER!!
So, make plans NOW for one the biggest pop culture conventions the Lehigh Valley has to offer !!!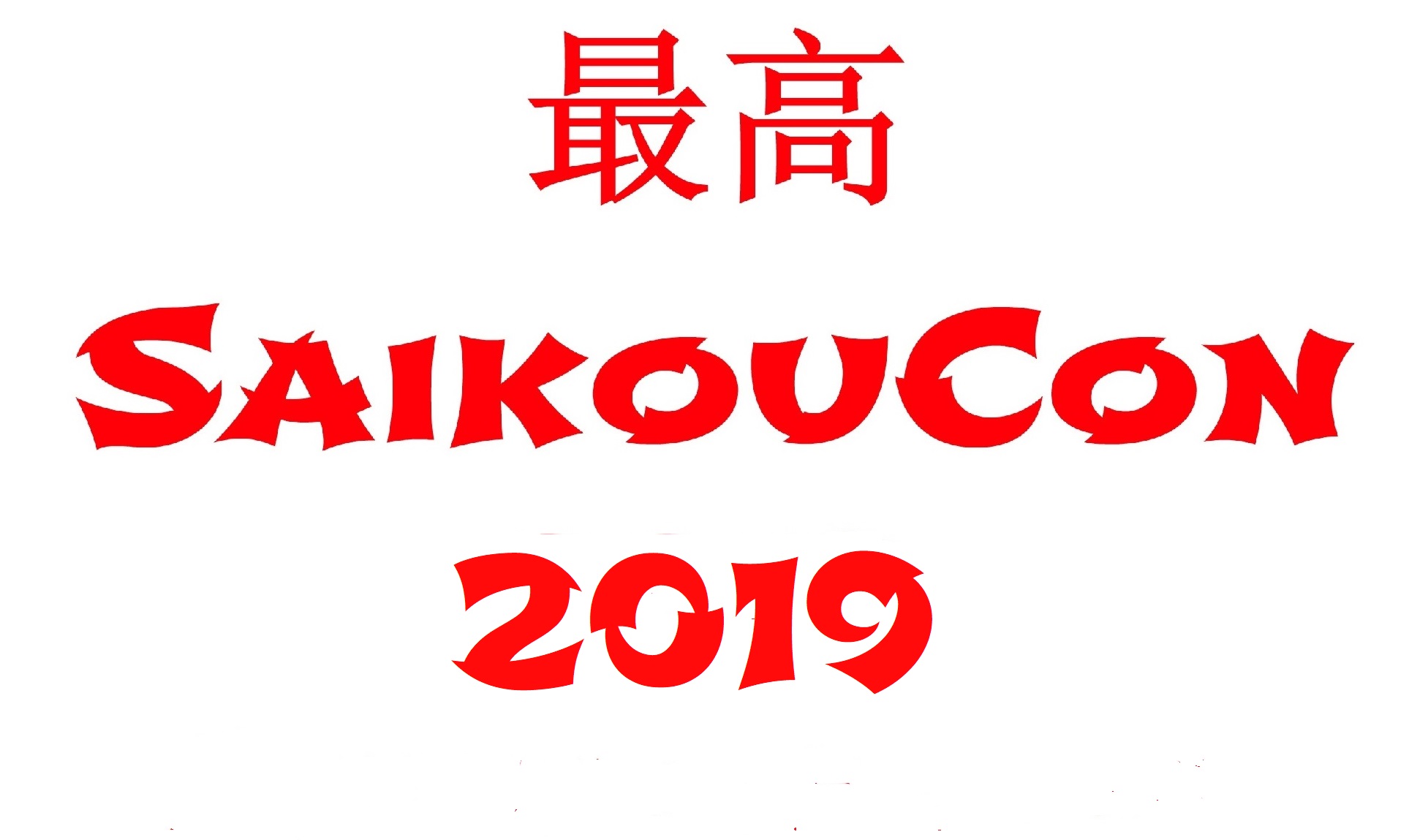 Welcome to the Golden Seven, SaikouCon's seventh year! Good Fortune, Friendship, Community, and more Fun than ever before await you at the anime convention that has defied the odds time and time again. Join us for a year of celebration, shared good fortune, lasting friendships, and ever growing tight knit community at the underdog con that never says die!

Be our guest at SaikouCon 2019, you won't regret it! Witness the true evolution of SaikouCon!

Our 2019 venue will be revealed at 12:01 AM ET on October 17, 2018!
SaikouCon Party Table at Shikkaricon 2019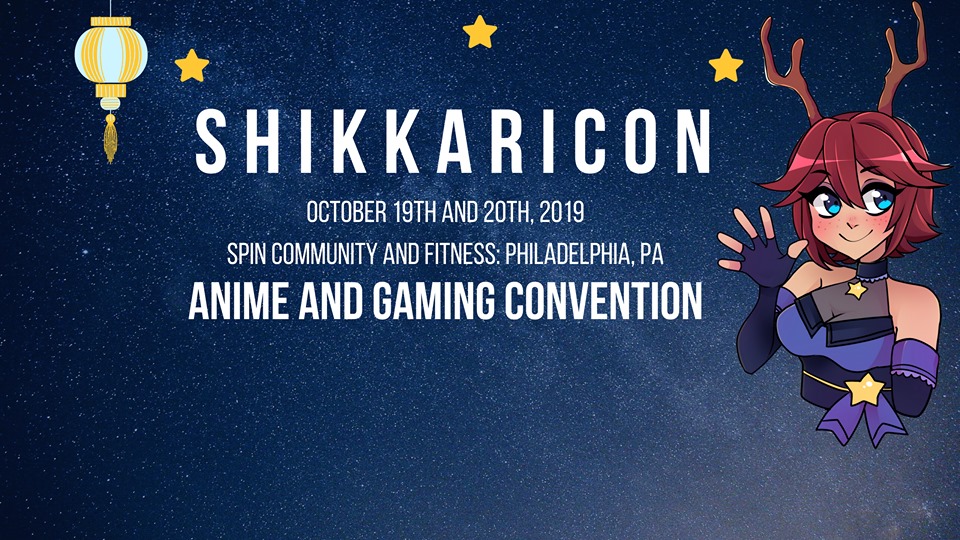 SaikouCon will have a Party Table at Shikkaricon 2019! If you're attending Shikkaricon 2019, make sure you stop by our Party Table to enjoy some music, hang time with SaikouCon's organizers, a contest or two just for Shikkaricon attendees, and maybe a few surprises!
Shikkaricon is back after a long hiatus! We are an anime and video gaming convention that was started back in 2006 at Bucks County Community College in Newtown, PA. We are back and better than ever, but now we are being held in Philadelphia! We hope you'll join us for the return of Shikkaricon, and we're excited to be back!