SaikouCon 2019 Panel Submissions
SaikouCon 2019 Panel Submissions open at 12 PM ET on January 4, 2019 and will close on May 3, 2019 at 6 PM ET. Selected panelists will receive free badges, up to four per panelist group, to not only present their panels at SaikouCon 2019, but also enjoy all three days of the convention. Panelist Badges confer the same unlimited access to SaikouCon 2019 panels, events, activities, concerts, the Merchant Hall etc. that regular 3 Day General Admission Badges give non-presenter attendees.
Please note that while in character panels are loved and welcome, we tend to give them a slightly lower rate of acceptance than other types of panels at SaikouCon, especially when we receive several submissions from the same fandom that are the same type of presentation. As we remind yearly, in 2014 we were inundated with close to a hundred panel submissions that were nearly identical in-character dating games and Q&As from only two fandoms, while these panels are fun and beloved by both attendees and ourselves, the con staff, we simply cannot make an entire weekend of programming around nearly identical panels. Be original! Be unique! Be something you yourself haven't seen at a convention, we at SaikouCon aim to have new and unique programming every year, with some recurring attendee favorites in the mix too of course, so we can give every year the wonder and excitement of your first con experience!
SaikouCon 2019 Panel Submission
* = Required Field, submissions with missing information will not be considered for inclusion in SaikouCon 2019's programming
** = We will try our best to accommodate your time of day requests as closely as possible
+ = If your panel does not have Trigger Warnings, this space should be left blank
++ = Not including laptop/desktop computers, MP3 Players/iPods. We automatically supply screens (usually large Flatscreen TVs, sometimes projectors but not often; technical issues at several past venues have been a liability to the convention by messing up the programming schedule too often), HDMI cables
The Encounter & SaikouCon Present
Anime Night Free Screening
As Miss Beelzebub Likes
We think it's time we embraced some more shojo-ish, comedy series along with some harem anime; we haven't had any harem series since the original Tenchi Muyo OVA series during SaikouCon 2018's screening schedule. Let's fix all that with As Miss Beelzebub Likes! February seems like a good time to fix it, warm up your winter nights with some laughs from Pandemonium, the capital city of Hell!

The Encounter Comics & Games is located at
811 Union Boulevard, Allentown PA 18109

This series will be presented with original Japanese voice cast and English subtitles.
Please RSVP on our Facebook Event page for the February Anime Night; https://www.facebook.com/events/936727953383747/ as always you don't need a ticket, but we would like an expected head count so ourselves and the staff of The Encounter can optimize the seating arrangement for the expected crowd size in the shop's Game Room.
As Miss Beelzebub Likes Synopsis:
Pandemonium is a paradise populated by demons who run Pandemonium in Satan's absence. Beelzebub, a former Seraph, now rules Pandemonium and many demons look up to her as she is an expert ruler. However, in private she is ditzy, airheaded and loves anything fluffy. One day, Beelzebub gets a new attendant named Myurin. Beelzebub seemed wise and cool... at first. Myurin is shocked at the revelation of Miss Beelzebub's true self, but still tries to get closer to Beelzebub every day. Surrounded by various other unique and clumsy demons, the fun and craziness for Miss Beelzebub and Myurin is just beginning.
Genres: Comedy, Demons, Romance, Fantasy, Harem, Shojo

Duration: 24 minutes per episode

Rating: PG-13 - Teens 13 or older

Episodes 1-4, maybe 5 if we have time. Our February 2019 Anime Night is sponsored by Crunchyroll
SaikouCon Party Booth at Zenkaikon 2019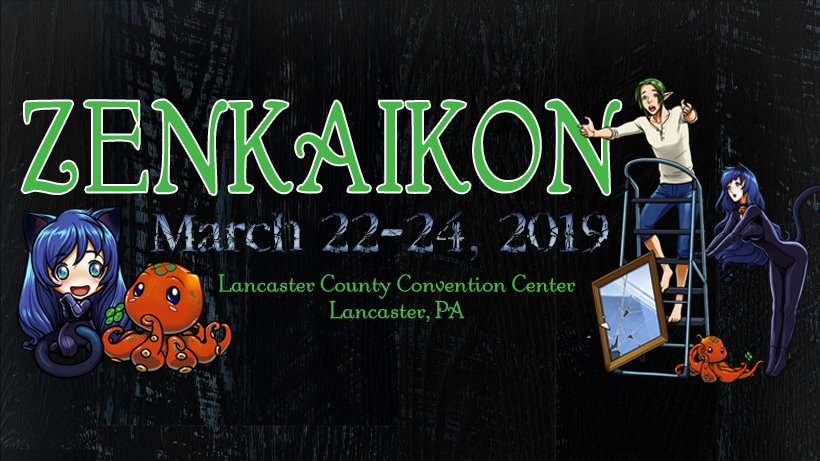 Return to our friends Zenkaikon with another Saikou Party Booth you say? Don't mind if we do! Zenkaikon is putting on a heck of a show for their 13th Year! You won't want to miss it! If you're in attendance, stop by our Party Booth for some tunes, some hang time with SaikouCon staffers, some giveaways just for Zenkaikon attendees, and some surprises!
Zenkaikon 2019 is taking place March 22-24, 2019. Join us at the Lancaster County Convention Center for the 13th annual Zenkaikon! The three day event will include panels, workshops, screenings, concerts, cosplay, video gaming, tabletop gaming, LARP, AMVs, dances, vendors, artists, and more!
SaikouCon at Itz-A-Con 2019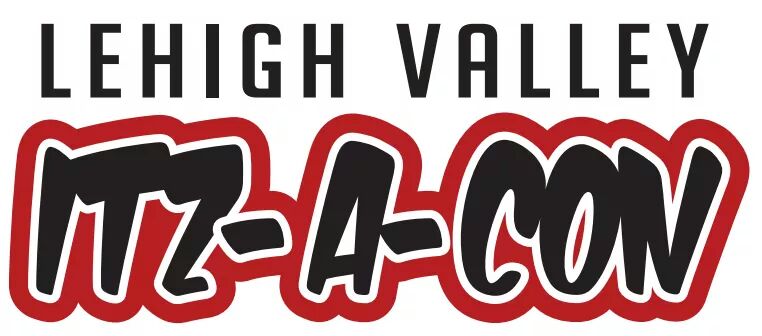 SaikouCon will be at Itz-A-Con 2019! Come join the fun at our friends at IMAGINE Events Concepts' big show, don't miss the fun at one of the Valley's best fan conventions! Come hang out with some of the Saikou Crew at Itz-A-Con!! Our crew is splitting up this weekend between Itz-A-Con 2019 in the Lehigh Valley and Zenkaikon 2019 in Lancaster, PA, but you'll be able to spot us here at Itz-A-Con by our SaikouCon t-shirts.
Lehigh Valley Itza-A-Con Info:
Once again. IMAGINE Event Concepts is taking over the ENTIRE South Mall in Allentown, PA to give you a Truly Awesome local comic-con experience featuring artist, performers, cosplayers, contests and collectibles. It's name is ITZ-A-CON !!!
The Lehigh Valley ITZ-A-CON is a one of a kind Pop Culture event that showcases vendors, artists, comic book writers/artists, cosplayers, and much more!
The Lehigh Valley ITZ-A-CON is a Pop Culture event that show cases all that is both retro and current in the Imagination industry!
PLUS WE ARE STILL FREE TO ENTER!!
So, make plans NOW for one the biggest pop culture conventions the Lehigh Valley has to offer !!!
The Encounter & SaikouCon Present
Anime Night Free Screening
Saint Seiya: Saintia Shō
For our March Anime Night, we're showing the latest addition to the Saint Seiya mythos, Saint Seiya: Saintia Shō! Based on the 2013 manga of the same name, Saintia Shō follows new saints facing a new dire threat to both the world and the Goddess Athena. Join us for a fun night as we scratch that shoujo meets shonen itch with an awesome new hera taking center stage in a classic anime (manga too) adventure of Godly proportions! Screening kicks off at 8 PM sharp!

We'll be showing the original Japanese dub with English subtitles

The Encounter Comics & Games is located at
811 Union Boulevard, Allentown PA 18109
As always, tickets are not needed for our Anime Night Free Screenings at The Encounter, but we do like to have an expected head count so we can plan ahead of time an optimal seating layout in The Encounter's Game Room; to help us in this, please RSVP on our Facebook Event page: https://www.facebook.com/events/546823719133456/
Saint Seiya: Saintia Shō Synopsis:
From the depths of space, the comet Repulse approaches Earth, and with it, a hunger for blood and a banquet of slaughter. The target of the oncoming chaos is Shoko, a high school girl who has no idea what's in store for her. Only Athena, Goddess of War, and her warrior handmaidens stand before the destruction–but will their power be enough to save Shoko from the resurrection of an ancient evil?
Genres: Action, Adventure, Seinen

Duration: 25 minutes per episode

Rating: PG-13 - Teens 13 or older

Episodes 1-5 will be screened, sponsored by Crunchyroll
Saikou Movie Meet Up - Pokemon: Detective Pikachu
Ready for some live action Pokemon? Ready for Ryan Reynolds as the voice of Detective Pikachu? Yeah, neither are we, but that first full trailer has made optimists out of us for this being a good live action anime/video game adaptation. So, what say we give it a shot together? The film is premiering on May 10, 2019, but we're setting this Saikou Movie Meet Up for the day after (stay off the internet to avoid spoilers!), mostly so we're not in a jam packed theater so we can all enjoy the film; we've got a feeling the first night is going to be mobbed for Detective Pikachu with the nostaglia crowds...
This Saikou Movie Meet Up will be taking place at the Cinemark Theater in Stroud Mall located at 344 Stroud Mall, Stroudsburg, PA 18360 (this may change to a theater in the Lehigh Valley area depending on screening times, time and location will be solidly confirmed once screening times are available); link to purchase tickets in advance will be posted here once advance tickets for this movie are available. Please RSVP on our Facebook Event page at https://www.facebook.com/events/320058308580849/, everyone will be responsible for purchasing their own ticket to the movie, but we would like an expected head count so we can make sure we all get to sit together or at least close to each other.
Detective Pikachu Official Synopsis:
Tim Goodman (Justice Smith) is a failed Pokémon Trainer and the son of prominent detective Harry Goodman. When his father disappears in a car crash, Tim arrives in Ryme City and ends up meeting Detective Pikachu (Ryan Reynolds), who was Harry's former Pokémon partner. Tim is somehow able to understand the Detective, and they reluctantly team up to find Harry and uncover the mystery surrounding his disappearance. Chasing clues through the streets of Ryme City, the dynamic duo soon discover a devious plot that poses a threat to the Pokémon universe.
Starring:
Ryan Reynolds
Justice Smith
Kathryn Newton
Ken Watanabe
Paul Kitson
Omar Chapparo
Rita Ora
Bill Nighy
Suki Waterhouse
Chris Geere
This film is not yet rated
Run time: Not yet released

Genre: Fantasy, Action, Adventure
SaikouCon Party Booth at Thy Geekdom Con VI

Party Booth time with our new friends, Thy Geekdom Con! This is our first time partying at Thy Geekdom Con, it's their sixth show and it is set to one of their best yet, so if you're attending let's have a blast together! We'll have our typical Party Booth set up... music, giveaways just for Thy Geekdom attendees, hang time with the SaikouCon Crew, some surprises maybe... who're we kidding, of course surprises!
Thy Geekdom Con Official Info:
Thy Geekdom Con is a pop culture convention and is back for our sixth con! We will be back at the Greater Philadelphia Expo Center in Oaks, PA. This time in Hall A!





You can expect to see Acts, Anime, Artists, Comics, Cosplay, Crafters, Panels, Tabletop Games, TV/Movies, and Video Games



Friday 5 PM - 12 AM

Saturday 10 AM - 12 AM

Sunday 10 AM - 6 PM

Saikou Movie Meet Up - Godzilla: King of the Monsters
This one may not be an anime adaptation, but kaiju are just as important to us here at SaikouCon (SaikouKaiju, anyone?), and especially Godzilla; okay, he's the con chair's favorite. If you like kaiju as much as we do, why not come to this Saikou Movie Meet Up with the Saikou Crew for the latest in the American Kaiju series (2014's Godzilla and Kong: Skull Island), and enjoy a couple hours of big monsters beating the snot out of each other to reclaim ownership of the planet from humanity?


As with past Saikou Movie Meet Ups, those attending will be responsible for purchasing their own tickets from the theater the Meet Up will be taking place at, once times are locked in and tickets become available. The above posted 8 PM is just a place holder until times are finalized by the theater.


This Saikou Movie Meet Up will be held at the AMC Allentown 16 located at
1700 Catasauqua Road, Allentown PA 18109
Godzilla: King of the Monsters Synopsis:
Members of the crypto-zoological agency Monarch face off against a battery of god-sized monsters, including the mighty Godzilla, who collides with Mothra, Rodan, and his ultimate nemesis, the three-headed King Ghidorah. When these ancient super-species-thought to be mere myths-rise again, they all vie for supremacy, leaving humanity's very existence hanging in the balance.

This film is rated PG-13 for fantasy/sci-fi violence, adult language, and adult situations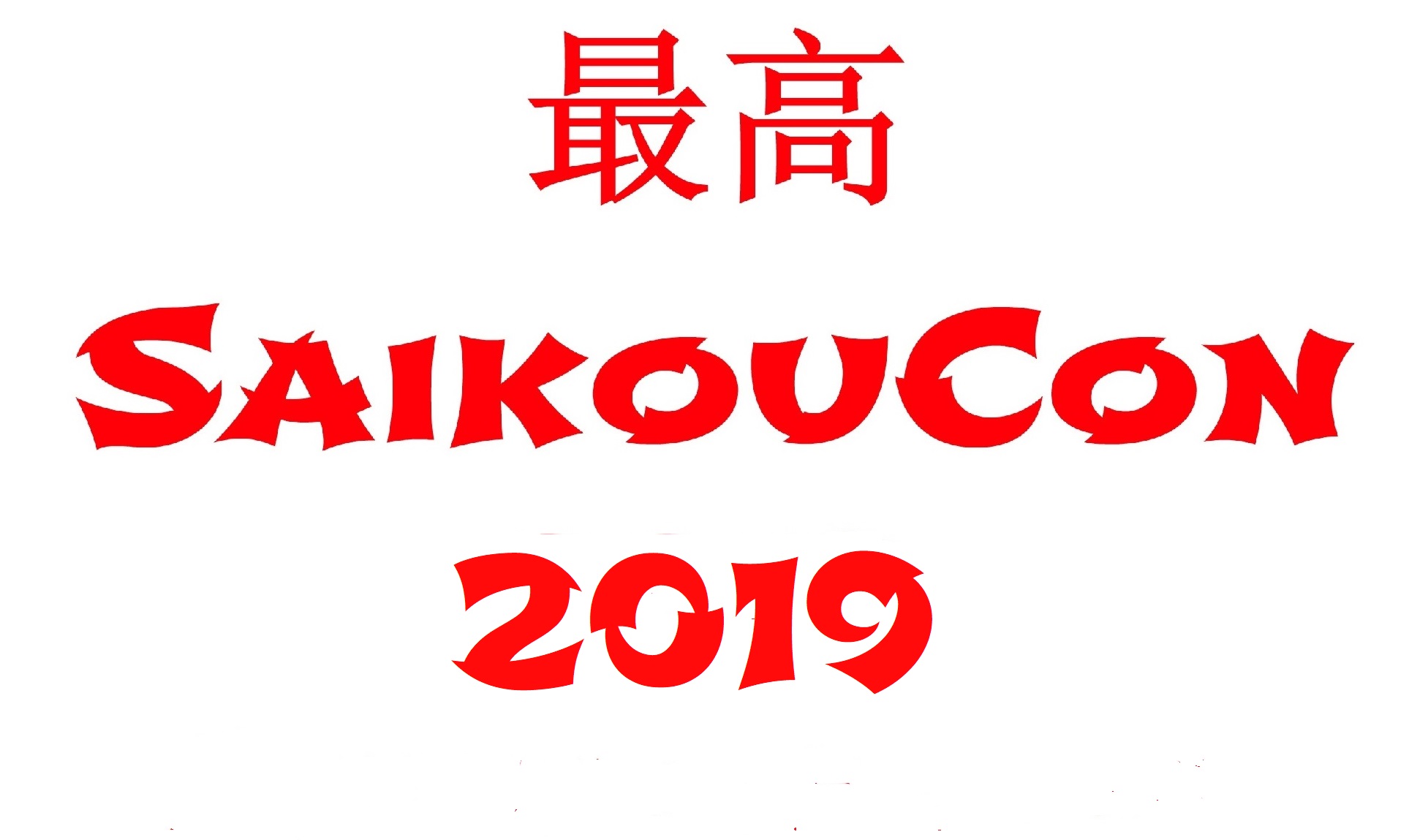 Welcome to the Golden Seven, SaikouCon's seventh year! Good Fortune, Friendship, Community, and more Fun than ever before await you at the anime convention that has defied the odds time and time again. Join us for a year of celebration, shared good fortune, lasting friendships, and an ever growing yet tight knit community at the underdog con that never says die!

Be our guest at SaikouCon 2019, you won't regret it! Witness the true evolution of SaikouCon!

SaikouCon 2019 will be held at The Mountain Laurel Resort & Spa located at 81 Treetops Drive, White Haven PA 18661 on August 2, 3, and 4 of 2019!

Pre-Registration (Advance Ticket Sales) for General Admission and VIP Badges for SaikouCon 2019 is open as of 12 PM ET on October 20, 2018. Visit the Registration page of SaikouCon.com for all the details on Pre-Reg Badges and At Door Registration, the different badge types and age appropriate badges! General Admission pre-registration for 3 Day and 1 Day (Friday or Saturday) Badges will close on July 20, 2019 at 12 AM ET (the 12 AM going into July 21 to clarify), and registration for VIP 3 Day and 1 Day (Saturday Only) Badges will close on July 7, 2019 at 12 AM. The earlier deadline for VIP Badges, which will not be available at the door, is to ensure there is enough time to order and receive the exclusive SaikouCon 2019 Commemorative Mini-Poster all VIP Badge Holders receive for autographs during the VIP Meet 'n Greet with our 2019 Guests of Honor on SaikouCon Saturday, August 3, 2019.
SaikouCon 2019 Guest Roster
Chris Patton - Voice Actor
Ciara Hanna - Actress, Model,
Yellow Megaforce Power Ranger
More Coming Soon!
Foxxy
Cosplay Burlesque
Husky Entertainment LLC
Pine State Heroes
Dolly Love
More Coming Soon!
BFarve Cosplay
WildSpice Cosplay & Photography
8BIT Ambitions
More Coming Soon!
SaikouCon 2019 Programming Schedule
Preliminary Schedule will fill in and be finalized over the winter and spring months with the full programming schedule being released to the public on June 14, 2019 at 12 PM ET
9 AM -
Pre-Reg Badge Pick Up & At Door Registion Open
10 AM -
Pre-Show Screening - You Vote for the Anime! - Sponsored by Funimation
12 PM -
Show Open
1 PM -
Opening Ceremonies


Special Events Hall

6 PM -
SaikouCon Kamenbudōkai
w/ Crown Wars 2019 Opening


Special Events Hall

7 PM -
Registration Desk & Merchant Hall Close
12:30 AM -
Saikou Rave


Special Events Hall
8 AM -
Pre-Reg Badge Pick Up & At Door Registration Open
8 AM -
Pre-Show Screening - You Vote for the Anime! - Sponsored by Funimation
10 AM -
Show Open
12:30 PM -
Charity Auction


Special Events Hall

3 PM -
VIP Meet 'n Greet
w/ Guests of Honor


Special Events Hall

5:30 PM -
Cosplay Contest


Special Events Hall

7 PM -
Registration Desk & Merchant Hall Close
9 PM -
Cosplay Concert


Special Events Hall

12:30 AM -


Cosplay Burlesque 21+ Extravaganza




Special Events Hall
9 AM -
At Door Registration Open
10 AM -
Show Open
2 PM -
Registration Desk Close
5 PM -
Merchant Hall Close
5:30 PM -
Closing Ceremonies
w/ Crown Wars 2019 Conclusion & Coronation


Special Events Hall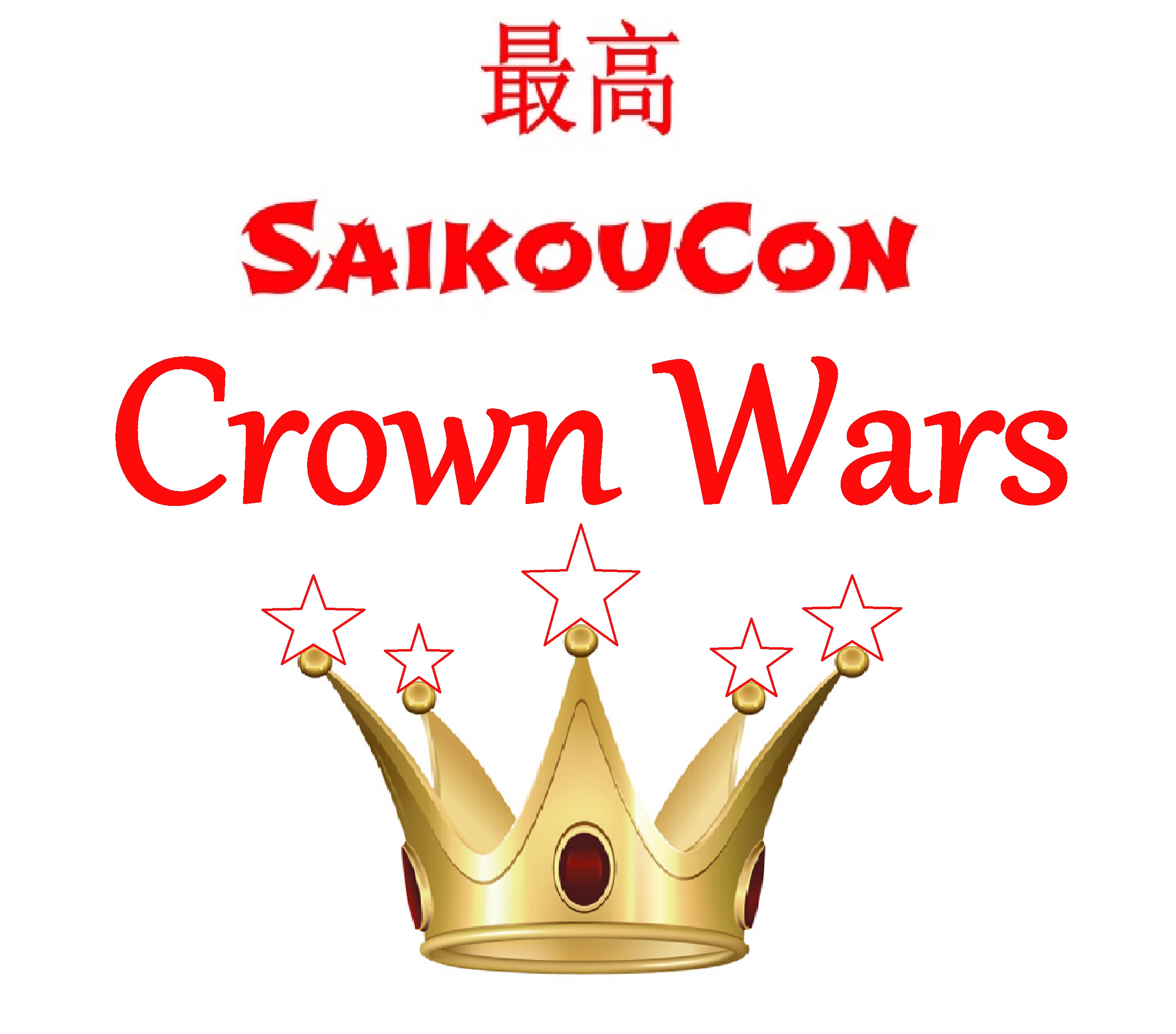 There came to SaikouCon... a Crown. Upon the seventh year of the anime convention, the Crown arrived and brought with it war. War for the power it bestowed upon the wearer, the power of queen or king of SaikouCon! The Crown Wars will turn friend against friend, lover against lover, sibling against sibling, and parent against child. Do you have what it takes to claim the Crown and become the ruler of SaikouCon?

Normally we would not list an event happening within SaikouCon under its own listing, but with the game needing its gameplay guidelines and rules posted here on the con website as well as the con social media. And the way in which the Crown Wars is, technically speaking, played in and throughout every aspect of SaikouCon from the Kamenbudōkai (masquerade) forward, it needs somewhere easy to access, outside of social media, to display the game details in full.
The Crown goes into play at the Kamenbudōkai (con masquerade) and whoever has it, and can bring it in one, undamaged piece to the con chair at the Closing Ceremonies on the Sunday of SaikouCon, is the winner of the Crown Wars.

Your objective is to capture the Crown for yourself and maintain ownership of the Crown until the Closing Ceremonies of SaikouCon, the person that can achieve this feat is thus declared queen or king of SaikouCon for the year!

Crown must be stolen back and forth by players until the winner is crowned at the SaikouCon Closing Ceremonies, stealth and cunning are the names of this game. Fighting is not permitted, but players may make up their own unique ways to battle for the Crown, like mini-games such as making the Crown the prize of a CCG match, or a one-on-one video game battle in the con Gaming Hall, even Rock Paper Scissors... be creative and engage!

Crown must survive the weekend in one, whole piece. If the Crown is broken or damaged, it loses its power and the whole game is lost for everyone until the next year when a new Crown respawns.

The Crown may only be stolen through means of cunning and guile, no fighting, no threats etc., cleverness will win the Crown.

The Crown must remain intact in one piece for the duration of the game until the final person to have it at the convention's Closing Ceremonies can turn it into the con chair. If it is broken or seriously damaged, it's a game foul and the game is over for all until the following year.

The Crown may be ransomed back from one that has stolen it, friendly ransoms only (think more like a mini-swap meet than an actual ransom). Ransom may not be paid with actual cash, personal items such as jewelry or clothing, sexual favors, any kind of romantic relationship and/or promises of dating.

Ransom for the Crown may be paid in snacks, soft drinks, bottles of water, cosplay accessories and gear, manga volumes, anime DVDs/Blu Rays, other collectibles such as action figures, alcoholic beverages; as long as both the ransomer and person paying the ransom are 21 years old or older. Players under 21 are forbidden from asking players over the age of 21 for alcohol and players over 21 are forbidden from asking players under 21 for alcohol; violation of this rule will mean being banned from SaikouCon as a whole, not just the Crown Wars.

The Crown may not be hidden, not in backpacks, suitcases, duffle bags, knapsacks, within cosplays (like inside the bussle of a dress for example). It must remain visible at all times, hiding it makes holding onto it too easy, remember; guile and cunning. Hiding it, for our purposes, is neither cunning nor fair. Additionally, hiding the crown may damage it, and if it is damaged the whole game is lost to all.

The crown must stay in play on the con show floor throughout the convention weekend from the Masquerade on Friday evening of SaikouCon until the Closing Ceremonies on Sunday afternoon at 5:30 PM, it may not be taken to anyone's room or off the resort grounds until the winner has been declared during the Closing Ceremonies. Sleeping rooms are out of bounds, anywhere outdoors beyond the parking lot of the hosting venue is out of bounds, vehicles are out of bounds, beyond the resort's pool area is out of bounds.

Panel rooms during panel presentations and the screening room during screenings are safe zones where the crown may not be stolen until the downtime between panels and screenings; so presenters and attendees are not disturbed. The SaikouCon Merchant Hall is also a safe zone, this is obviously to safeguard merchant booths from getting knocked into and their merchandise getting broken over the game. The Gaming Hall is also a safe zone, but only during tournaments.

If the last person to steal the crown at the end of the day on the Friday and Saturday of the convention, wants to go to bed, they can bring the crown to any of the con staff member before heading to their hotel room, this will pause the game until the show opens again the following morning(s) at 10 AM. The same person that turns in the crown to pause the game has until 12 PM to reclaim the Crown at the Registration Tables and set the Crown Wars back in motion; player's info and a photo will be taken by con staff member that Crown is surrendered to. This is to ensure that the same person rightfully reclaims the Crown the next morning since it will likely be different staff members the Crown is reclaimed from. If the Crown is unclaimed by 12 PM, the con chair will take the Crown and it must be stolen from him for the game to get back in full swing.

The Crown may not be be turned into con staff to pause the game for the night until 1 AM, if it is turned over to staff earlier than 1 AM, the person turning it in forfeits their right to the Crown and it will be passed on to another player to continue the Crown Wars through the night. The latest the Crown may be turned into con staff, to pause the game until morning, is 3 AM. If you still have the Crown after 3 AM, you must keep it in play in the sections of con show floor that are open overnight or surrender it to a player that will keep it in play throughout the night.

SaikouCon staff and volunteer staff may not participate in the Crown Wars game as players during a year they are working on staff, same for volunteer staff members. If it is a year they are just attending SaikouCon as regular attendees, they are more than welcome, but it would be unfair advantage for staff and volunteer while they are on the working staff and volunteer staff schedules.

Winner of The Crown Wars will receive two 3 Day VIP Badges to attend the following year of SaikouCon with a friend, badges are transferrable if necessary

Winner will also receive the 2019 Crown to keep as a memento of their victory

In addition, the winner will also get a special special prize pack with an exclusive SaikouKaiju, designed specifically for the Crown Wars, and a SaikouCon T-Shirt of their choice

SaikouCon Party Table at Shikkaricon 2019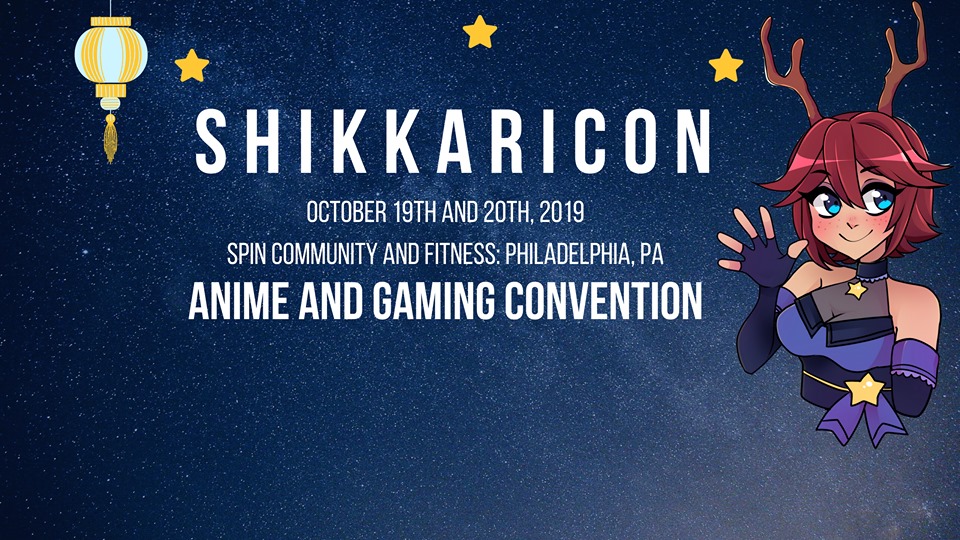 SaikouCon will have a Party Table at Shikkaricon 2019! If you're attending Shikkaricon 2019, make sure you stop by our Party Table to enjoy some music, hang time with SaikouCon's organizers, a contest or two just for Shikkaricon attendees, and maybe a few surprises!
Shikkaricon is back after a long hiatus! We are an anime and video gaming convention that was started back in 2006 at Bucks County Community College in Newtown, PA. We are back and better than ever, but now we are being held in Philadelphia! We hope you'll join us for the return of Shikkaricon, and we're excited to be back!
SaikouCon Party Table at DerpyCon 2019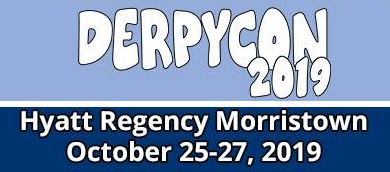 Party Table for the Saikou Crew? Don't mind if we do, Year Six of DerpyCon here we come!!! Get ready for one heck of a blowout from our New Jersey based buddies, DerpyCon! This is not only the convention's sixth year, but it is their last in Morristown, NJ, having outgrown their longtime home at the Hyatt Regency Morristown, DerpyCon will be moving to the Hyatt Regency New Brunswick in 2020!





So, come on out, help DerpyCon have an amazing last year in Morristown, and stop on by the SaikouCon Party Table where the Saikou Crew will hanging out, jamming, with some giveaways and fun just for DerpyCon 2019 attendees!!! How many more exclamation points can we fit in this paragraph of Party Table info?!?!?!?!?!?
DerpyCon 2019 Official Information:
Join us for the sixth annual DerpyCon in Morristown, NJ. DerpyCon is New Jersey's Anime, Gaming, Sci-Fi, and Comic Convention! Visit www.derpycon.com for all the latest information on DerpyCon's 2019 convention, including guest announcements, programming schedule, and pre-registraiton news and updates!