With heavy hearts we are forced to announce that SaikouCon 2020 has been postponed until 2021. The Mountain Laurel Resort and Spa was forced by the latest mandate from the state of Pennsylvania released today to cancel our 2020 contract to host SaikouCon in their facility earlier today, July 15, as all events statewide have been cut back to having no more than 25 people in the face of the massive increase in Covid-19 infections in Pennsylvania since July 1. Within the next week to two weeks the resort will be issuing us a new contract for August of 2021 after they have confirmed which of our requested weekends are clear and have no other events at the resort at the same time. To make up for being forced to postpone the 2020 convention so close to what was supposed to be showtime, all pre-registered attendee tickets will roll over to SaikouCon 2021 and SaikouCon 2022, two years for the price of one, as will as tickets that were prizes from our 2019 cosplay contests and the couple of giveaways earlier this year that were hosted here on SaikouCon.com. Free SaikouCon 2021 t-shirts will also be given to all those that pre-registered for SaikouCon 2020; t-shirts will be given at Badge Pick Up at SaikouCon 2021 so you can pick out the shirt design/shirt color you want, one t-shirt per badge holder. Registered Merchants for 2020 will also have their registrations honored for both SaikouCon 2021 and SaikouCon 2022, no need to apply again, no rejurying process, just two years of vending with us for the price of one. Registered Merchants will also be included in a SaikouCon hosted Cyber Merchant Hall in September of this year (working on how we will facilitate this over the rest of this week, once we work it out our con chair will be sending emails to our merchants to get them set up) and Cyber Holiday Otaku Market the first weekend of December 2020.
Volunteer Staff Applicants, Press Applicants, and Panelists will have to apply again when applications and panel submissions for SaikouCon 2021 and SaikouCon 2022 open respectively to be assessed as normal for those years. We are truly sorry this has happened so close to showtime, we were looking forward to seeing everyone in 2020 and showing people how to have fun while being safe in the face of the Covid-19 Pandemic.
Once our dates for SaikouCon 2021 are confirmed, new registration confirmation messages will go out to all pre-registered attendees and registered merchants; following SaikouCon 2021 the SaikouCon 2022 registration confirmation letters will go out to all as well. We will not have our 2022 dates until after the conclusion of SaikouCon 2021 as any other normal year would roll out. Normal pre-registration has now been closed and will open for SaikouCon 2021 this October so there is no confusion that SaikouCon 2020 has been postponed.
Again, we are sorry this is happening, we really thought we would still be able to party this year, but the state is correct in rolling back the Green Phase rules to Yellow Phase rules as numbers continue to climb higher and higher in Pennsylvania. Please wear your masks, wash your hands regularly with soap, maintain your six foot social distance from people you don't live with. Stay safe, stay healthy and we'll be in touch with everyone in the coming days with all of the above info.
All Our Love,
The Staff of SaikouCon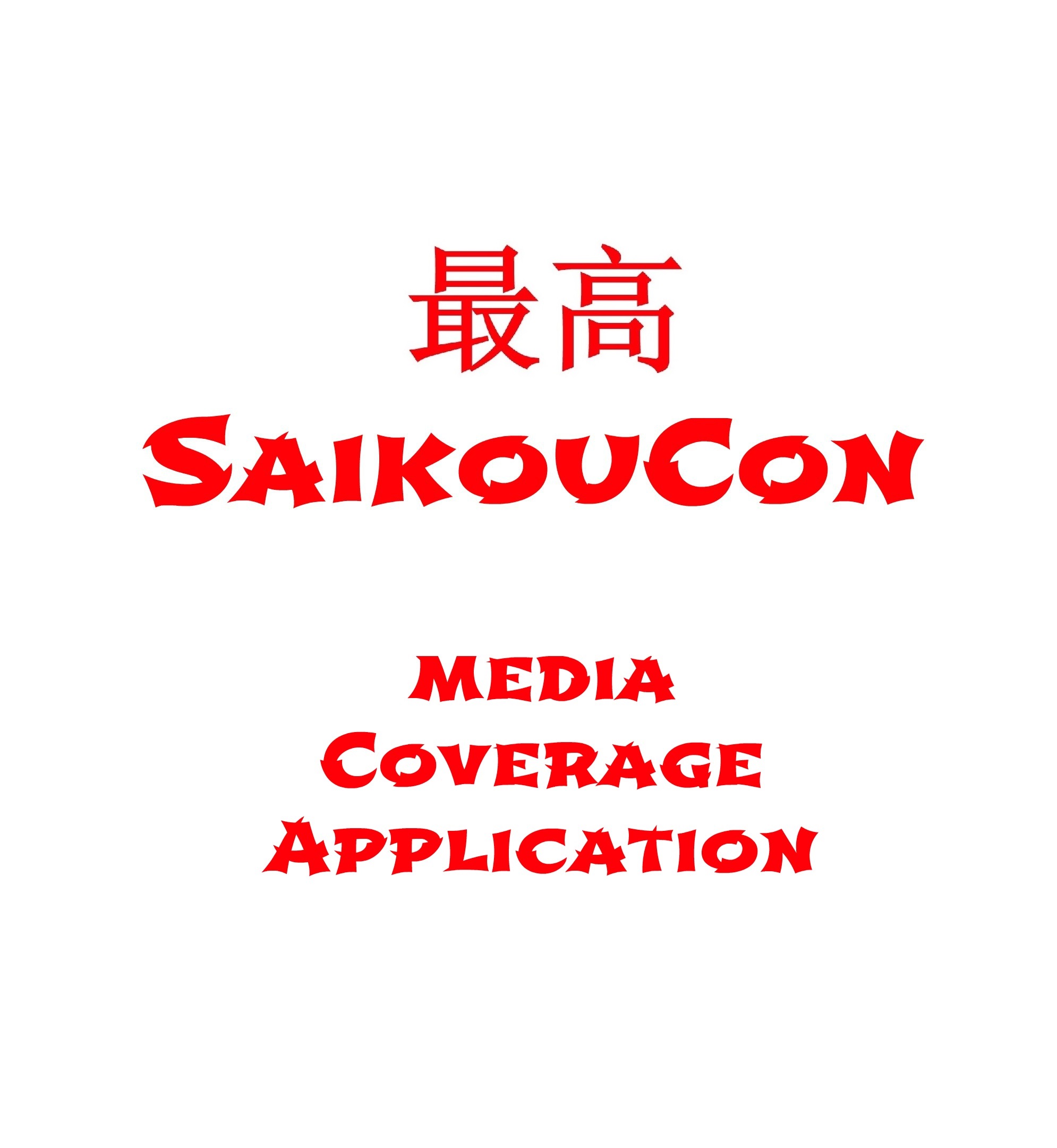 Our Media Coverage (Press) Application is finally open! Visit the Press page here on SaikouCon.com to check out the particulars and apply! To all our media friends, we're sorry for the delay in opening the application when it was supposed to open first in March, then in April. The pandemic, as the con chair posted yesterday, has delayed so many aspects of our 2020 show.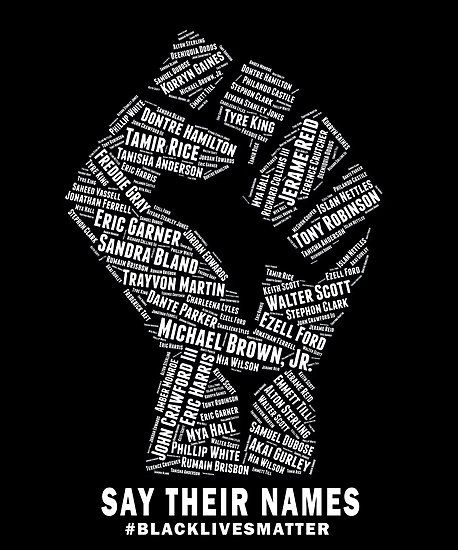 I'm sorry we have been silent here on SaikouCon.com and on our Facebook and Twitter for quite a while now concerning the status of SaikouCon 2020 and the current state of society. We have been active on Instagram, mostly to show our support for the Black Lives Matter movement and the worldwide protests against racism and police brutality, such as the murders of Breonna Taylor and George Floyd. We have not been vocal enough in the past on the convention's stance on these issues, this is my fault as con chair, I have been afraid it would be looked at as though we were using the fight for equality and basic human decency as a marketing tool as so many companies have done with Pride Month. I have realized though, it doesn't matter in these times if some people look at us that way. Actions will always speak louder than words, but words, transparency, and recognition of what is happening to people here in the US and globally for the color of their skin, their enthnicity, their country of origin, their gender identity, their sexual orientation is more important than if some think we are "pandering for more money". The staff of SaikouCon are all dedicated to not only making SaikouCon, but the whole world fully inclusive and welcoming. SaikouCon will always be a welcoming place, no matter where our hosting venue, an inclusive place that is a safe space for all people but the intolerant and bigoted; we do not tolerate intolerance now or ever in the future. Some volunteer staff that have been found out to be racist bigots have been banned from the convention forever in all aspects. I am sorry I did not find out sooner about these few individuals and that they were welcomed into our midst as long as they were; they hid their true selves pretty well until 2019. If you do not agree with the stance of the convention and its staff, we are not the anime convention for you. I promise SaikouCon will do better than it has in the past to be an inclusive safe space for all attendees, I will be monitoring our staff and their social media much closer than before, and will be vetting volunteer staff as best I can before approving them as volunteer staff.

All credit to the artist that created the Black Lives Matter image above, I could not find their name before posting this update.
Quick updates on our programming schedule, press applications, volunteer staff applications etc. are next. Panel submissions have been extended to Friday, June 26, 2020 at 6 PM ET, with full programming schedule being announced publicly on July 10, 2020 at 12 PM ET. I am sorry for not announcing the extension and letting panelists know at the originally scheduled deadline to submit panels, I have been monitoring the pandemic situation and reviewing state guidelines and mandates as well as CDC and WHO guidelines and mandates for social interaction in the face of the Covid-19 Pandemic constantly and have had to rewrite our our own social distancing protocols at least once a week. I am sorry for falling down on the job as many of you are thinking we are cancelled or will cancel the show at the last minute; we will not be cancelling the show unless Govenor Wolfe enacts another complete shut down of Pennsylvania. SaikouCon 2020 is going forward, though altered from our initial plans including the postponing of our My Hero Academia Prom until our next show and cutting down our musical programming to just the Cosplay Concert on the Saturday night of SaikouCon 2020. While there is still danger in holding an event of any size during the pandemic, we have received so many messages and emails asking not to cancel if we could at all help it because so many other cons were forced to cancel for safety earlier in the spring during the first massive spikes in infection rates. In short, I'm sorry for not announcing the extension of the panel submission period, it honestly slipped my mind while dealing with the will we be able to have the show or won't we until June 4 when the state began opening again. I know I dropped the ball with panel submissions due to the "will we, won't we" tension while seeing if the state would actually open up again on June 4. The full programming schedule for SaikouCon 2020 will be announced to the public on July 10, 2020 at 12 PM.
Press Applications will be opening tomorrow, June 19, 2020 at 12 PM ET. We will be announcing more guests soon, in advance I apologize if our 2020 guest list is a little light. Understandably many guest stars do not want to risk their health by appearing at conventions while it is stll unclear how the nation will move forward or be shuttered again as states begin to open and infection may spike again as many people think it is safe to ditch their masks and ignore social distancing. That said, we will have more guests to announce within the next couple of weeks.
Volunteer staff applications have also been extended until July 3, 2020 at 6 PM ET. Application status messages will be sent out by July 6, 2020 with schedules sent out by July 10, 2020. We appreciate volunteer staff applicants being patient with the delay and receiving their schedules so close to showtime.
Pre-Registration will keep its original schedule for both General Admission Badges and VIP Badge Registration for availability. We suggest you pre-reg as soon as you know you are able to attend the convention, as more of Pennsylvania goes into the green we are still forced to cap our attendance, so we may not be able to sell at door badges this year, we will know for certain by July 5, 2020 if we will be able to offer at door badge sales or not for SaikouCon 2020. Keep an eye out here on SaikouCon.com and our social media profiles in the next few weeks for more updates and full list of Covid-19 Safety Precautions and Rules will be announced this weekend (i.e. masks will be mandatory at SaikouCon 2020, social distancing will be in effect all through the weekend, temperature checks will be administered at the door to the Montain Laurel Resort and those with fevers will not be allowed to enter the areas of the resort the convention is holding activities in; it is at the resort's discreation to let you check into your room or not if you are feverish etc. etc.).
Also, we didn't get it posted back on April 3 due to some issues with the dev end of the website, but in light of the Covid-19 pandemic and how almost everyone's income has been affected by the quarantines across the US, we will not be instituting the 20% price jump on Pre-Registration General Admission Badges to attend SaikouCon 2020 that is usually set four months out from our showtime. We know this isn't much of a help in these hard times, we wish it was more, but we still have to pay the venue rental fees and guest star appearance fees and transportation costs to be able to be continue moving the show forward this year, and unfortunately it doesn't look like there will be much, if any, emergency stimulas funding for our side of the entertainment industry in Pennsylvania unless your event produces revenue in the six figure arena.

As always, we hope you're all staying safe and healthy out there and we're all looking forward to seeing everyone at SaikouCon 2020!

Best,
Mike Meade
Con Chair
Wellness check time friends, industry, attendees, merchants, panelists, volunteer staff, fellow convention runners/staffers. How are you doing today? How is everyone feeling mentally and emotionally? Sound off, on our social media pages since there's no comments on here, the SaikouSquad wants to know and make sure you're all hanging in there through the Covid-19 quarantine. Sorry we've been quiet since posting the 5 month countdown graphic and reassuring everyone that SaikouCon 2020 is still happening (which is still 100% true if you were worried).
Check up out of the way, if you're down for some Attack on Titan this Saturday night, April 4, at 8 PM ET; we're going to set up a Netflix Party screening (sponsored by Funimation and Netflix) to help us all reconnect a little since it's not looking like we'll be seeing each other in person until the early summer. Taking inspiration from our friend DJ Awesomus Prime, who just did one a few days ago, I still have to figure out how to set one up, but the link to join will be posted here on FB, on Instagram, Twitter, Tumblr (anyone still on there? I forgot we have one most of the time TBH), and on the con website. Myself and the rest of the con staff hope you're all weathering the quarantine well all the way around (physically, mentally, emotionally, and of course staying virus free). Hang in there, we'll get through this and be stronger for it!
As the graphic to the left says, SaikouCon 2020 will be happening. We understand there is concern because of the level that the spread of Covid-19 has reached, referred to as Coronavirus pretty much everywhere (Coronavirus is a classification for several virus strains including influenza and the common cold), but we trust that the threat of the virus will be significantly lessened by our August dates. Again we understand the concern we will be cancelled or postponed like much larger events such as Emerald City Comic Con and SXSW, but we will party on our selected dates; August 7-9, 2020. We will be releasing some updated policies and tips soon on personal hygiene at the show that lessen your chance of contracting and/or spreading the virus, we recommend visiting the CDC website to study up on the virus and how to avoid it in the meantime. The above said, we will also have some guest announcements soon, we realize our limited guest announcements thus far this year are also concerning; we're usually announcing our final guests at this point in the year. We think you'll be excited for the announcements coming later in March and through April.

Best,
Mike Meade
Con Chair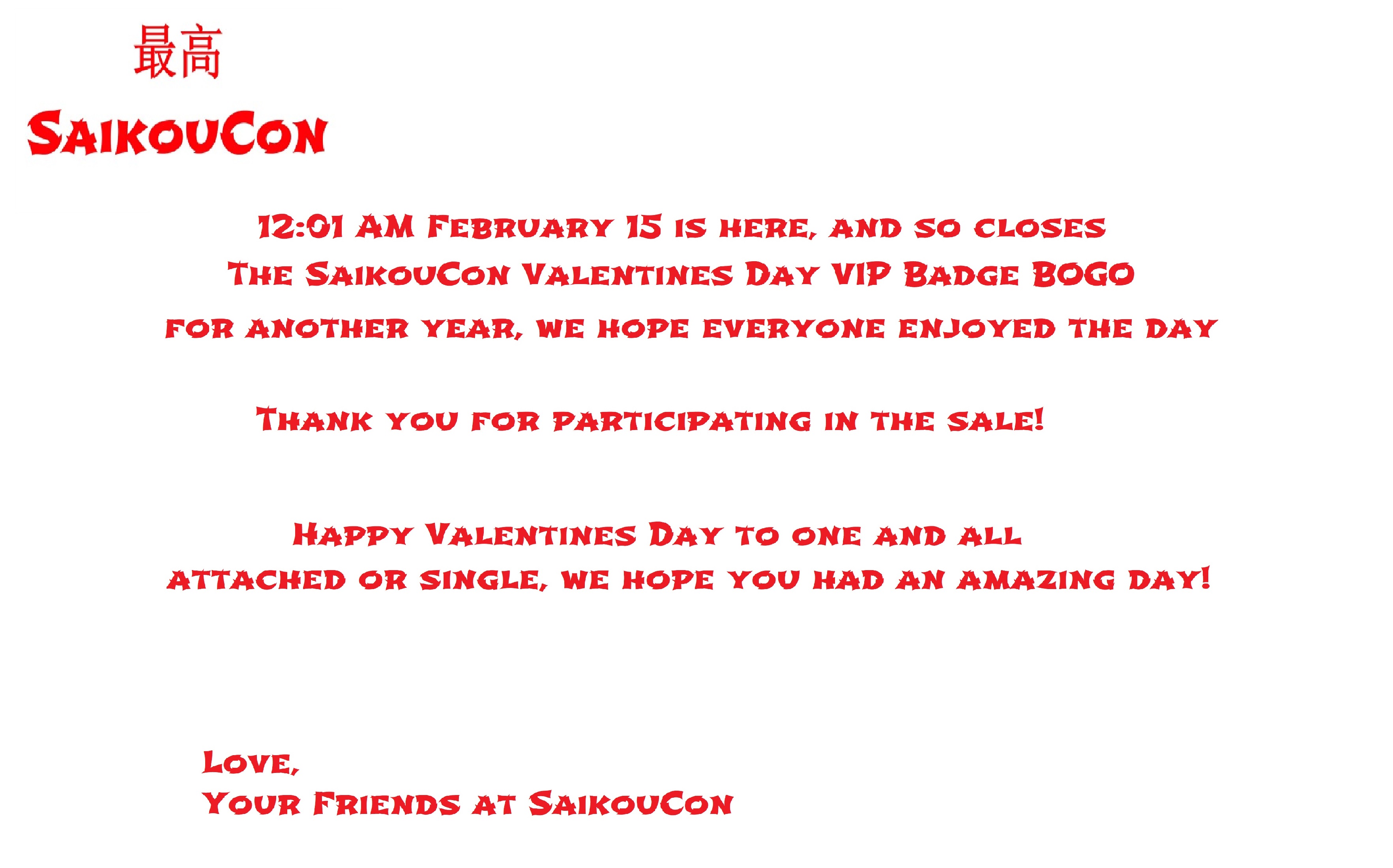 Also, congratulations to the winner of our Viz for Valentine's Manga Giveaway, Tessa G. from Bristol, CT! Tessa will receive two randomly selected Viz Media manga titles, thank you to everyone that entered, keep an eye out for our March Giveaway to be announced next week!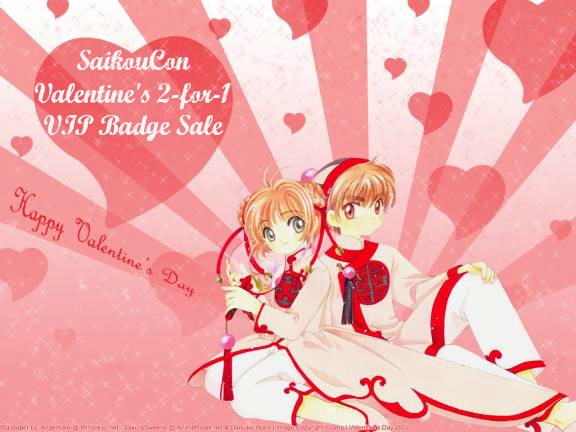 It's 12:01 AM ET on Valentine's Day, you know what that means... it's time for our Valentine's Day VIP Badge BOGO Sale! Head over to the Registration page here on SaikouCon.com, and grab two VIP Badges to attend SaikouCon 2020 for the price of one! 24 hours only, starting at 12:01 AM ET on February 14 and ending at 12:01 AM ET on February 15, when you purchase one VIP Badge to attend SaikouCon 2020 (any version: 3 Day, 1 Day, Adult, Teen) you automatically receive a second VIP Badge for FREE!!! Valentine's special applies to VIP Badges ONLY. No coupon codes, no extra steps, you just get an extra badge for every VIP Badge purchased! Buy one get one free, buy two get two free, and so on! It's even better than our Group Rate (details on Group Rates on the bottom of the Registration page). And remember, your extra badge will not show up in your shopping cart, one year we tried to adjust our PayPal shopping cart to show the free badge, and all of our Add to Cart buttons deleted so we do the work on our side. Your Registration Confirmation messages, sent between 12 and 72 hours after your purchase (our con chair writes each one out himself, that part of our system is not automated) will show your free badge(s). Happy Valentine's Day from the SaikouSquad to you!
Our Merchant Wait List Application for SaikouCon 2020 is now open! We're sorry for the day long delay, the widget application we use for our applications and contests was down again over the last 48 hours, it seems everything through the last couple of months has been down when we needed to change something up and/or out... we are happy February is here, maybe the last of the left over 2019 energy will finally move out with January! Anyhow, the application is up on the Merchants page, even though this application is just to be placed on our Merchant Wait List, the rules still apply and apply in the same manner as our initial 2020 Merchant Application. Please review our rules, guidelines, suggestions, and F.A.Q. before filling out the application, and make sure to fill in everything that is marked as a required field. And for those Merchants approved to join our 2020 Merchant Hall from the initial application period that have paid their registration invoices, you will receive your Registration Confirmaiton messages tomorrow, February 2, 2020; Merchants that were wait listed will also be receiving replies to their responses on whether they wish to remain on our wait list or be removed for this year will also be receiving their responses tomorrow as well. The con email was blocked from sending privileges for the week after sending so many messages with the same subject, this has never happened before, the con email gets marked as spam by Gmail and Yahoo every now and again because we have "info" in the address, but our sending ability has never been turned off before. My apologies for the delay on those messages, and all other emails this week; we may have to rethink how we work the Merchant Application status notices for 2021 if this is a possibility with our web host's updated email system. Again, I'm glad January is over, everything seemed to be off and everything that needed to be posted or responded to delayed all month long. It was like all of 2018 and 2019 crammed into one month.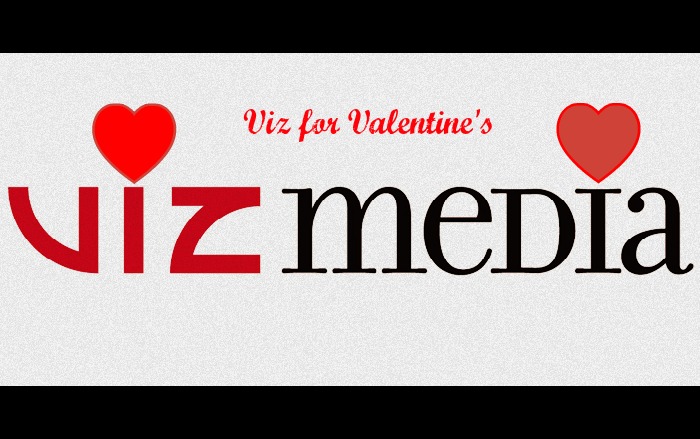 Our Viz for Valentine's Giveaway is also now open, visit the Events page for giveaway rules and entry form. Since we are late getting the giveaway open because of the widget app program issue mentioned above, we are extending the giveway to close right on Valentine's Day at 12 PM ET. Good luck to all that enter!
And speaking of giveaways, congratulations to Hannah W.! Hannah was chosen by blind drawing as the winner of our New Year, New Decade VIP Badge Giveaway! Hannah will receive a four pack of 3 Day VIP Badges to attend SaikouCon 2020!!

Best,
Mike Meade
Con Chair
SaikouCon
Merchants, I'm sorry for the two day delay in getting out all of your application status notices, I was expecting to be a day late with having the flu, which ripped through SaikouBase pretty hardcore the last two weeks, but the con email was down for maintenance again throughout yesterday. Finally got back into it after the web host finished whatever they were doing a few minutes ago. Merchant Application status notices will now be going out from 3 PM today, 1/22/2020, through this afternoon as far into the night as it takes to get them all out. We had a record number of Merchant Applications for SaikouCon 2020, thank you, in total we hit just under 200 applications. This high number with the limited spaces we can offer for 2020 made our jurying duties difficult this year, there were so many great merchants that applied, it was rough finalizing the list of merchants we are offering spaces to. We wish we had the space to bring in everyone that applied.
Again, my apologies for the delay, but merchants, you will receive your notice between this afternoon and early tomorrow morning, if you have no notice in your inbox by 2 PM tomorrow, January 23, check your spam folder (remember to add the con email to your safe sender lists), and if there's still nothing from me, shoot an email to info@saikoucon.com and let me know.
Best,Mike MeadeCon ChairSaikouCon
Our Merchant Application for 2020 is now closed! It was scheduled to close last night at 12 AM ET, but I came down with the flu a few days ago and was passed out asleep last night with a high fever, so any applications that came in after 12 AM will be added to our jurying que. On January 31, 2020 at 12 PM ET we will be opening up the wait list merchant application, as in years past the wait list will juried only if spaces in our Merchant hall open up, the wait will be juried in order of application receipt beginning with those wait listed from our initial merchant application period; those wait list from now will be re-juried as though they had just applied to the wait list to maintain a fair atmosphere and give all wait list applicants an equal shot at merchanting with SaikouCon in 2020. Jurying will begin tomorrow, January 13, 2020; merchants will all receive their notice of acceptance, wait listing, or denial for 2020 no later than January 20, 2020. And now, I'm going back to sleep to sleep away this flu bug.

Best,
Mike Meade
Con Chair
SaikouCon
Akemashite Omedetou Gozaimasu!!! A Happy Happy New Year from the SaikouSquad! We hope you had safe, joyful, and incredibley fun holidays! To celebrate not only the new year but the new decade, we're giving away a four pack of 3 Day VIP Badges to attend SaikouCon 2020 over on the Events page here on SaikouCon.com! The entry will run from today, January 3, 2020 until January 31, 2020 with the winner announced on February 1, 2020. Please review the rules before entering, and good luck to all that enter! Additionally, keep your eyes peeled here and on our social media, we will be announcing more guests in before January is out.
Happy Holidays from the staff of SaikouCon! May your holiday season of 2019 be blessed, joyful, safe, and massively fun no matter what holiday and path you celebrate, if any. And if not, be safe and still have a massive amount of fun to cap off the year!!
Much Love,The Staff of SaikouCon
Coming in December 2020 we are launching the SaikouCon Holiday Otaku Market! Planning for it began in early 2018 so we were originally aiming for it to be this weekend, but unfortunately that didn't pan out. The Holiday Otaku Market will be a one day event in early December of 2020 in the Lehigh Valley area of Pennsylvania; we're aiming for December 5, but that isn't locked in yet. Normally we would wait to announce the event until we have a venue locked down and under contract, which likely won't happen until after the turn of the year but we wanted to start building excitement now, so keep your eyes peeled for the announcement and full information.
The Holiday Otaku Market will feature merchants (of course!) fulfilling your Otaku gift needs for the holiday season, photos with Santa Claus and if we can pull it off photos with Hoteiosho too, admission for attendees will be one non-perishable food item per person; all the food will be given to a public food pantry in the Lehigh Valley area. Merchant applications for the Holiday Otaku Market will open on August 21, 2020 at 12 PM ET and close on October 9, 2020 at 6 PM ET, acceptance of application to vend at SaikouCon 2020 is not automatic acceptance into the Holiday Otaku Market, jurying for each event will stand completely on its own.
Who else is ready for our first Guest announcement for SaikouCon 2020?!? We thought so!! Welcome to the SaikouCon Family, Guest of Honor Aaron Roberts!! This is Aaron's first time appearing at SaikouCon, we hope you are as stoked for this announcement as we are! Aaron provides the English dub voices for some of the biggest anime titles of the last decade including Uta in Tokyo Ghoul, Klaus Lunettes in Black Clover, Benimaru Shinmon in Fire Force, Khai in Dragon Ball Super, Kamui Woods in My Hero Academia, Zack Walker in Astra Lost in Space, Grimsby Keane in Black Butler, Samuel in Fairy Tail, Howard Link in D. Gray-man, and Hit in the Dragon Ball Xenoverse 2 video game. Please welcome Aaron to SaikouCon, we're sure he'll be a great addition to the SaikouFam!

Nominated for 2014 Breakthrough Voice Actor of the Year and 2018 Voice Actor of the Year by Behind The Voice Actors, Aaron Roberts has provided voices for over 300 anime series during his 8 years with Funimation. Non-anime projects include Borderlands: The Pre-Sequel (VG), Smite (VG), and Paladins (VG). Aaron has been a celebrated actor for the stage and screen in the Dallas/Fort Worth area, working in all areas of production for almost 20 years.

Our Cyber Monday General Admission Badge BOGO Sale is now closed! Thank you to everyone that bought their badges through the sale, welcome to SaikouCon 2020! You'll all be receiving your registration confirmation emails later today, power has been on and off all day at SaikouBase with the snow and ice storm that hit a lot of the Pocono area up into New York State and over into New Jersey. Stay safe out there and enjoy the kick off to the holiday season!
Our annual cyber Monday General Admission Badge BOGO Sale is on! You have until 12:01 AM on December 3, 2019 to double your badges for the price of one! For every General Admission Badge, one day or three day, you purchase, you get one free! Just remember, the PayPal Shopping Cart we use to process Pre-Registration Badge purchases will not show the second badge, all registration file adjustments are done on our side, your Registration Confirmation email, received within 12-72 hours following pre-registration purchase (registration confirmation messages are not automated, each one is sent personally by the convention chair), will show your additional free badges. Badges may be purchased on our Registration page. As always, thank you for being part of SaikouCon, without you there wouldn't be a show. Don't fret, those of you wanting VIP badges for SaikouCon 2020, you'll be getting your chance at BOGO craziness on Valentine's Day...

We'll have our first Guest of Honor announcement this week, we were hoping to be able to make it before Thanksgiving, but we will make the announcement as soon as we have the contract for our first Voice Actor back. IT's someone that has never been to SaikouCon before, so get excited! We know it seems like we're moving slower than normal with Guest bookings and announcements, but after 2019 we're being more hardcore with our guest negotiations and contract details to ensure that booked guests are here for you. SaikouCon is about our attendees and merchants first and foremost. Count on that being doubly so for the long haul.
Congratulations go out to Eddie G. from Glassboro, NJ! Eddie was chosen by blind drawing as the winner of our 2019 Mangagiving Giveaway! Also stay tuned over the next couple of weeks for a big announcement for next year that we have been working on for a while now and we think you're going to dig it.
SaikouCon 2020 Panel Submissions are now open! Panel Submissions will be open from 12 PM ET on November 4, 2019 until May 1, 2020 at 12 AM ET; we are giving a longer submission period for this year's show after the high amount of no show panelists that gave no warning they would not be able to attend the convention and present their panels, to make sure we have an ample amount of panel submissions again this year too, please review the changes made to our panel submission process on the new Panels page that will remain up all year long instead of how we used just place Panel submission info on the Events page and only through the Panel Submission period. Selected panelists will receive free badges, up to four per panelist group, to not only present their panels at SaikouCon 2020, but also enjoy all three days of the convention. Panelist Badges confer the same unlimited access to SaikouCon 2020 panels, events, activities, concerts, the Merchant Hall etc. that regular 3 Day General Admission Badges give non-presenter attendees.
The Panel schedule with descriptions of this year's chosen Panels will be posted on this page as well. On the new Panels page we will only be posting Panels and their descriptions after the submission period has closed, we will still be posting the full schedule of events (panels, concerts, screenings, special events, cosplay events etc.) within SaikouCon on the Events page with links to Facebook Event pages also with full info on each.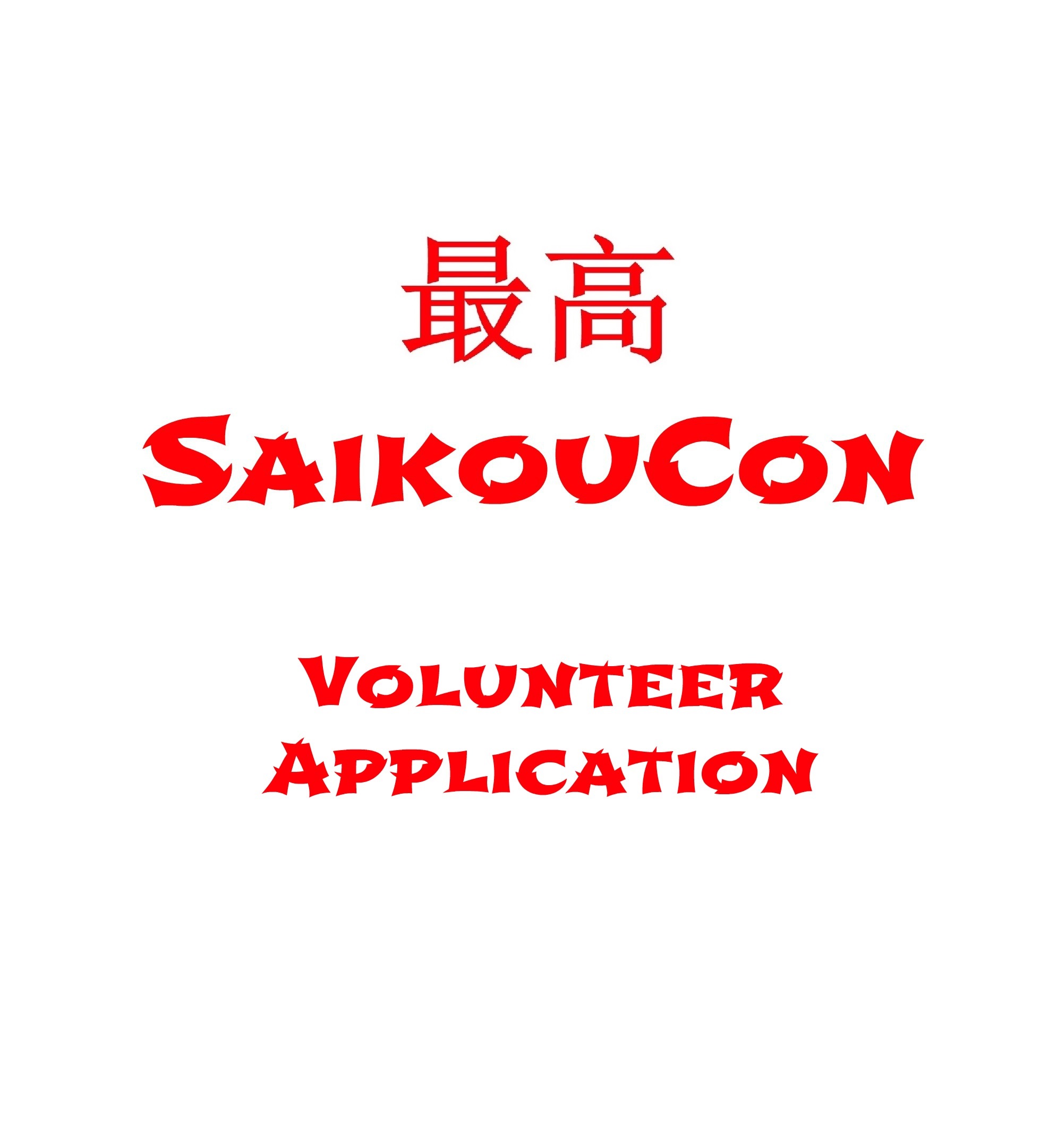 Volunteer staff applications are now open on the Volunteers page here on SaikouCon.com! Please review the rules and regulations for volunteer staff, as well as rewards and perks for fulfilling your volunteered hours (your choice of 6, 8, or 10 hours) before applying! Volunteer staff are an integral part of SaikouCon being a fun and successful convention, are you ready to join the SaikouCon Family on a new level?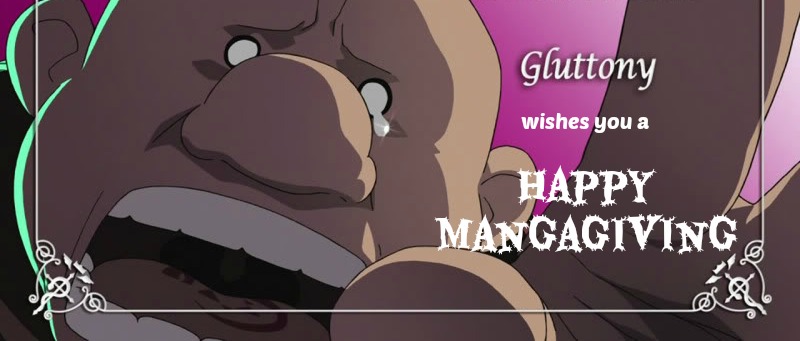 Don't forget, Mangagiving 2020 Giveaway is now open too!! Head over to the Events page and enter today! Entry form will close on November 27 at 6 PM ET, winner will be announced on Thanksgiving Day, November 28 at 12 PM ET!


Also, Panel Submissions for SaikouCon 2020 were scheduled to go live today too, but we are delaying that until this Monday November 4 at 12 PM ET. We are going to build a new page just for Panel Submissions and later in the year the Panel schedule with descriptions of the Panels (our con chair just thought this up earlier today and will not have the time to build the new page until Sunday afternoon); we will still be posting the full schedule of events within SaikouCon on the Events page with links to Facebook Event pages with full info on each. On the Panels page we will only be posting Panels and their descriptions after the submission period has closed, but now our Panel Submission criteria will be available to read and review all year long instead of just when submissions are actually open.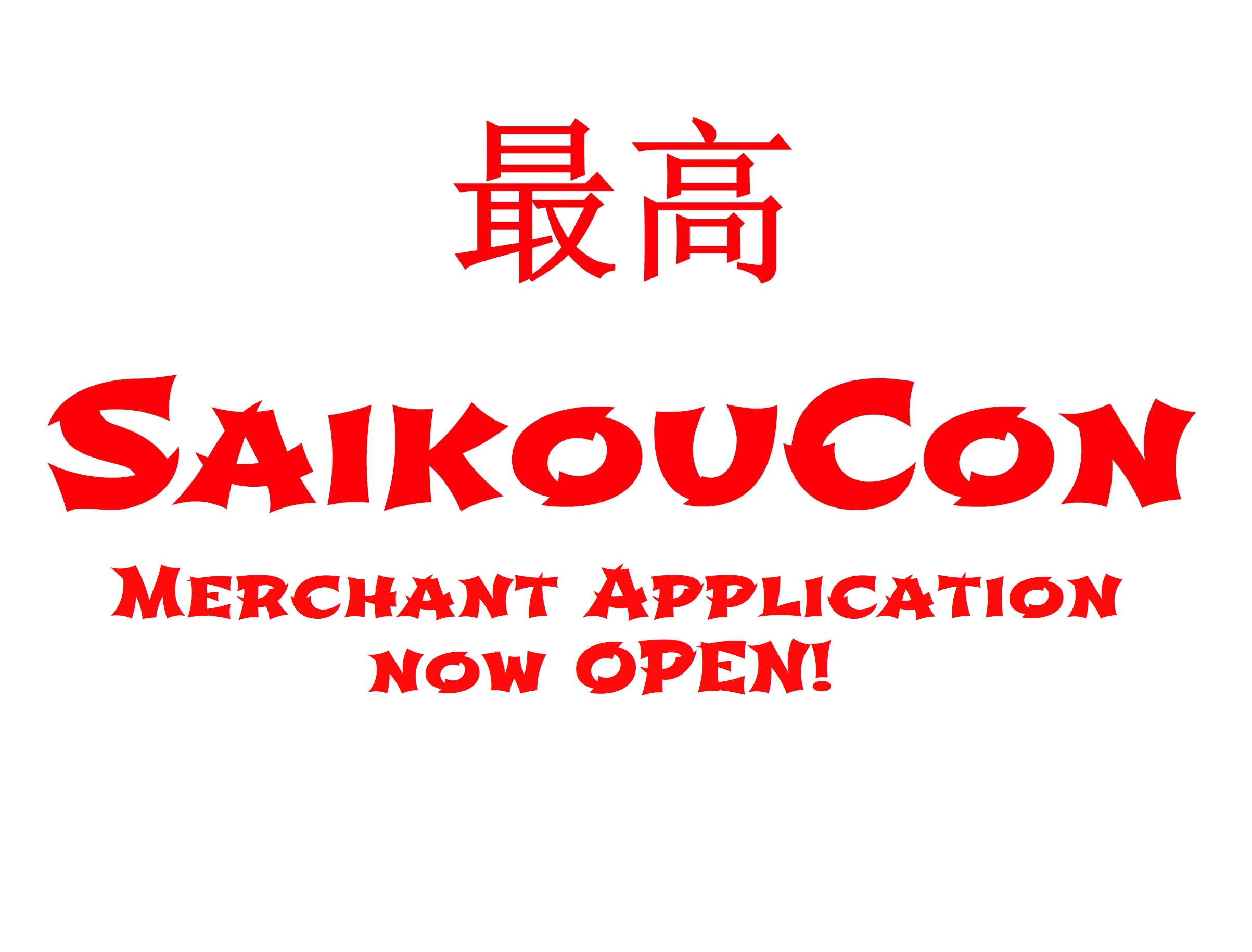 Our Merchant application for SaikouCon 2020 is now open! Head to the Merchants page here on SaikouCon.com for all the information, please review all the rules and regulations for vending at SaikouCon if you are a first time applicant, and returning Merchants please review some of the changes beginning for 2020 forward. Thank you all in advance for your continued support and interest in being part of the SaikouCon Family! Merchant Application period will run from today, October 1, 2019 until January 11, 2020; good luck to all that apply!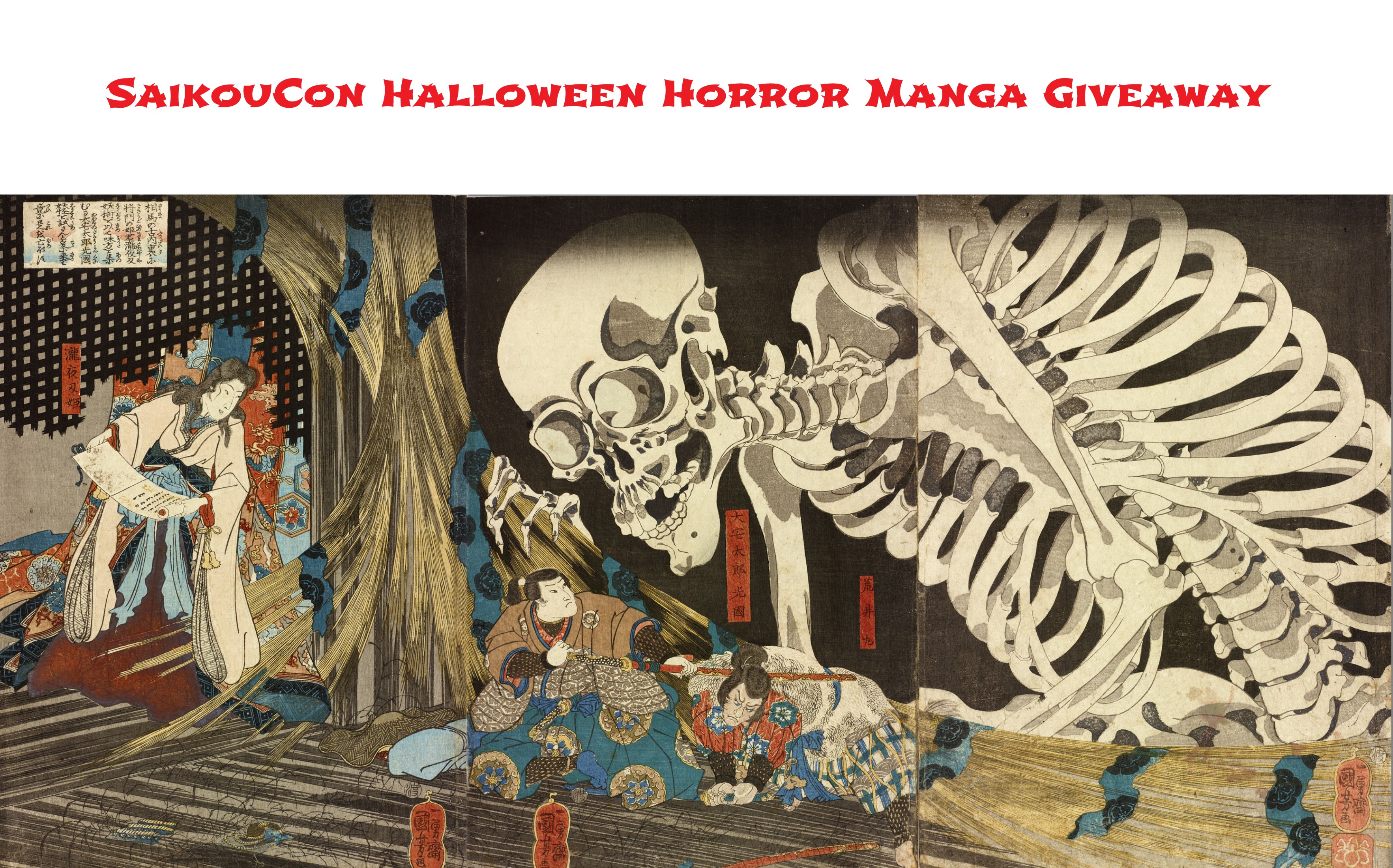 Also, our annual Halloween Horror Manga Giveaway is now open as well! Go to our Events page and enter to win a randomly selected horror manga tankoben volume! Plus as a bonus, we're sending the winner a spooky anime DVD this year! Good luck to everyone that enters the giveaway, the entry period will run from today, October 1 until October 30 at 6 PM ET, winner will be announced on Halloween with prize package sent out shortly thereafter.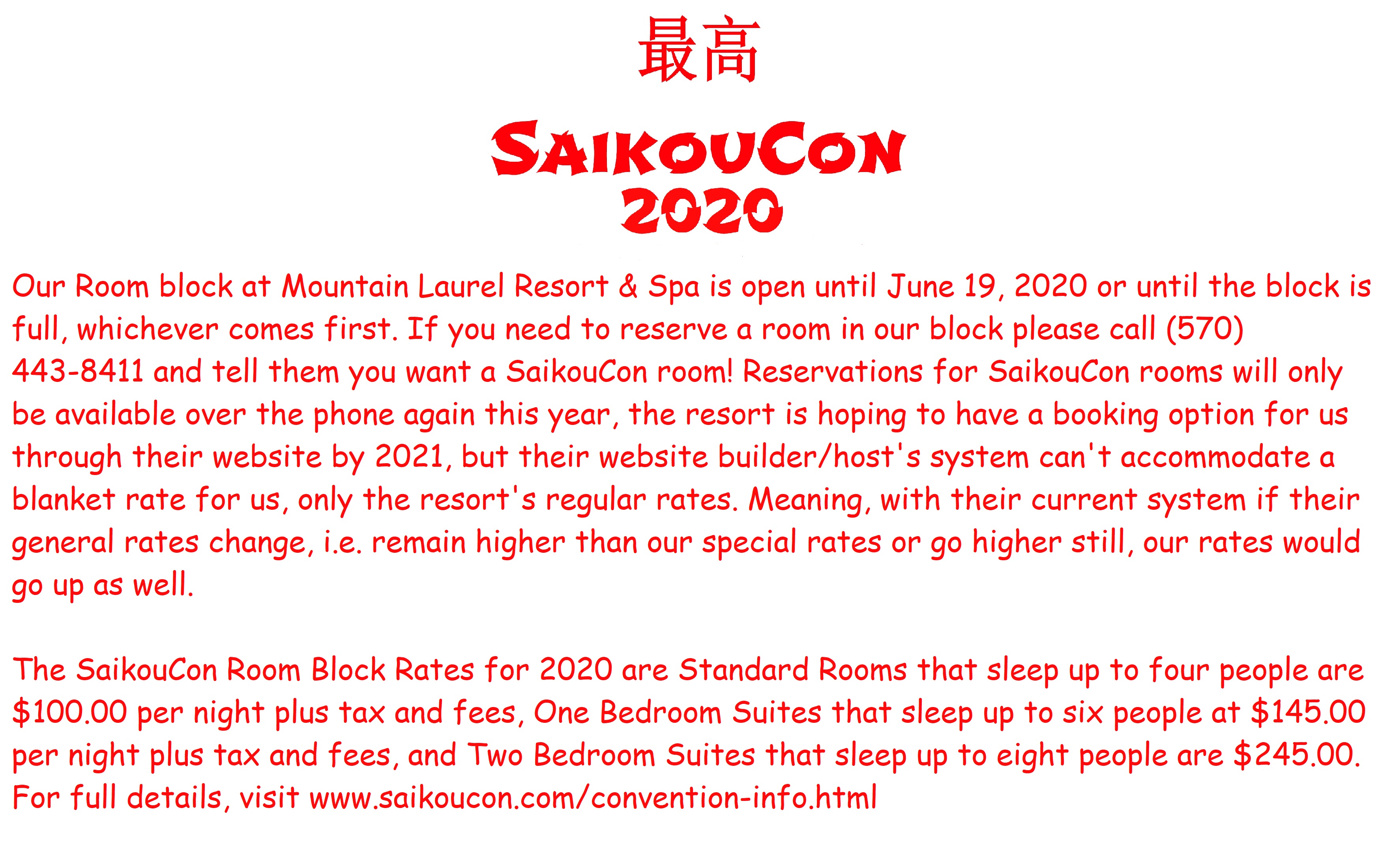 Pre-Registration (Advance Ticket Sales) for SaikouCon 2020 is now open! Visit the Registration page for details and purchase your passes to SaikouCon 2020, our eighth year! Where has the near decade gone? Are you ready for our best year yet? Will SaikouCon finally give up making these "long @$$" posts? How many more question marks will our con chair attempt to cram into this announcement?????

In all seriousness... get ready. Get hype, as the convention gets closer to the decade mark we're going to kick off the new decade as Best we can with one hell of a party year; we're going to put the roar into the new Roarin' 20s, and we want you to be part of it! Pre-Registration will remain open until Saturday, July 25, 2020 at 12 AM ET (the 12 AM going into July 26). Be on the lookout for for Guest announcements before September, 2019 is out!

Also, be sure to note that Pre-Registration purchases will appear on your credit card/bank statements as "SaikouCon Anime Convention/Dark Dimensions Horror Con" now as we are using one master account to process pre-reg for both conventions.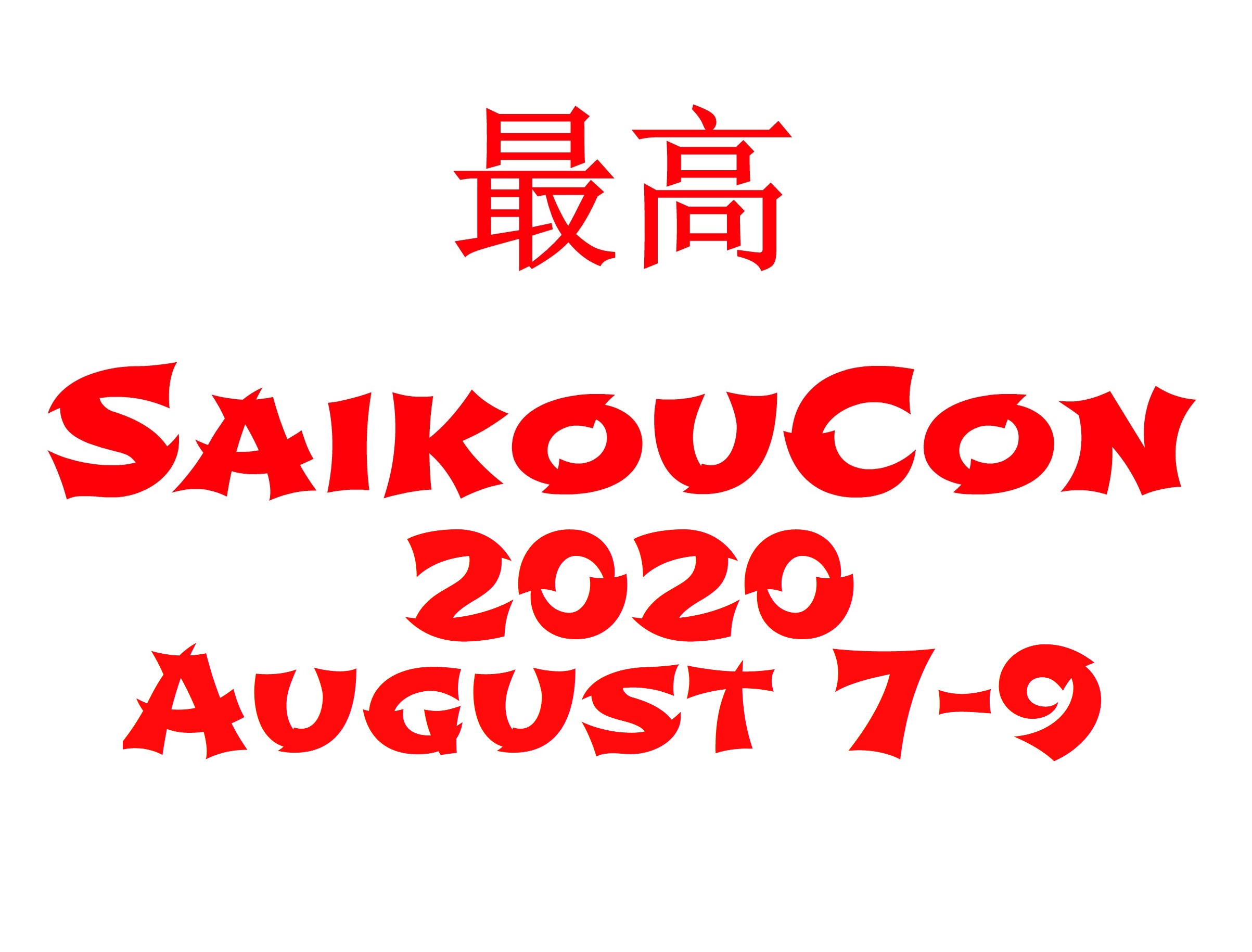 Ready for our 2020 dates? Here they are!!! SaikouCon 2020 will be taking place on August 7, 8, and 9 next year! We are happy to announce that the convention will be returning to The Mountain Laurel Resort & Spa in White Haven, PA for our 2020 show! Thank you to every one that submitted feedback forms, we appreciate your input and the time you took to let us know your thoughts on SaikouCon 2019 and on Mountain Laurel Resort & Spa. While a few of you did not like the resort as our hosting venue, to the point some even stated they will not return to SaikouCon if we held the show there again, more of you liked it than disliked it between feedback form evaluations and in person comments at SaikouCon 2019 itself. So, we have accepted the resort's invitation back with assurance that the aspects of remodeling that affected SaikouCon attendees and merchants negatively will be finished by our 2020 show; public restrooms in the Panels Plaza will be finished and the sleeping rooms remodels will also be complete by August 2020.
Pre-registration for SaikouCon 2020 will be open on September 15 at 12 PM ET here on SaikouCon.com, our room block (with lower rates than 2019!) will open for booking at the same time pre-reg opens; reservations will be open to make both by phone and through a special booking link that we will be both posting on the Convention Info page here and sending to those that pre-register for Badges to attend SaikouCon 2020. Merchant Applications will open on October 1, 2020 at 12 PM; we are reworking how the Merchant Hall will be set up, and there will be no mix up with table sizes this year. Merchant tables will be 8 foot tables again so we are reworking how many merchants we can accept and how the Hall will be set upto avoid the overcrowding experienced in 2019.
Volunteer Staff Applications and Panel Submissions will open on December 1, 2019; more information will be released as we get closer to the opening of those application and submission forms. In the realm of panels, we will be reworking some aspects so there are back ups in place should we run into a similar amount of no show panelists without advance warning from said panelists as we did for 2019. Keep your eyes peeled to SaikouCon.com and our social media profiles for more news and 2020 guest announcements in the coming weeks!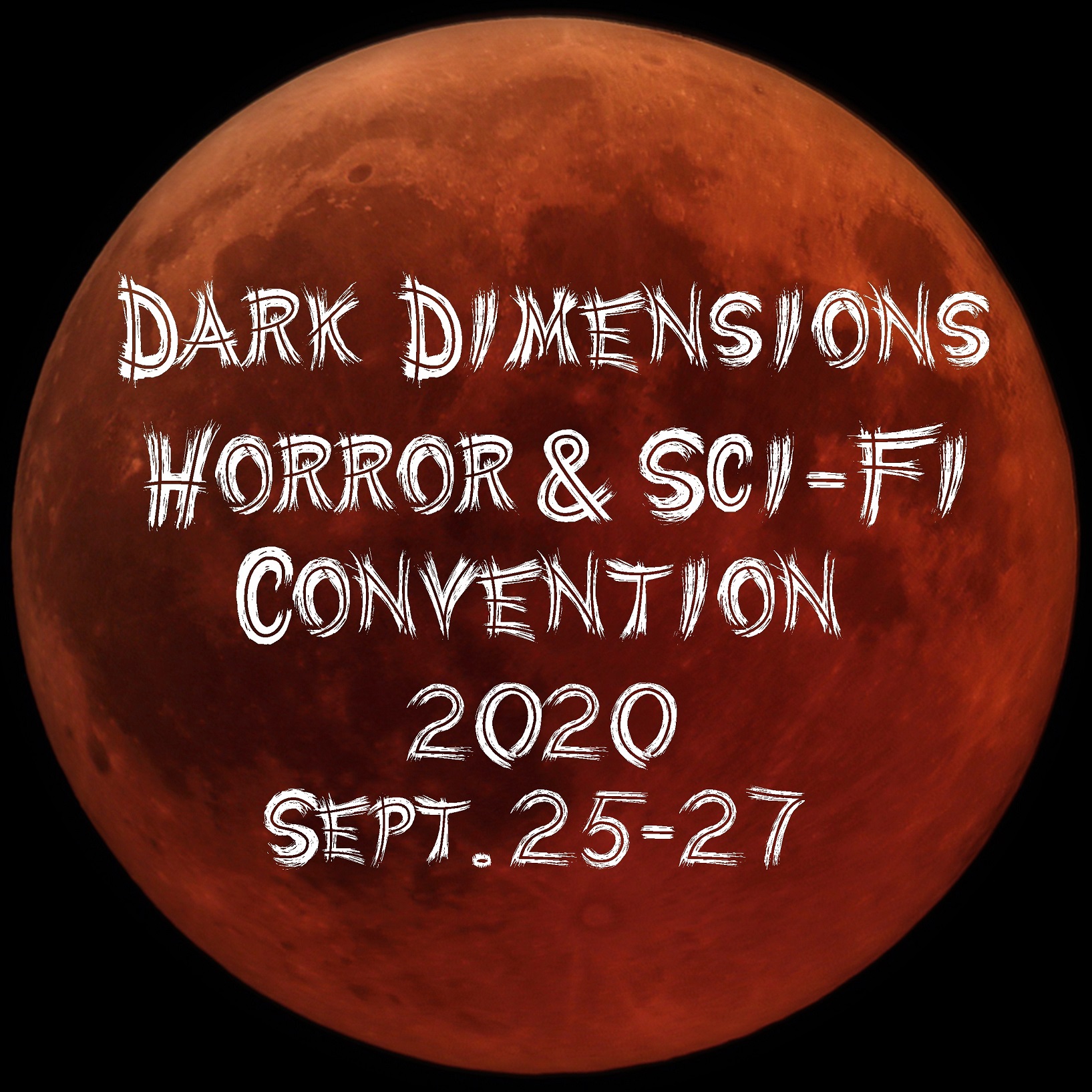 For those of you that also love non-anime horror and science fiction, we are also excited to announce that we are expanding our line up of conventions from just SaikouCon to the horror and sci-fi con we have been working on launching since 2015, Dark Dimensions Horror & Sci-Fi Convention!! The first show is coming September 25, 26, and 27 of 2020 to kick off the Halloween season for the year. The website for Dark Dimensions will be launching on October 1, 2019 with full information on the convention, its own pre-reg, hotel room block booking information, and maybe its first round of guest announcements! Keep your eyes open for the Dark Dimensions website launch, and social media profiles (currently only on Facebook, at www.facebook.com/DarkDimensionsCon, but soon on Instagram, Twitter, and Tumblr same as SaikouCon). This is going to be creepy fun... indie horror marathon with presentations by the film makers, midnight presentations of classic horror from the silent film era and some modern classics, live readings from the works Edgar Allen Poe, Merchant Hall, celebrity autographs/meet and greets/photo ops, panels, concerts, Cyberpunk Rave, Dance of the Dead, and more!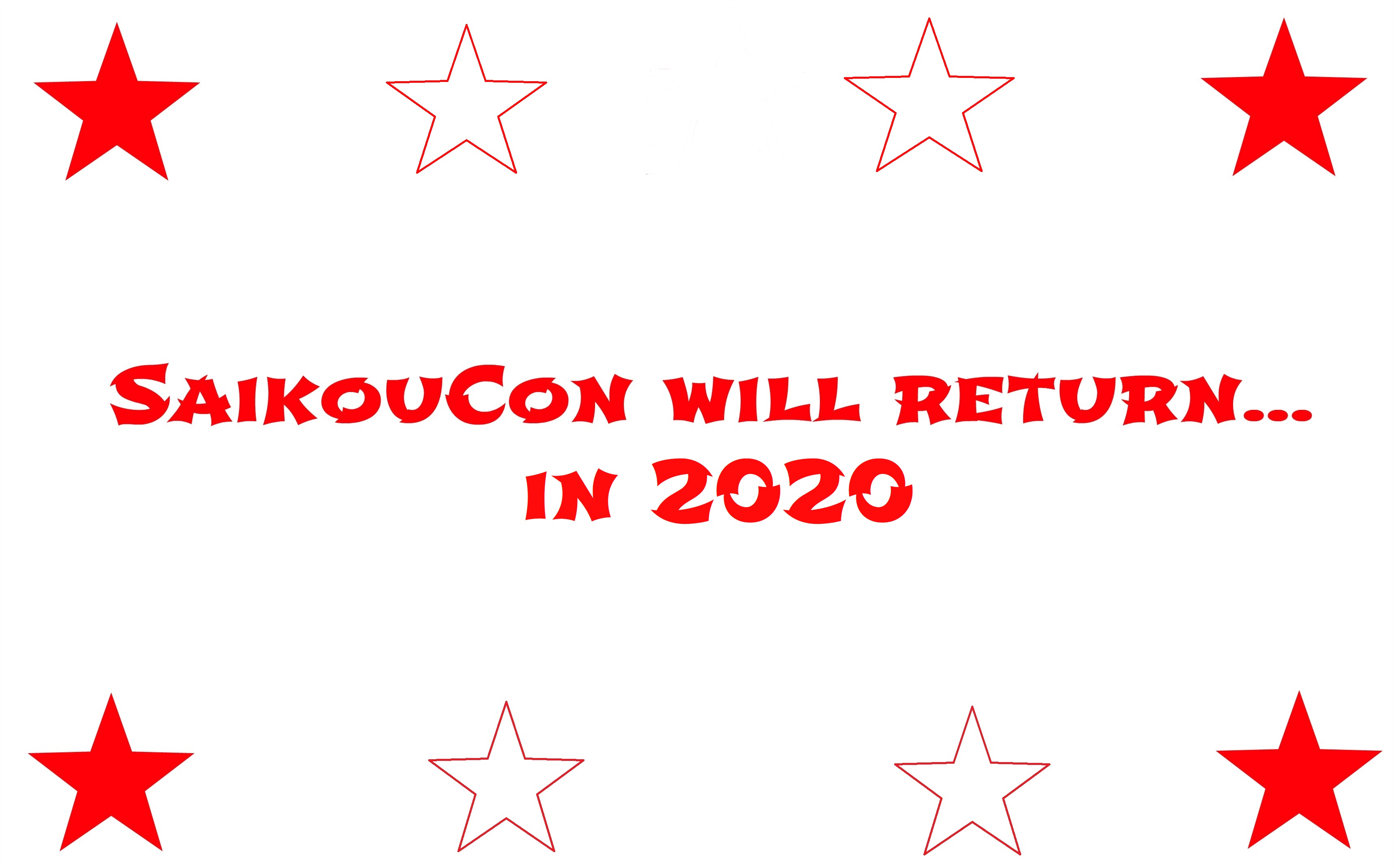 Here we are, just over a week since SaikouCon 2019 has concluded. What a year... new venue, new town, more guest star cancellations than we could shake a stick at... what a year. In all honesty, it was shaping up to be our last year, with all the problems with guest stars cancelling their appearances, us being forced to cancel a few, flight cancellations delaying one guest until she decided just to go home. I was determined not to hold another SaikouCon as things kept hurting the show, but we made it to showtime and together (attendees, merchants, guest stars that followed through, panelists, volunteer staff, staff, and the Mountain Laurel Resort's staff) put together a great show, maybe the best we've had so far. I can't tell you how that bolstered myself and the con staff to keep this show going, SaikouCon always endures and I forgot that for a little while this year; I'm sorry that I did. SaikouCon will be back in 2020 and beyond. SaikouCon isn't about or for the guest stars, it's about and for you; guest stars come and go, but all of you are here year in and year out. For that continual support in the face of all the adversity the con has faced, the yearly moving from one venue to another when past venues are either outgrown immediately, close down, or end up completely sub par for the needs of the show... you're all there waiting for the next year what ever it may bring. I thank you all for that, as I do every year, thank you... thank you... thank YOU!
On the Events page you'll find a feedback form, it will be open until Monday, August 19, 2019 at 6 PM ET. Let us know your thoughts on this past year, on the new venue (we have been invited back for 2020 already, but we want to hear from you before we finalize our decision to return to the Mountain Laurel Resort). We'll also have an announcement about a new side event for SaikouCon soon, we had hoped to launch it within 2019, but that wasn't in the cards for this year when all was said and done, so it will be coming in 2020 as well; keep an eye out! And finally, congratulations to Brenda B. from Catawissa, PA! Brenda was drawn from a blind drawing as the winner of our Summertime Manga Giveaway! Brenda has won two randomly selected manga tankoben volumes, Brenda your prizes will be in the mail to you before this week is out, congratulations again! Our next monthly giveaway will be in September as we are taking the remainder of the month of August off except for post show staff meetings, reviewing your feedback forms, and speaking with the Mountain Laurel Resort as well as a few other venues that have fielded offers to us; though we are heavily favoring a return to the Mountain Laurel Resort.
Best,
Mike Meade
Con Chair
SaikouCon