Welcome back DJ OZNO to our Musical Guest Roster! DJ OZNO first joined SaikouCon in 2017, this year he will be adding sound and creating a vibe in our Merchant Hall as he did last year; DJ OZNO will also be spinning at secret (for now!) event on SaikouCon Friday... stay tuned!!! DJ OZNO is making SaikouCon part of his "Gonna Me When I'm Gone" Tour that will run through much of 2018 throughout the East Coast of the United States. He will be performing at locations as diverse as the music he executes...
Let SaikouCon help alleviate your Tax Day Blues! In 2017 we held our first Tax Day Event, it was popular so we're doing it again! From 12:01 AM on Tax Day April 17 to 12:01 AM on April 18, 24 hours only, every third person that purchases a 3 Day General Admission Badge to SaikouCon 2018 gets an upgrade to a 3 Day VIP Badge! Last year we had it set for every five people, but we thought it'd be more fun with better odds of people getting the upgrade with every third person receiving the upgrade.Attendees that have scored the upgrade will be notified in their Registration Confirmation email message sent within 12-72 hours following purchase. Pre-registration (advance tickets) located on the Registration page!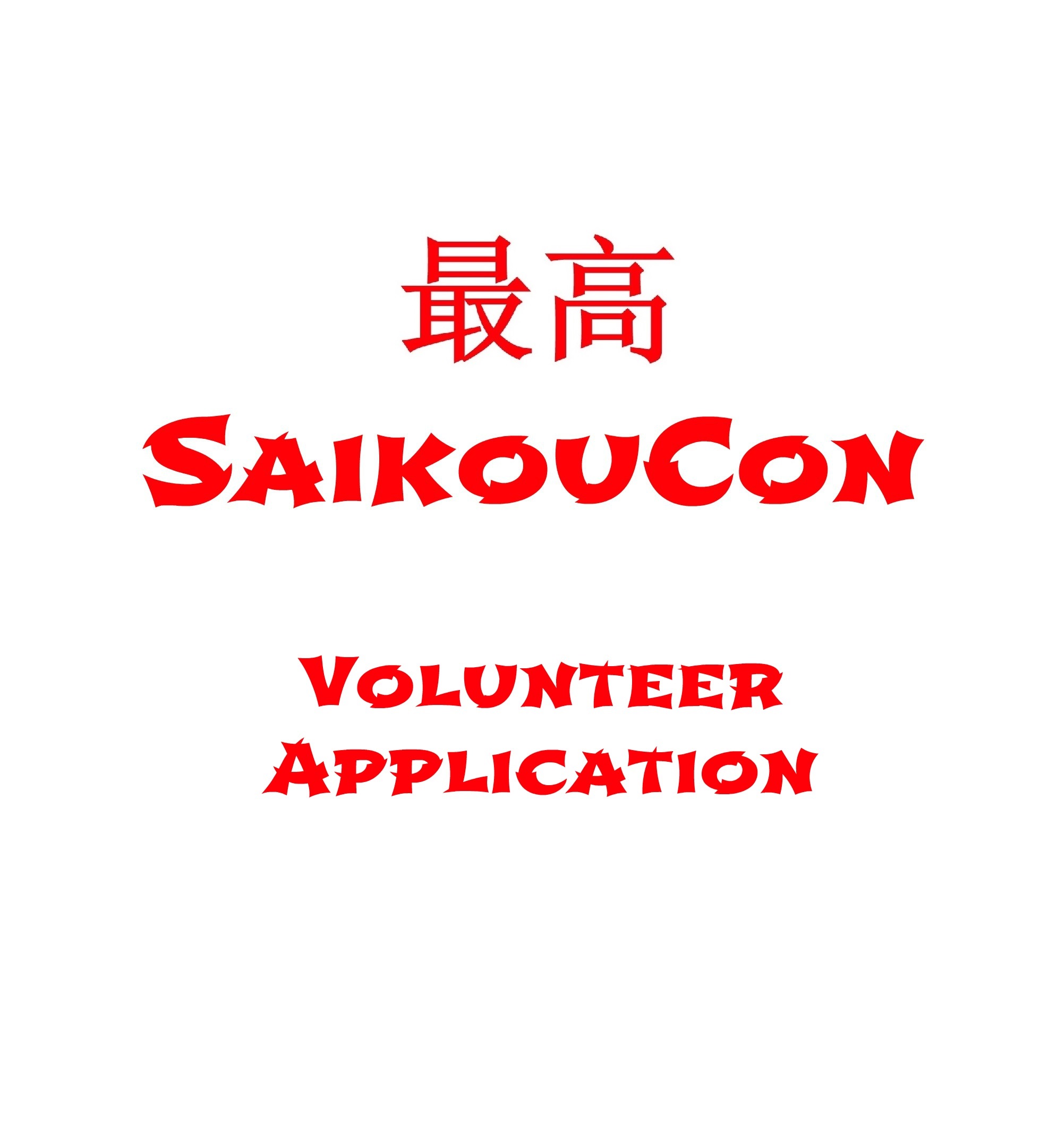 Volunteer staff applications are now open! Visit the Volunteer page for rules, benefits, and amenities for volunteering at SaikouCon 2018! Apologies the application is open a day later than originally scheduled, to make up for the delay the application is now open until June 30 instead of June 29. Thank you in advance to everyone that applies, and those that have volunteered and followed through in the past, without your help as volunteers, the convention would not come off every year!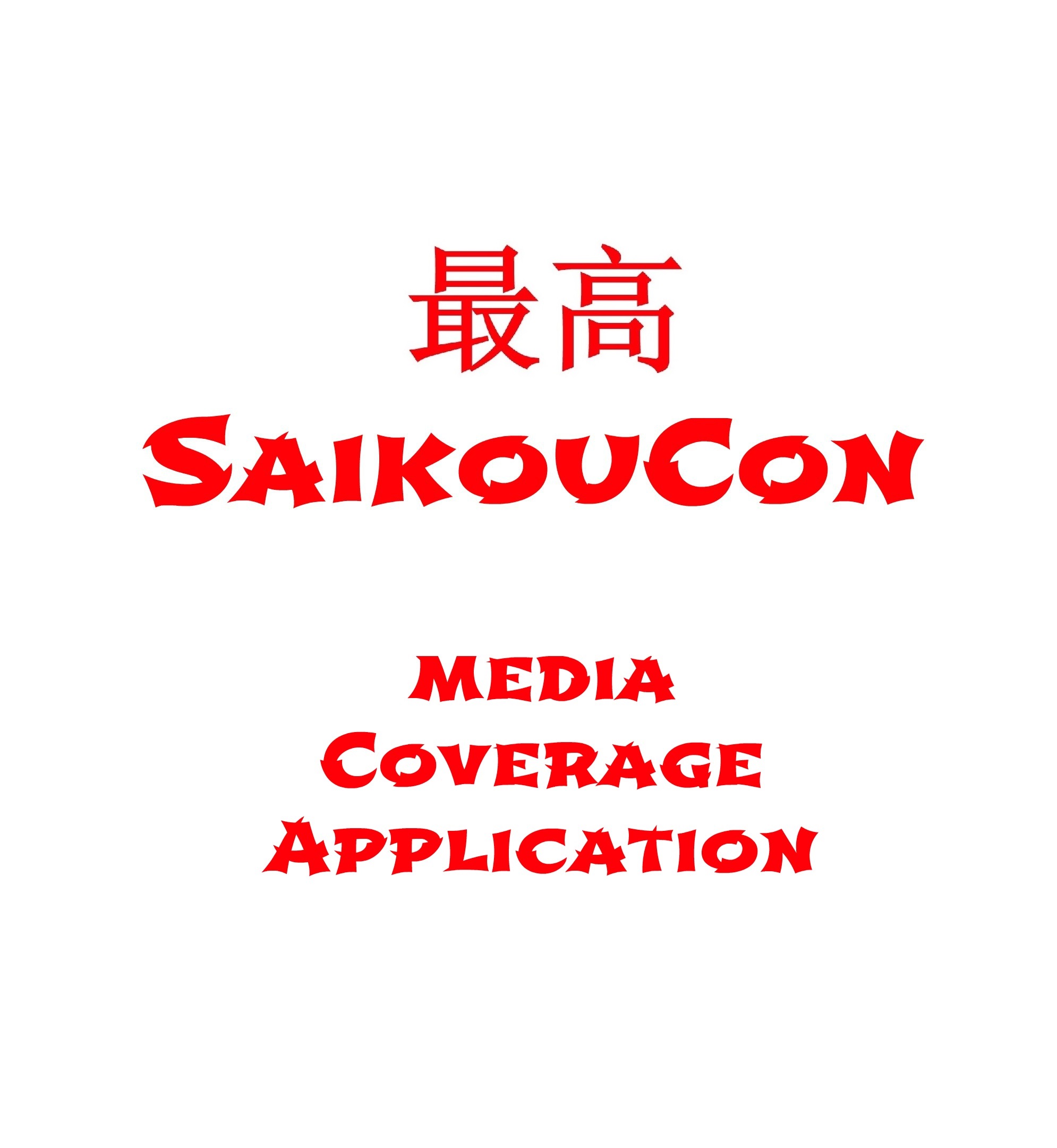 Media applications for press passes to SaikouCon 2018 are now open! Visit the Press page for all rules, regulations, and considerations for members of the media that wish to cover SaikouCon 2018. Application for media representatives closes on June 22, 2018 at 6 PM ET. Applicants will be notifed if they have been approved for convention coverage no later than June 25, 2018.

Also, the winner of our March Anime Madness Giveaway is Celia P. of Palmyra, PA! Congratulations Celia!!

Time For... TIME FORCE! We are incredibly excited to welcome as a Guest of Honor to SaikouCon 2018, Erin Cahill, better known as Jennifer "Jen" Scotts, the Pink Ranger of Power Rangers Time Force! Erin is joining us to help celebrate the 25th Anniversary of the Power Rangers franchise in North America!! Erin is also known for her appearances in several sci-fi, horror, comedy, and drama films and television series such as Supernatural, Resident Evil: Vendetta (both voice work and motion-capture for protagonist Rebecca Chambers), Boogieman 3, How I Met Your Mother, The Order, CSI: Miami, Power Rangers Wild Force (reprising her role as Jen Scotts), Ghost Whisperer, Stitchers, Sleepy Hollow, Garfunkel and Oates, The Pursuit of Happyness, Beverly Hills Chihuahua 2 & 3, Power Rangers Hyperforce (again reprising her role as Jen Scotts), and most recently Criminal Minds among many many more. All of the above and Erin is helping the convention expand deeper into the realms of Tokusatsu fandoms being our first Ranger to guest with us. Are we all hype yet?
Please welcome as a Special Guest for SaikouCon 2018, 8BITAmbitions! She is a Pennsylvania based cosplayer and photographer specializing on con photography, 8BITAmbitions will be hosting some panels and aiding with cosplay events at SaikouCon this year. We are excited to have 8BITAmbitions with us this year and hope you are too, join her in leveling up our cosplay during SaikouCon Evolution!
Ready for another Musical Guest announcement? We thought you might be, The Wanderland Tour is joining SaikouCon 2018! Wanderland features internationally renowned guitarist, Jake Edgley, and international superstar, Gigi Edgley! That's right, Guest of Honor Gigi Edgley will be pulling double duty at SaikouCon this year and showcasing her musical talents with brother Jake at our 2018 Cosplay Concert on SaikouCon Saturday night!! Check out the Guests page for more info on Wanderland!
Joining us for his third time as a Musical Guest in 2018 is REAKT!! REAKT first performed at our Cosplay Concert in 2016, he had such a great time he wanted to return in 2017 for our Saikou Dance Fever Party, and now for 2018 will be performing at our Eclipse Party on SaikouCon Friday with DJ Awesomus_Prime and at our first Charity Auction Concert on SaikouCon Saturday!

REAKT, for those new to the SaikouCon Music Scene, is an EDM artist from Japan now living and actively performing in New York City while also touring the United States and Japan. Please welcome back REAKT to SaikouCon 2018! More Musical Guest announcements coming soon!
Announcement coming soon, stay tuned... The Power is On at SaikouCon 2018!
Merchant Hall Applications are now closed for SaikouCon 2018! Thank you to all Merchants that applied to sell at SaikouCon 2018, jurying will commence on Monday, March 19. Applicants will receive notice of their application status within 10 business days (but it should be a little faster than that). Applications were scheduled to close last night, but unscheduled server maintenance on the website prevented this, applications that came in overnight will still be juryed with applications that came in before the scheduled deadline.
Musical Guest Announcement!!! Welcome to SaikouCon 2018, DJ Awesomus_Prime! This is Awesomus_Primes first time spinning at SaikouCon, Awesomus_Prime will be laying down his custom, Geek Culture inspired tracks at the possibly once in a lifetime SaikouCon Eclipse Party! Our Lunar Eclipse Party will be taking place on SaikouCon Friday tentatively scheduled for 10 PM in the Special Events Hall! Please welcome Awesomus_Prime with all the excitement we have and hope you do too. Awesomus_Prime will be sharing the spotlight at the Eclipse Party with a soon to be announced Musical Guest performing live, before Awesomus_Prime finishes out the night with a special mix for SaikouCon!
Our annual March Anime Madness Giveaway is now open! Head to the Events page, review the entry rules, and enter to win a randomly selected anime DVD! Winner will be selected by blind drawing after the close of the entry period! Good luck to all that enter!
And the winner of our Viz for Valentines Giveaway is Elisa H. from Whitehall, PA! Congratulations Elisa!!
We were so excited about our announcement that TiA and Kohei are joining us as Musical Guests our con chair forgot to open the Viz for Valentine's Giveaway in time! It is now open and we are keeping the entry period open an extra day to make up for the delay, February 14 instead of February 13; head over to the Events page to enter for a chance at winning two randomly selected Viz Media manga volumes! Keep them both for yourself, give one to your significant other, give one to your best friend, a sibling, a parent, donate the second to a library... whatever you want! Best of luck to everyone that enters! Make sure to read the giveaway rules before entering.
Our con chair also forgot to announce the winner of our SaikouCon @ Setsucon VIP Badge Giveaway exclusive to attendees of Setsucon 2018 this past weekend. The winner is Angela P.! Angela will also be notifed by e-mail, congratulations Angela, see you at the show!!
SaikouCon is happy to announce that joining our Musical Guest roster for 2018 will be TiA and Kohei! TiA is best known in the US for her song "Ryuusei", which was used as an ending theme for the Naruto anime! Another popular song of TiA's, "Promise", is used as the second opening theme for "Yakitate!! Japan". She was signed to Epic Japan at the age of 16 and soon was awarded Japan's Gold Disc. TiA has performed at Carnagie Hall, the Apollo Theater, Madison Square Garden, and has won several competitions and talent exhibition events as well since moving to the US from Japan in 2014.
Kohei is also from Japan and has been making a name for himself too in the New York City music scene as MC for events that were part of Japan Fes, McDonald's Gospelfest, has been featured on the Steve Harvey Show, has opened for Wu Tang Clan, held and performed events at Jay-Z's mother's restaurant in Newark, NJ and more!
We hope you are just as excited as we are to have them both perform at the Cosplay Concert on the Saturday night of SaikouCon 2018!
ATTENTION MERCHANTS: At the Econo Lodge Conference Center, we are able to accommodate more Merchants, quite a few more than we expected, and thus after several requests over the weeks since the first (and what we thought was the only) wave of Merchant Applications, we are opening a second wave of Applications. All Applicants placed on our wait list from Wave 1 are now considered active applicants again, subject to another round of jurying with Wave 2 applicants at the close of the second application period (all wait listed merchants will be receiving an email stating the same later today, there haven't been enough hours in the day lately to get the emails out before opening the new application period).
Please see Merchant Hall details; our rules, regulations, and guidelines on the Merchants page, before applying to vend at SaikouCon 2018. This second and final wave of Merchant Applications is open from January 15, 2018 at 12 PM until March 16, 2018 at 6 PM. Just as in the first wave of Merchant Applications for 2018, jurying of applicants will commence after the close of the application period. Applicants will be notified of their status within five business days of the close of applications.
Panel submissions for SaikouCon 2018 are now open! Apologies for being a few hours late again, internet was down all morning at SaikouCon Home Base due to the winter weather (who else hates freezing rain?). Head to the Events page for all the info and to submit your panels to be included in our 2018 programing block! Please review all the information before submitting, and make sure you don't miss any of the Required Fields on the submission form. Panel submissions will close on May 11, 2018 at 6 PM ET, all panelists will receive notice if they have been accepted or denied for this year no later than May 21, 2018 with full programming schedule released to the public on June 1, 2018 at 12 PM! If you are not accepted for 2018, please do not hesitate to apply again in 2019, we welcome and appreciate everyone's submission, but there are only so many hours over the course of the convention that we can run panels.
How about a guest announcement? Sounds like a good way to further kick off 2018... Joining SaikouCon 2018 as a Special Guest will be Bfarve Cosplay! Bfarve is a Berwick, PA based cosplayer, new to the cosplay scene, but is fast becoming a staple of the Pennsylvania cosplay and convention communities. Please Bfarve a warm welcome to the SaikouCon family! Stay tuned for some activities and events within SaikouCon 2018's programming that Bfarve will be participating in!
A little late because of the new venue reveal, but in Japan New Year tidings are wished until January 3 and sometimes into the middle of the month. Akemashite Omedetou!
Also, congratulations to Angela C. of Easton, PA, she was chosen by blind drawing as the winner of our Winter Gift Giveaway! Angela has won two randomly selected anime DVDs, a randomly selected manga volume, one blind bag anime figure, and one 3 Day VIP Badge to attend SaikouCon 2018! Congrats again Angela! See you at the show!!
Ready for the full reveal of our new 2018 location? Here you go! Our home for 2018 is the Econo Lodge Conference Center in Allentown, PA! The Econo Lodge features an outdoor, Olympic size swimming pool, 27 acres of outdoor space for photoshoots, 9,424 square feet of ballroom space that will be divided between the Merchant Hall and Special Events space (separated by airwalls so the Merchant Hall is completely locked down safe and sound after hours). Two sizable meeting rooms for panels and workshops, and a third meeting room for screenings, screening schedule for 2018 will be released in February. Thank you all for the patience and support while we hunted for a new venue after the sad development with the Holiday Inn Center City Allentown closing up for good. The Econo Lodge will have our block of rooms open by January 8, 2018, booking information will be available on the Convention Info page and of course will be sent to everyone in their Registration Confirmation messages (attendees and merchants that have already registered will receive updated Registration Confirmation messages beginning January 2, 2018). The Econo Lodge Conference Center is a three star hotel with many amenities for those that book rooms in our room block including free continental breakfast, pool access, business center access, onsite bar and restaurant, and free parking lot parking! Fun Fact: KISS once hosted a fan event at this Econo Lodge! So, if it's good enough for KISS, it's good enough for SaikouCon; the awesome staff at the Econo Lodge is really saving our bacon this year and thankfully had our originally planned dates of July 27-29, 2018 open and available. Happy New Year everyone! Let's make this year great! Guest announcements, some programming announcements, announcements of two expansions to SaikouCon, and more will be coming in January and beyond, stay tuned!
Ready to que up the collective sigh of relief? We are. I know you're all going to want location details right now, but we're holding that back until after New Year's Day. An agreement was reached with a new venue in Allentown, PA, but unfortunately it was reached right as the sales manager for the new venue was on her last day before her holiday vacation, so there was no time for her to fully write up our rental contract, we are locked in and the July 27-29 dates are on hold for us; so, no worries there. However, I'm a little superstitious after the last two times I announced venues before the rental contract was signed, and the rug was pulled out from under us, granted that was our first year back in 2013; all the same I don't want to jinx us. I think we can all agree we've collectively had enough events that blindside us for 2018. In the meantime, I am going to post details to get excited about for our 2018 venue:
Outdoor Olympic size swimming pool

Acres, 27 to be exact, of beautiful outdoor space for cosplay photoshoots

Larger ballroom area than the Holiday Inn (waitlisted Merchants, some of you will be getting messages, we have to work the measurements to be precise, but it looks like we'll be able to accept another 10 merchants!)

It is a hotel conference center, so sleeping rooms will again be on the same site as the convention programming and activities.

Our room block will be only $99 per night plus tax, the lowest hotel rate we've had since 2013! Room block should be open for booking no later than January 12, but it will most likely be open within 48 hours of the rental contract being fully finalized, I just want to give the hotel some time to fully set it up

FREE PARKING LOT PARKING!!! No more garages and street parking, the venue's parking lot should be big enough with room to spare for attendees and Merchants in attendance for all three days of SaikouCon 2018

Thank you all again for the support over the years, thank you all for the moral support after we received the news a few weeks ago from the Holiday Inn Center City. Talk to you all soon, I hope you all have incredibly Happy Holidays and an amazing New Year! I'm sure I'll have posts before the full announcement of our 2018 venue, but all the really exciting ones will start in January... guest announcements, two new aspects to SaikouCon (if you came to the last Anime Night Free Screening at The Encounter Comics and Games in Allentown, you know what I'm speaking of *sly wink*). A lot of things coming up that will carve out an interesting niche for SaikouCon in the con community if they come to fruition as I'm hoping over the summer and autumn leading up to and following SaikouCon 2018.
As some of you may have heard earlier today, the Holiday Inn Center City has announced that they are closing permanently at the end of this month. We are shocked and appalled by this announcement and the termination of our rental contract to hold SaikouCon 2018 in their facility, when this came out as a rumor and brought to my attention less than 24 hours ago by a long time attendee and good friend, I was assured by the venue management that we were safe, it was nothing but a rumor, and to their knowledge at the time it was. Supposedly the company that owns this Holiday Inn didn't even let their executive staff know this was coming to pass. If I had even an inkling this was a possibility, I would not have accepted the venue's invitation to return SaikouCon to their space in 2018.
I want to assure you that SaikouCon 2018 is
NOT
cancelled. I can not stress that point enough, we took action immediately after the hotel's group sales manager informed me at 12 PM earlier today of this sad development, negotiations have already begun with another venue for the same weekend, July 27-29 of 2018; and contact has been made with a few other possible venues that we are waiting on word back from. We will have an annoucement by the end of this coming week possibly into the following week, I will not say which venue at this time, not until there is a signed contract for July 27-29, 2018 with this new venue. All I will say at this time is that the new venue is no more than 20 minutes away from the Center City area, and is still firmly in Allentown, Pennsylvania.
If we, by very very slim chance, can not relocate the convention to a new venue for the same weekend this coming summer we will cancel the 2018 show and all attendees and merchants that have registered will receive full refunds of their registration fees immediately.
Please give us this next week or two, possibly three considering the holidays are upon us, to reseat the convention at a new location before panicking, and please, when calling or writing into the Holiday Inn to cancel your reservations, be kind to the staff there, they were working, until this morning, under the same assumption we were; that the owners of the Holiday Inn were being truthful that the hotel would merely be undergoing renovation and changing from a Holiday Inn to a Double Tree Inn, instead of fraudulently accepting new event bookings for 2018 (we are not the only ones), seemingly to cover their bases if the closure did not happen and the hotel would stay in business. We may have lost a venue, but those folks lost their jobs and careers.
We are not dead. SaikouCon will survive. The community we have built together will survive. I thank you all for your continued support, we will have greener pastures to call our own very soon.
Our Winter Gift Giveaway entry is now open! We're sorry it's a little over 24 hours late, the entry form widget was down all day yesterday, but we're up and running now! Visit the Events page for the rules and other details of the giveaway. Winner will receive two randomly selected anime DVDs, a randomly selected manga volume, one randomly selected blind bag anime figure, and one 3 Day VIP Badge to attend SaikouCon 2018! Thank you all for a great year, our fifth anniversary truly was a Resurgence and we want to thank you all for the continued support of this convention, you make us great. Let's keep growing and Evolving together!
Our Cyber Monday General Admission Buy One Get One Free event has now concluded! Thank you to all that pre-registered for SaikouCon 2018 through the event, in February we will be bringing back our VIP Badge Valentine's Day BOGO on Valentine's Day, 24 hours only, keep an eye for more details in the New Year!
Our Cyber Monday General Admission Badge BOGO is now open!! You have until 12:01 AM ET November 28 to take advantage of the only Buy One Get One sale on General Admission Badges this year! Head to the Registration page and get your General Admission Badge BOGO while the getting is good!
Remember, the PayPal Shopping Cart will not show the second badge, all registration file adjustments are done on our side, your Registration Confirmation email, received within 12-48 hours following pre-registration purchase (registration confirmation messages are not automated, each one is sent personally by the convention chairman), will show your additional badges.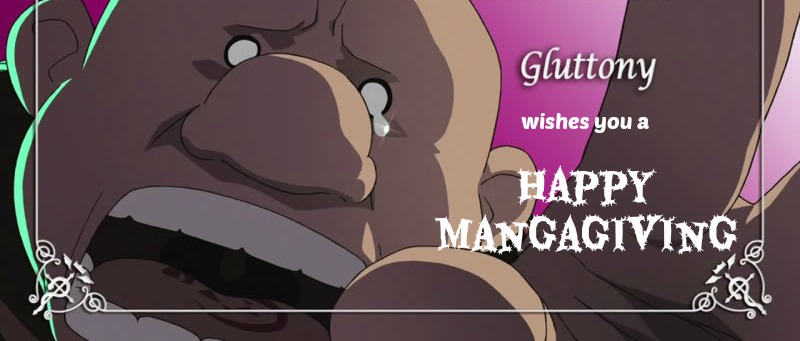 Mangagiving is here! Head to the Events page and enter today! Winner will receive two randomly selected manga volumes from SaikouCon! Good luck to all that enter, one entry person, multiple entries from the same household are fine but multiple entries from the same person will be discarded so each person that enters has an equal chance of their name being drawn as the winner from the blind drawing at the close of the entry period on November 22, 2017. Winner will be announced on Thanksgiving Day.
Also, the winner of our Halloween Horror Manga Giveaway is Antonia S. of Allentown, PA! Congratulations Antonia! Winner will also be notified by e-mail.
Time to announce our first Musical Guests for 2018, back for their FIFTH YEAR with SaikouCon... The Adarna! Born in the home of Grunge, Seattle has now given rise to Jet City Rock through The Adarna. The bands signature has become so beloved at SaikouCon that not a year has gone by they have not joined us since their first time at the convention back in 2014, this year the band will perform their original music at the Friday Night Concert and Cosplay Concert, plus the members of The Adarna will be presenting panels and and hanging with attendees at their merch table all weekend long! The national and internationally touring band is always a welcome addition to our Guest Roster, we are always happy when they can fit us into their summer tour schedule. Who is excited for the return of Will, Andreka, Murdock, and O-Town?
Joining SaikouCon 2018 as a Featured Guest is Foxxy! Foxxy, more widely known as Toxicfoxx, this will be the third time she has been on our Guest Star roster and we are just as excited for 2018 as we were for Foxxy's first time with us. Foxxy will be acting as one of the judges for our 2018 Cosplay Contest, she will also be the MC for our 2018 Charity Auction, maybe even a Twitch streaming event if we can get one set up... stay tuned for more about what Foxxy will be doing at SaikouCon 2018, and keep an eye out for our next Guest announcement later this coming week! Also, don't forget to enter our Halloween Horror Manga Giveaway, entry form on the Events page, before time runs out!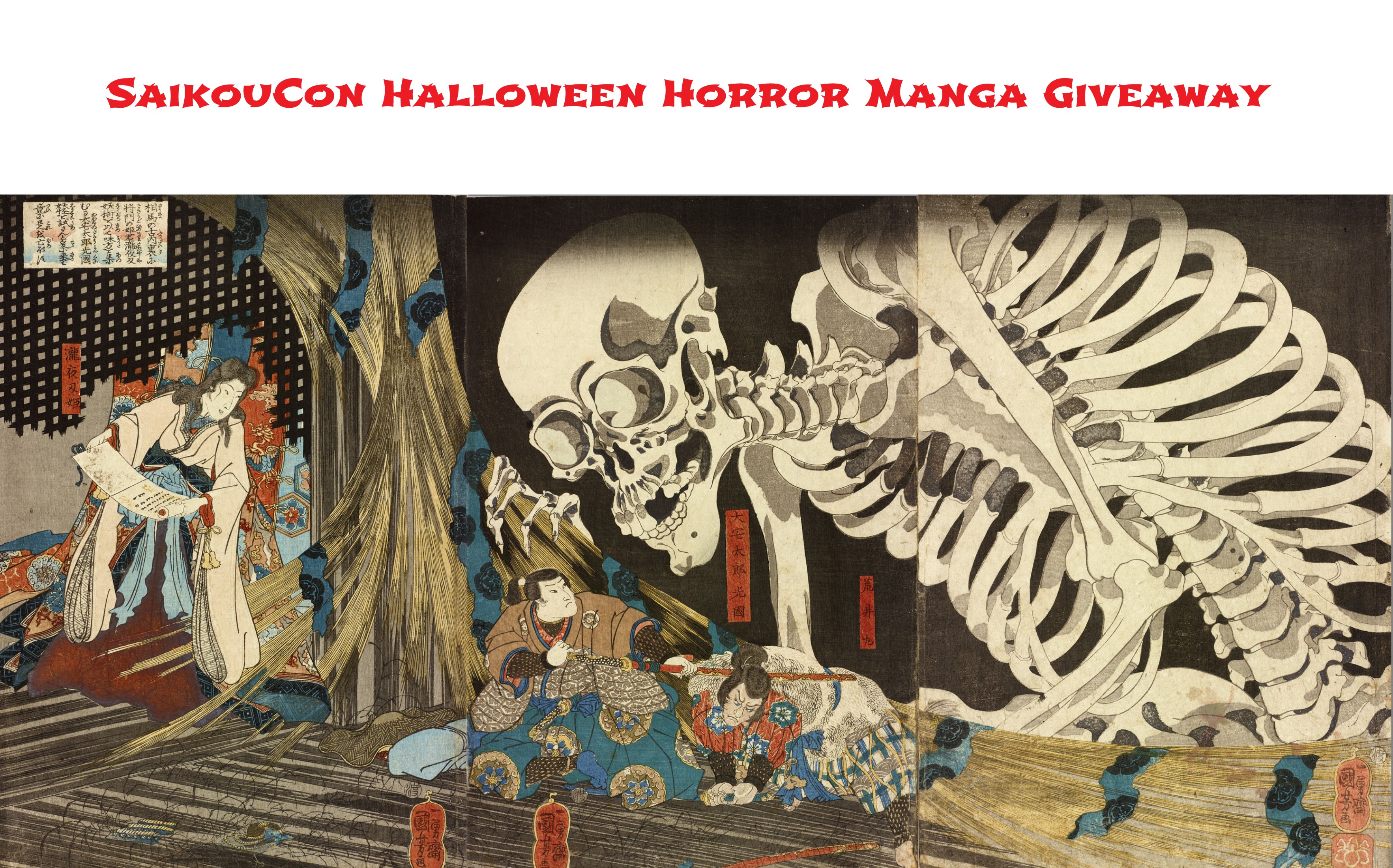 Our October Giveaway is now open! We're giving a randomly selected horror themed manga volume to one lucky winner, selected by blind drawing on October 30, 2017 after the entry period closes at 6 PM ET. Winner will be announced on Halloween! Head to the Events page here on SaikouCon.com for rules and entry form!
Ready for the first Featured Guest announcement for SaikouCon 2018​? Here you go! Returning this year is Koralene Cosplay​! This will be Koralene's fourth time as a guest at SaikouCon, Koralene will once more be part of our Cosplay Contest, possibly some new events within the con that are in the early stages of planning, and maybe lead or co-present a panel (keep an eye out as the year rolls on)... Who is excited to have Koralene back again? Koralene will also have a table this year offering her services as a photographer and photo editor!
I'm so sorry everyone, we have to postpone tonights Anime Night Free Screening: Eden of the East. The AC unit at The Encounter blew out sometime this morning before the shop opened and it is way too hot to hold the screening without it. The gaming area of the shop we hold the screenings in was already 91 degrees when the shop opened for the day, it's also going to be in the 90s outside today. We don't want anyone passing out from the heat, so we're going to move the Eden of the East screening to October 15 at 7 PM, and then we'll have our Halloween Anime Night as normal on the last Sunday of the month (October 29). Thank you all for understanding, hopefully we'll see all of you on October 15! - Mike
Ready for another Guest announcement for SaikouCon 2018? We thought you were. After having such a ball with us at SaikouCon 2017, and that feeling being 1,000,000% mutual, we are happy to welcome back Gigi Edgley as a Guest of Honor at SaikouCon 2018!!! Gigi is best known among genre fans as Chiana on the hit sci-fi Farscape, but has an incredible list of credits far beyond the fan super favorite Chiana. Gigi is also a musician, releasing her first music video for one of her original songs, "Closer" just hours before this announcement! Check it out on Gigi's YouTube channel at https://www.youtube.com/watch?v=OqAi-tLCgH0! For more on Gigi head to the Guests page here on SaikouCon.com.
Our Merchant Application for 2018 is now open! Visit the Merchant page for all the details, please note the refinements to our application and jury process before submitting your application; nothing major, mostly the same as 2017, but now there is a finite time to apply and Merchants will not juryed and accepted, wait listed, or denied until after the application submission period has closed. We understand many interested merchants want to plot their 2018 as soon as possible, but this allows more merchants a fair shot at getting their applications in to us, as well as giving us a solid time frame to go over each application and make the best possible merchant hall for 2018, both for attendees and merchants themselves. We also thank all new merchants for their interest in vending at SaikouCon 2018, and thank you to returning merchants that stuck with us through thick and thin!
Joining SaikouCon for the first time as a Guest of Honor is Christina Kelly! You'll recognize Christina's voice as Mine in Agame Ga Kill, Loki in Is It Wrong to Pick Up Girls In a Dungeon?, Pepperoni in Girls Und Panzer: Der Film, Kisara Tendo in Black Bullet, and Sylphynford Tachibana in Himouto! Umaru-chan among many more. We're happy to welcome Christina to the SaikouCon family, and hope you are too! For more information on Christina and her voice work check out the Guests page!
Pre-registration (advance ticket sales) is now open! Visit the Registration page of this website for all the details to purchase your badges (tickets) to SaikouCon 2018, taking place July 27, 28, and 29 of 2018 at the Holiday Inn Center City Allentown! Pre-registration will close on July 20, 2018 at midnight (the midnight going into July 21), this is our customary closing at seven days before showtime, there are no plans for an extension this year. Adult and Teen Badges will be in place once more this year to do away with the need for parental consent forms, and to make badge checking at age restricted activities and events within SaikouCon 2018 smoother and faster for both attendees and con staff/volunteer staff. Badge (ticket) prices will remain at the same rates they have since 2014 again this year, badges will not be sent out in advance of the convention, our same Will Call style badge claiming on-site will still be in place for 2018, our credit processor, PayPal, only asks for a shipping/billing address to verify card authenticity. This ensures there is no pre-show loss of badges, as well as helping to keep ticketing costs minimal so our badge rates may be maintained. Please review the convention rules and guidelines of conduct found on the Convention Info page of this website before purchasing your badges, if you will be attending the convention in cosplay, please take a moment to review our rules and codes of conduct for cosplaying at SaikouCon as well, these are located in full detail on the Cosplay page of this website.
First, there was a Resurgance, now comes the Evolution. SaikouCon 2018 is coming at you July 27-29, get ready, get hype; it's time to evolve. SaikouCon is returning to the Holiday Inn Center City Allentown in 2018, pre-registration (advance ticket sales) will be opening in 12 hours (12 PM on 9/8/2017), Merchant Applications will be opening later this month, and our room block at the Holiday Inn will be open within the next week if not sooner. Keep your eyes peeled here on SaikouCon.com and across all of our social media profiles for more news as it is available to share!
Apologies I didn't write a closing message earlier, things got so busy prepping for the show this year I didn't even get to finish scheduling posts to give 5-15 minute warnings for all of the panels and screenings at SaikouCon 2017 on our Facebook page. As I say every year, thank you all for being part of SaikouCon, without you, all of you; attendees, merchants, volunteers, staff, guests of honor, featured guests, musical guests, and special guests we wouldn't happen. You truly do make this show as much as we do, and I want to thank each and every one of you for the support over the years. I honestly never thought we would make it to five years with a sixth on the way. It baffles my mind when I think about it, seeing some of you literally grow up before my eyes each year, hearing the stories of how much you all look forward to coming to the show each year that you can make it, seeing you at some of our promo tables at other cons, socializing with some of you over Facebook, Twitter, and Instagram. Thank you all. For those that came for the first time in 2017, thank you, I hope you enjoyed the show and that we will get to see you again in future years!
We are back in the Lehigh Valley from here on, as long as we have a venue that will welcome us, we will be here in the Valley where we belong. And, as long as the Holiday Inn Center City will have us, we will be in the heart of Allentown! Never in previous years have we been quite as warmly welcomed as we have been in Center City, by people, by businesses, everyone had a smile for con staff and for con attendees, thank you Allentown, Pennsylvania, your welcome for SaikouCon will not be forgotten, let's see how high we can build each other up in the coming years! Together we can do amazing things, the last five years of SaikouCon has proven definitively that together, we can do anything!
Dates for SaikouCon 2018 will be announced by the first or second week of September, if not sooner, and pre-registration (advance ticket sales) will open shortly thereafter. Merchant Applications will too, but our application and jurying process needs a little tweaking, so that may open a bit later than attendee pre-reg, but not by much; first week of October at the absolute latest. Panel submissions will tentatively open March 1, 2018 and close June 1, 2018. This may change based on the dates we lock down for the 2018 convention, panelists keep your eyes peeled for firm dates on panel submissions once we have announced when SaikouCon 2018 will take place.
SaikouCon 2017 was almost going to be the final year of the convention, following the difficulties of 2015 and 2016, especially after 2016 I found myself questioning pretty hardcore if I was fit to run this crazy train. Thank you to everyone that supported me, supported the convention, and reassured me that I was doing a good job in spite of 2016's problems. Thank you for coming back this year, you helped me beyond words to relight the fire within myself for this job, for this con life. I'm back and SaikouCon is going to be here for a long time to come; I've already got plans formulating up to SaikouCon 2021, I hope you'll all continue to ride this bit of madness with me and the rest of the SaikouCon staff for years to come. See you next year!!!!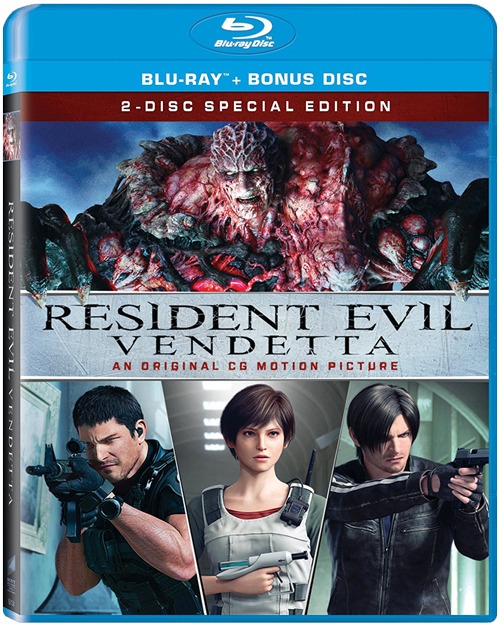 It's here! The sign up for our Resident Evil: Vendetta Trivia Contest, sponsored by Sony Pictures Entertainment! Sign up is limited and in advance of the show only, we can only host 15 contestants to make sure there are enough copies of the RE: Vendetta Blu Ray and RE: Vendetta Poster to go around for our winners! Once we have 15 contestants, the form will be will be closed, good luck! This is an 18+ event, spectators may be all ages, but contestants must be age 18 or older since the movie is rated R for graphic violence, language, and adult situations. Sign up form is located on our Events page, deadline if we don't hit 15 contestants before is 12 PM on August 17, good luck!
Unfortunately DJ Teez will no longer be able to join SaikouCon 2017 as a Musical Guest, due to a last minute scheduling conflict that cannot be compromised. However, filling in for Teez will be DJ OZNO also based in the Lehigh Valley! Please welcome our newest Musical Guest, DJ OZNO!!
The full programming schedule for SaikouCon 2017 is now posted on the Events page here on SaikouCon.com! Facebook Events linked to the panel and event names listed on our Events page will follow over the next few days so you can read the descriptions of each panel and each event to optimize your con plans before showtime is here!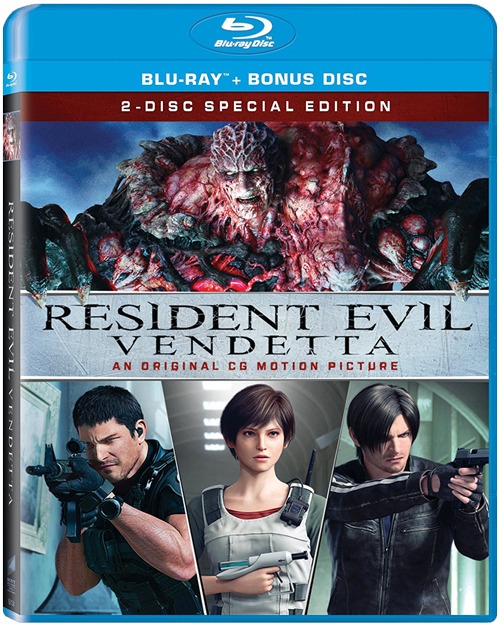 New today on 4K Ultra HD & Blu-ray: Don't miss the all-new original CG motion picture RESIDENT EVIL: VENDETTA, based on the highest grossing video game film franchise of all time. Experience the film critics are calling a "top-notch, jaw-dropping" action film. Get RESIDENT EVIL: VENDETTA now on 4K Ultra HD, Blu-ray & Digital. From Sony Pictures Home Entertainment. Rated R.
Why are we advertising Resident Evil: Vendetta, dropping on Blu Ray today (July 18, 2017), you ask? Because Resident Evil is sponsoring a special event within SaikouCon 2017 that we are stoked to present! We will be holding a special trivia contest event on SaikouCon Saturday, August 19, winners will receive either a Blu Ray of RESIDENT EVIL: VENDETTA or an RE: Vendetta poster provided by the production company behind the movie!!! More details will be revealed when we release the full SaikouCon 2017 programming schedule on August 1. Keep your eyes peeled, Umbrella Corporation is sponsoring SaikouCon this year, be prepared. Visit http://www.residentevilvendetta.com for more information on Resident Evil: Vendetta and retailers where you can purchase the Special Edition BD set.
Panel submission for SaikouCon 2017 is now closed. Those that have submitted panels, you will begin receiving acceptance and denial emails on Monday, July 17, all accepted and denied panelists for this year will be notified between July 17 and July 21. Those that are not accepted this year, please, do not hesitate to submit again in the future; in all likelihood it is only a matter of not having time in the schedule this year to fit you in. Those accepted, you will receive your time slot for your panel/activity as soon as possible between July 23 and July 31; full programming schedule will be released to the general public no later than August 1, 2017 by 6 PM ET. Thank you all for your patience as we build this year's programming schedule, as always we strive to build as unique and entertaining a block of programming as possible between attendee presented panels, Guest Star panels, anime and other screenings, concerts and musical performances, fun activities, and more. Stay tuned, we will have some special announcements this week ahead of the programming schedule, first one coming at you on July 18!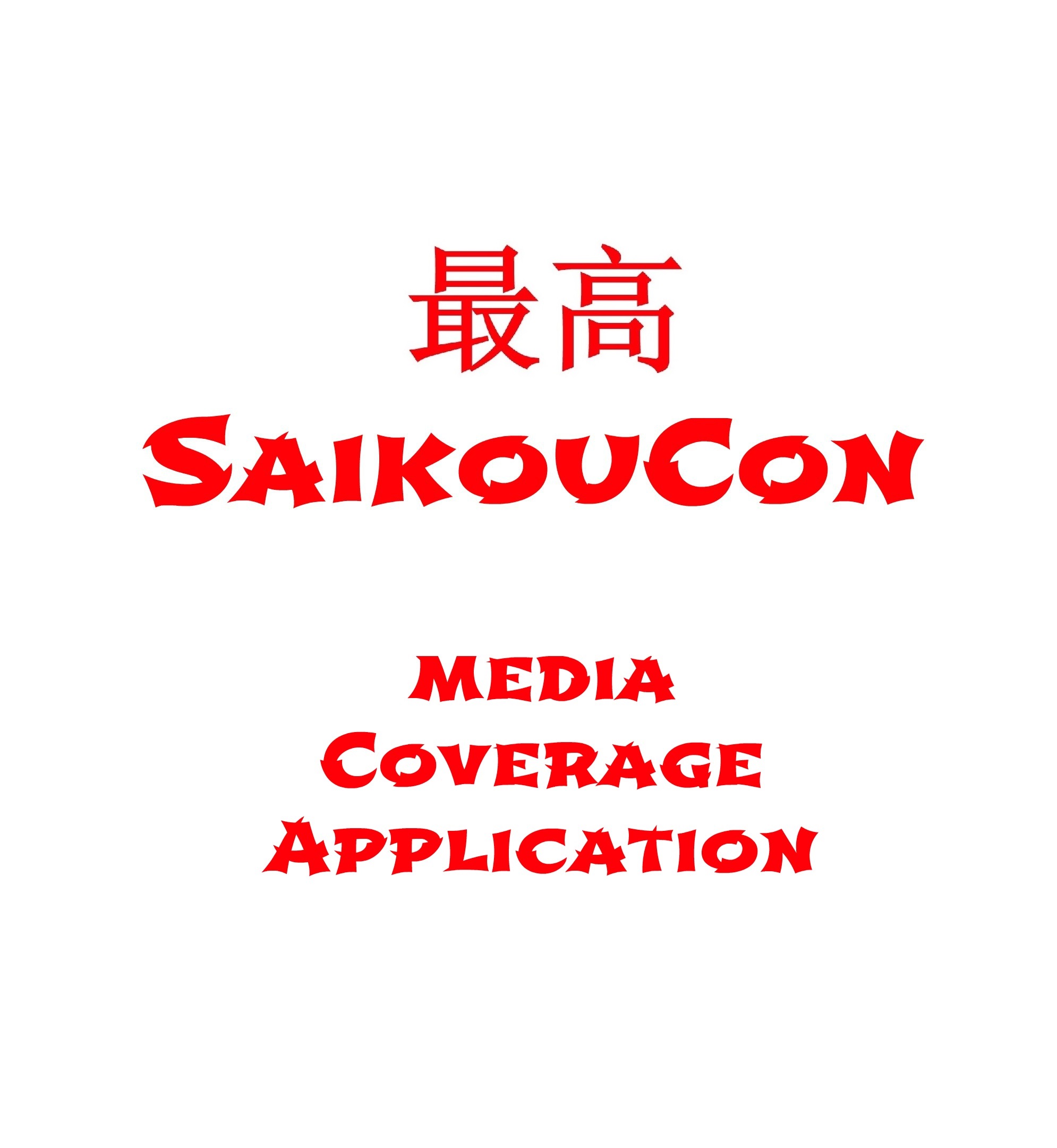 Media applications for SaikouCon 2017 are now closed. Accepted and denied media outlets will be notified in the next 24-72 hours of their status as press.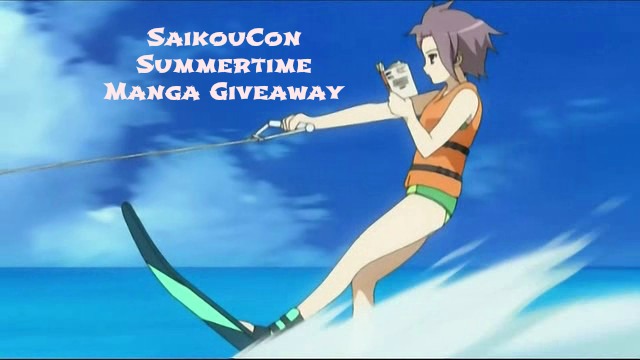 The Summertime Manga Giveaway is now open! Head to the Events page and scroll down to the entry form. Entry period ends on July 31 at 6 PM ET; good luck to everyone that enters! One entry per person, multiple entries from the household are okay, but only one per name will be entered into the drawing to give every person equal odds at winning. Winner will be selected by blind drawing shortly after the close of the entry form, winner will be announced here and across SaikouCon social media, as well as notified by email.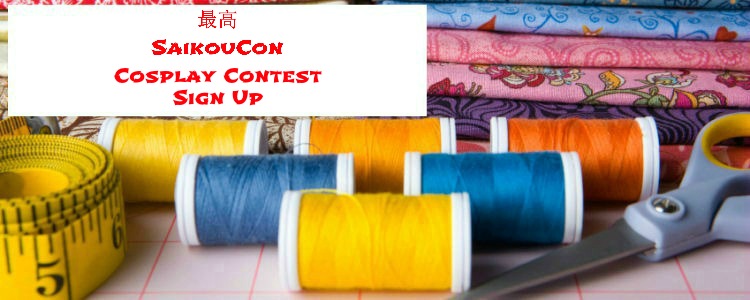 The sign up form for the SaikouCon 2017 Cosplay Contest is now open! It can be found on both the Cosplay page and Events page, please review the rules of the contest this year located above the sign up form on both pages. General rules and guidelines for cosplaying at SaikouCon may be, and are strongly encouraged to be, reviewed on the Convention Info page and Cosplay page. Sign up form will be open from today, July 1, at 12 PM until August 11, 2017 at 6 PM ET. As stated in the rules on the Cosplay and Events pages, there is no additional fee to compete, but all competitors must purchase attendance badges to SaikouCon 2017 to compete.
The winner of our Summertime Anime Anime Giveaway is Kerry M. from Allentown, PA! Congratulations Kerry! Don't forget, our Summertime Manga Giveaway opens July 5 at noon!
Joining SaikouCon 2017 as our last Guest of Honor for the year is Voice Actor Greg Houser! Greg has been with us in the past as one of the Guests of Honor at both SaikouCon 2013 and 2014, has staffed for us and hosted a panel at SaikouCon 2016, and now returns for 2017 as a Guest of Honor once more! However, Greg will only be with us for SaikouCon Saturday, over the course of the day he will be hosting one, possibly two, panels and taking part in the VIP Meet and Greet with our other Guests of Honor, maybe a general autograph session for all SaikouCon attendees. And some other shenanigans if Greg and the con chair join forces at this year's show... as Greg's lovely wife once said, they need to be supervised when they're together...
Check out the Convention Info page for the list of restaurants in and around our 2017 venue, the Holiday Inn Center City Allentown, that are happy to welcome SaikouCon 2017 attendees and are looking forward to having SaikouCon as part of the neighborhood! List will be further updated next week.
The various forms active now (panel submission, media application, volunteer application, Summertime Anime Giveaway) are working, but they are running slow once you hit the Submit button. They are not always saying giving the "Information Submitted" message either once you have hit the button. However, we are receiving the information shortly after it is submitted, we are not sure why this glitch is happening in the forms, they are part of our web host's software, we have reported the glitch to them and have been told they are undergoing repairs for this issue. Please keep submitting your applications, panel submissions, and contest entries; we are receiving them!
Joining SaikouCon 2017 as a Special Guest is Philadelphia based cosplayer WildSpice! WildSpice Cosplay has been part of the convention scene since the late 90's and has just returned to cosplaying after a brief hiatus, we are happy to welcome her to our guest roster! WildSpice is also a photographer that specializes in cosplay photography, WildSpice is excited to present a few panels on cosplay and cosplay photography!
Joining SaikouCon 2017 as a surprise Guest of Honor is Gigi Edgley! Gigi is best known in the US as Chiana on Farscape and it's sequel films Farscape: Peacekeeper Wars Parts 1 & 2. Gigi was also a host on the Syfy Channel's Jim Henson's Creature Shop Challenge among many more, including her original science fiction feature short film, Hashtag. A true Renaissance Woman, Gigi also has several theatre credits, is a recording artist, and creates original comic books and graphic novels, as well as a film director and producer. We are happy to welcome our first non-anime related film and television actor to the convention, don't be worried though, SaikouCon is not going general fandom, we will still remain focused on anime, Japanese Pop Culture, Classical Japanese Culture, history, and mythology; and of course COSPLAY! Ms. Edgley wanted to hang out with us at SaikouCon 2017 and there was no way we could say no! We hope you're as excited as we are to have Gigi join the SaikouCon family this year! Gigi can currently be seen on television as a cast member of FX's Feud: Bette and Joan.
Media applications for press outlets that wish to cover SaikouCon 2017 are now open! Visit the Press page here on SaikouCon.com to review press guidelines, rules, and expected conduct before filling out the application form below the above listed details.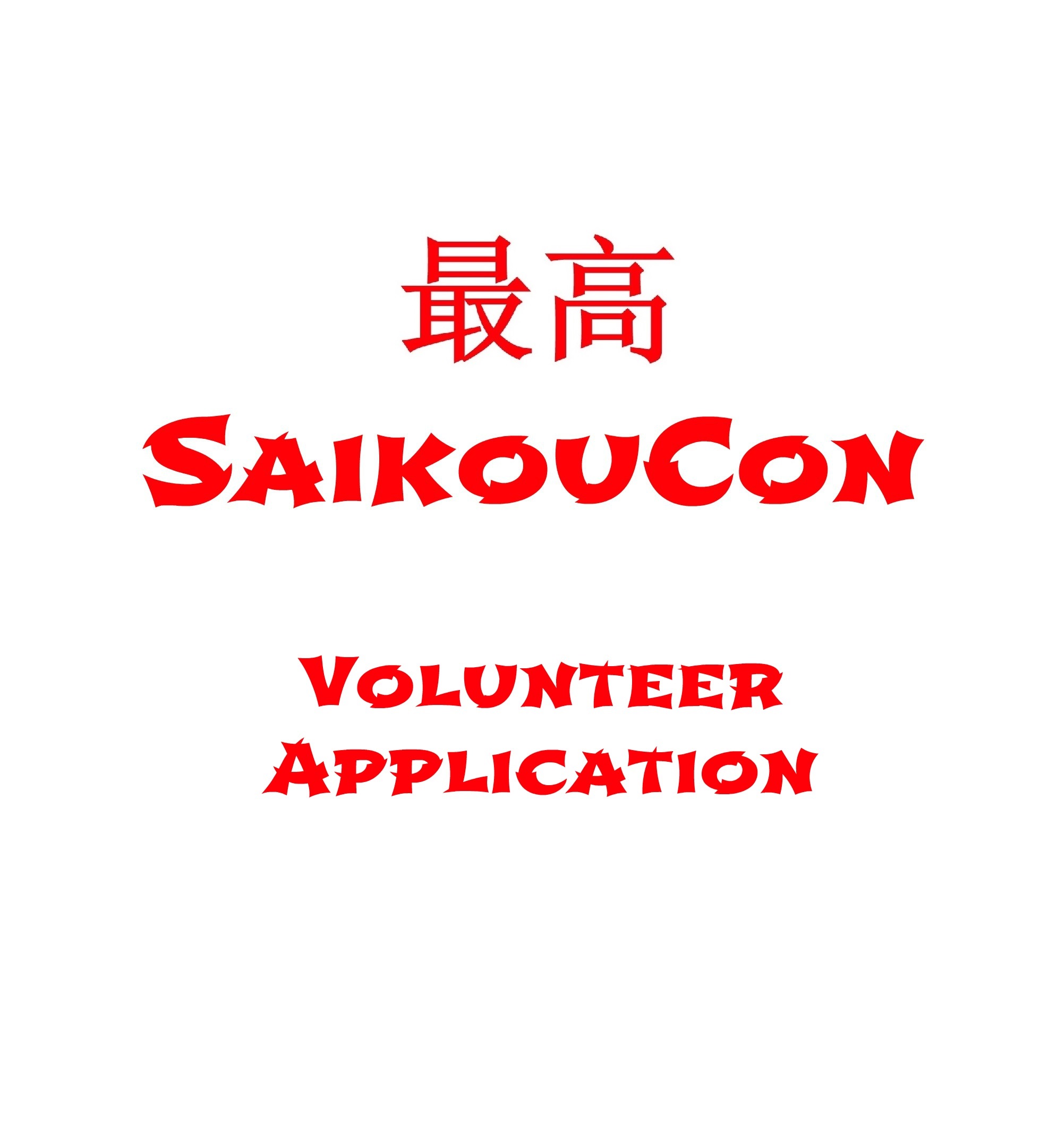 Volunteer Applications for SaikouCon 2017 are now open! Head to the Volunteers page, review the details of volunteering at SaikouCon (age restriction, expected conduct, responsibilities etc.), and then fill out the application. All applicants will be notified of their acceptance or denial of volunteer status along with their schedule after the application closes on August 4, 2017. Notice and schedule will be received between August 5 and 7. Thank you in advance to everyone that applies! And remember, if you're not accepted as a volunteer this year, don't let that stop you from applying again in the future! Most of the time, denial of volunteer status is only due to high volume of applicants and/or all needed positions being filled.