We are still working on booking a new venue for SaikouCon in 2016, information will be announced as soon as we have some to share; those of you following our social media profiles, Facebook and Twitter in particular, know what we've been going through from our posts there. Negotiations have slowed to almost non-existent with the Sands Casino Bethlehem, we are still hopeful but have been looking elsewhere in the Lehigh Valley as well, but there is a Sands that is incredibly interested in us for 2017; however that is an announcement for another day...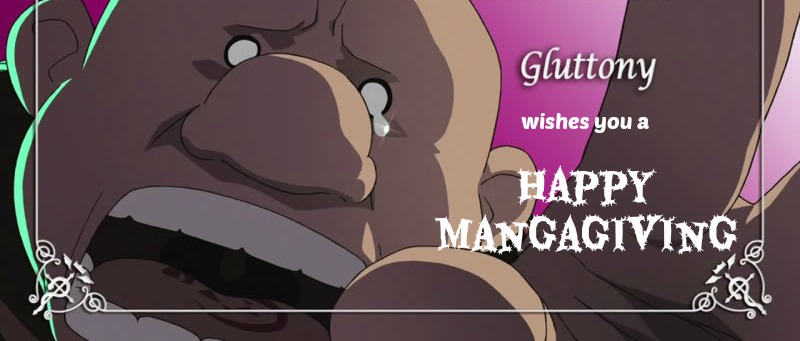 In the meantime, go and check out the details on our annual Mangagiving! This year we're giving away a manga volume and a SaikouCon 2015 t-shirt designed by Delaware Branding Company (also available for purchase, with free shipping, on our Merch page!). We apologize for getting the entry up so late in the month, to make up for that the entry form will be open on our Events page until December 4, 2015 at 6 PM ET instead of the day after Thanksgiving as usual. Winner will be picked from a blind drawing and announced on December 5.
The most up to date schedule is available on our Events page, there have been many rumors floating through the halls that several things are cancelled and that is not true, the only cancellations were the Opening Ceremonies due to space constraints yesterday (Friday) and later today the 2015 Charity Auction has been cancelled due to several donors not being able to make the shipping deadline for auction pieces.
Apologies for the last minute announcement, but it has been decided that with all the problems with the guidebook in the past, life/the universe/everything (points if you get the reference) is telling us to go digital and cut back on paper usage. So, we're saving trees and going digital, here is our first guidebook as a PDF download: https://www.dropbox.com/sh/7sj2rz558bf2fef/AADq-DNJ-7PKPmuDbgwGKGlEa?dl=0
Please download the SaikouCon 2015 Guidebook at the above link and for up to the minute announcements of panel, screening, events beginnings, changes, cancellations if there are any, consult our Facebook page through SaikouCon 2015. In 2016 we will have a full service app for acting as a livestreaming guidebook, but for now please enjoy our 2015 Guidebook featuring artwork by Amber Davis of Amber Davis Art, who will have a table in SaikouCon 2015's Artist Alley.
For the time being, due to a technical issue our webhost is working on, we can no longer display mass amounts of text here on the Homepage of SaikouCon.com, it seems this is what caused the crash of this page and the loss of previous updates so please consult either www.facebook.com/SaikouCon and www.twitter.com/SaikouCon for all the latest news news updates concerning SaikouCon 2015, we apologize for the inconvenience, we will be attempting to still update here but for up to the second news and updates stick with our social media profiles. All other pages here on SaikouCon.com are up to date and feature the correct information and can still be updated as needed, the problem lies in a coding error for this homepage alone. Following SaikouCon 2015 we will be building a completely new SaikouCon.com before guest pre-registration and merchant registration for SaikouCon 2016 open in late September/early October of this year.
Pre-reg is now closed, the issue with the webhost seems to be fixed now, our homepage is now blank though, do not panic, all is well but all the news updates on the homepage were lost, so please consult our Facebook wall for all previous news updates. We are totally finding a new webhost after this year concludes.
Also, we are sad to announce that Derrick Fish will no longer be able to join us as a Special Guest for SaikouCon 2015, he sends his apologies. Derrick hopes to appear at SaikouCon 2016 as a Special Guest, this will be sorted once we have solid dates for next year, to make sure there is no schedule conflict.