Good news! The Asterplace will still be performing at SaikouCon 2014's Cosplay Concert! Their management and and SaikouCon's executive coordinator had a misunderstanding through miscommunication and they were able to square it all up. The Asterplace is excited to perform at SaikouCon 2014 and we're excited they're coming too!
Some bad news to announce tonight, The Asterplace will no longer be performing at SaikouCon 2014. We are sorry to share this news.
Pre-show sign up for the SaikouCon 2014 Cosplay Contest is now closed. For everyone that didn't make it and missed our last post, don't worry, there will be limited sign up on site during SaikouCon 2014!
Cosplay Contest Sign Up extended 6 hours until 12 am, July 19! Check it out on the Cosplay page!
Two days left to sign up for the Cosplay Contest! Again, there will be a limited on site sign up during the convention itself, stress on "limited"; check out the details on our Cosplay page. Also, there's less than a month left to pre-register! www.saikoucon.com/guest-registration.html. Also, full schedule overview for SaikouCon 2014 is now posted on our Events page! Individual Panels with full panel info will be posted soon!
Ready for the reveal of the secret 21+ collaboration with the Holiday Inn Conference Center Lehigh Valley? Here it is! Starting September 26 at 9 pm in the Sam Adams Brew Pub within the Holiday Inn! If enough people come out for this first one, the Holiday Inn and Sam Adams Pub will let us do another one on Halloween night. For now we're playing November and December by ear to how the first one, and hopefully second, go as well as the holidays. Who else is excited? If the 21+ Saikou Cosplay Nights get popular enough we may set up an all ager Cosplay event in the same vein in Stroudsburg, PA with SaikouCon 2014 Featured Guests The Gamers Edge Comics and Games.
Sign Up for SaikouCon 2014's Cosplay Contest is now open! Sign up form is on our Cosplay page!
Deluxe, VIP, and All Access VIP Attendance Packages for SaikouCon 2014 are no longer available during the 2014 Pre-Registration period and will not be available for at door registrants. Basic Attendance Packages, both 3 Day and 1 Day options, will be available until August 11, 2014. All at door registrants will receive Basic badges, SaikouCon recommends that perspective guests of SaikouCon 2014 Pre-Register for the convention, not only does ensure you receive lower registration costs but also ensures that you receive a souvenir Guidebook for SaikouCon 2014, pre-reg guests have first claim on the guidebooks and once they're gone, they're gone. For more details visit our Guest Registration page.
Okay, so, midnight has come and gone... due to many private messages and e-mails asking us to keep the Deluxe, VIP, and All Access VIP pre-reg open a bit longer again this year, we're going to do it. BUT only through Independence Day weekend, once Monday July 7 gets here we have to shut them down for this year to ensure the posters get here in time for SaikouCon 2014. Get the higher level badge packages while you can, Monday they're gone and all that's left are the Basic badges for 2014. Head to our Guest Registration page at www.saikoucon.com/guest-registration.html to pre-register for all levels of Attendance Package while they're available! Deluxe, VIP, and All Access VIP packages (3 Day and 1 Day) will available until midnight July 7, 2014 and Basic packages (3 Day and 1 Day) will available for pre-reg until August 11, 2014 at midnight.

Announcement time! Well, this announcement is on our current flyer, but this is the official announcement: SaikouCon is happy to announce that The Gamers Edge Comics and Games is joining us as one of our Featured Guests and will be running our CCG/Tabletop Gaming Room for SaikouCon 2014! That's right, we're going to have CCG and Tabletop Gaming this year! We're going to have a video game room too (more details on that soon).
Want to be part of the fun? Pre-Registration is open and waiting for you on our Guest Registration page. Remember, Deluxe, VIP, All Access VIP, and Group Rate discounts for the above Attendance Packages end July 1 at midnight. Basic Pre-Registration Attendance Packages and Group Rate discounts for Basic badges end August 11 at midnight. At The Door Registrations will be Basic badges only, Group Rates will not be offered at the door. One day badges at the door will be $30 for Friday and $30 for Saturday, Sunday will be $20; and available on Friday August 22 at the door registration only a weekend pass will be $70. Take advantage of the lower prices of Pre-Registration, as well as the different options in badge level, while you can!
Accepted panelists have all been e-mailed and notified of their acceptance. If you did not receive a message confirming your acceptance into SaikouCon 2014's programming, please do not hesitate to resubmit for SaikouCon 2015. On that note, panel submissions are open once more from today June 10, 2014 until Monday June 16. We received far too many in character Q&As and dating games, that were almost identical, to accept them all. When submitting panels during this mini-extension, please refrain from submitting in character panels of all types, we have accepted all that will be accepted this year. Panel submission is located on the Events page.
The lucky winner of our 3 Day VIP Giveaway is... Dayna D.!
Also, our next giveaway for June is now open! Check out the Events page to fill out the entry form for a chance to win a free manga volume from your friends at SaikouCon!
One month exactly left until Deluxe, VIP, and All Access VIP Attendance Packages (Badges/Tickets) for SaikouCon 2014 will no longer be available. Due to time needed to order, receive, and assemble buttons, mini-posters, and posters that go along with the respective packages there will be no extension to pre-reg for these levels. After July 1, only Basic badges will be available for the remainder of the pre- reg period through August 11, pre-register while you can on our Guest Registration page
Ready for that next hint at what we're teaming with the Holiday Inn Conference Center Lehigh Valley, PA on after SaikouCon 2014? Here it is:
it's geared toward a specific and wildly popular area of fan culture that is very important to us at SaikouCon.
Anyone care to start hazarding guesses at what we're doing? We'll have either another hint or possibly full reveal sometime around this Thursday.
Since there were so many Likes on our last post on Facebook about a hint at what we're working on in collaboration with the Holiday Inn Conference Center, we're going to share the first hint:
As far as we know, there aren't any other cons, at least in the Northeast, doing this.
Vague, but we'll share another hint this weekend.
Does everyone want a hint at what we're partnering with the Holiday Inn for after SaikouCon 2014?
And the winner of our May Anime DVD Giveaway is... David B. from Berwick, PA! David, your DVD prize will be in the mail this coming Tuesday, May 27.
Press registration for SaikouCon 2014 is now open! Media outlets interested in covering SaikouCon 2014 please see our Press page and read over the guidelines and rules for press and then fill out the registration form. Press registration ends June 27, 2014, accepted press will be notified no later than July 7, 2014.
Volunteer Applications for SaikouCon 2014 are now closed. Chosen applicants will be receiving e-mails over the course of the next week letting you know the details of arrival times for volunteers as well as training for your posts during your selected service hours over the course of SaikouCon 2014.
The winner of our SaikouCon 3 Day VIP Pass Giveaway at Zenkaikon is Sianna E.! Sianna will be notified by e-mail as well that she has won a 3 Day VIP Attendance Package to attend SaikouCon 2014!
The Asterplace will be joining SaikouCon 2014's musical acts! They will be opening for The Adarna at our Cosplay Concert capping off our Saturday entertainment on August 23! The Asterplace is a Tokyo Melodic Core / Japanese Anime Rock Band from Japan, based in New York City. Performing worldwide Rock festivals and Anime or Comic conventions. Their band name "The Asterplace" means creating beautiful music as like flower blossoming every year and the origin of the name came directly from their beautiful melody of music. As the sun shines in the world, as the moonlight at the sky, The Asterplace plays music toward the world.
Panel submissions have been extended to June 2, 2014 due to a lucky change in the deadline our printer gave us for publishing the 2014 guidebook! Full details on our Events page.
Vendor registration is now closed. All Vendor and all Artist Alley spots are taken! We have a full merchant roster for SaikouCon 2014, as soon as all merchants have returned their registration forms we will post a list of all merchants selling at SaikouCon 2014. To those that wished to vend at SaikouCon 2014, keep an eye out for when SaikouCon 2015 opens after this year's show concludes.
Pre-registration prices on 3 Day and 1 Day Basic and Deluxe Attendance Packages have officially had their first and only price jump for 2014. Check out the Guest Registration page for more info and to register as an attendee for SaikouCon 2014. Also, don't forget, we do offer group rates for groups of ten or more that pre-register, info on group rates is also on the Guest Registration page.
Panels Submission has been extended to June 2, 2014. It was originally thought we would need to have all panels decided upon and finalized from your submissions by May 2 to make the deadline for our guidebook to be printed on time. Luckily, this has changed and submissions can remain open until June 2.
Featured Guest Announcement: SaikouCon welcomes Cosplay Burlesque to perform at SaikouCon 2014! Cosplay Burlesque will be performing on Friday, August 22 at 11 pm, right after The Adarna's solo concert following our Opening Day Ceremonies!
Cosplay Burlesque is a performing arts group of burlesque performers and cosplayers dedicated to combining the two for your entertainment. Their mission is to take the characters fans already enjoy and make them naughty through a humorous and provocative stage show. There is no fandom that they leave untouched in their quest for great source material. They are fan fiction come to life!
Volunteer Gofer registration is now open! Please check out the Volunteer page for full details. Panel submissions are also open, submission form is on our Events page.
Merchant Update: as of this post, there are 9 vendor spaces left in our merchant area.
Attendee Registration Reminder: Remember, Attendance Package prices will be undergoing their first and only price jump for 2014 on April 1 at noon Eastern so register for the lowest rates of the year while you can!
Artist Alley registration for SaikouCon 2014 is now CLOSED! All 25 available Artist Alley spaces have been filled!!! Artists that didn't make it this year, keep an eye out for SaikouCon 2015!
Also, as of this update, we have 11 vendor spaces left and they're moving almost as fast the Artist Alley spots did so if you wish to vend at SaikouCon 2014, register while you can!
SaikouCon is proud to announce that the staff will be taking part in Earth Hour 2014, we encourage you all to participate and start your own Earth conscious projects and show that even at the so-called "11th Hour" each person can make a positive difference.
Please visit www.earthhour.org to see how you too can be a part of Earth Hour 2014 and be a superhero for Planet Earth. Earth Hour will commence on March 29, 2014 at 8:30 pm - 9:30 pm in your local time zone.
Celebrate Valentine's Day by giving the gift of SaikouCon 2014 passes! For 12 hours only, 12 pm Feb. 14 - 12 am Feb. 15 Deluxe and VIP Attendance Packages (both 3 Day and 1 Day packages) are buy one get one free!
Visit the Guest Registration page and register for either our Deluxe or VIP Attendance Packages and automatically get a second free with no extra steps!
Announcement time! We are happy to announce that joining the ranks of the SaikouCon 2014 Guests of Honor is Voice Actor Sonny Strait! Sonny is best known for his voice work as Krillin in Dragonball Z, Usopp in FUNimation's dub of One Piece, and Lupin in Lupin III!
Our second announcement is that we're bringing back the Valentine's Day Two for One sale on Deluxe and VIP Attendance Packages this Friday, Valentine's Day, February 14 starting at 12 pm and ending at 12 am February 15, full details soon...
Artist Amber Davis has designed an exclusive graphic for SaikouCon 2014 which is now available on limited edition, made to order, collector's T-shirt! Check out the Merch page for details on the shirts available until showtime this August. We will be offering a very limited run of the shirt at SaikouCon 2014 itself, but once they are gone, they're gone forever. Also check out www.amberdavisart.com for more on Amber and her artwork!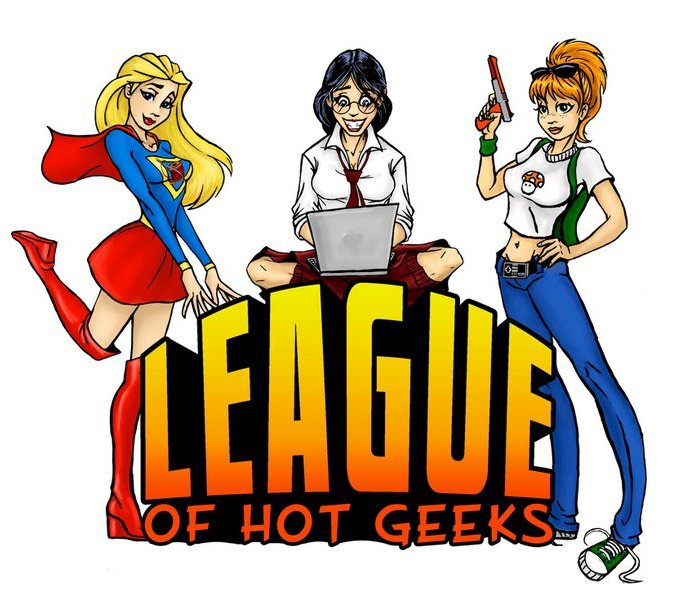 SaikouCon is happy to announce that the League of Hot Geeks will be returning to SaikouCon 2014! This year however, the League will be with us for the whole weekend!

New Years Announcement: We're going to have a table at Kotoricon 2014 (Gloucester County Anime Con) January 11! If any of our friends and fans are attending find our table and hang out for a bit!