Some big news is coming this week! Probably Tuesday morning, keep your eyes peeled to our social media profiles or here on SaikouCon.com for the news once we can break it! Hint courtesy of Motley Crue: "we're on our way home, sweet home..."
Happy New Year! Here's to 2017! May it be a better year for us all, in all ways! Many blessings, much prosperity, continued good health, healing where needed, happiness, joy, and tons of anime and manga for all!!
A quick note in the wake of yesterday's news about Split Rock, don't worry, we may be down a venue but we're far from out. We already have a large list of possible venues (all of your suggestions included), and on Tuesday we're going to start hitting them up; most sales managers and liaisons should be back in their offices by then and we'll be seated before January is out. SaikouCon 2017 will happen, and we've got some very cool plans in the works for our fifth anniversary; one very big thing if we get the weekend we want too...
Some bad news before the New Year, Split Rock Resort in Lake Harmony, PA is unable to have SaikouCon back in 2017. They have been overbooked for August 2017 for months, it turns out, and July as well. Starting Tuesday, January 3, 2017 we will be back on the hunt for a venue for 2017. We are resuming our hunt in the Lehigh Valley, though the area has seemingly become a dead zone in terms of size venue we need; we will also be hunting among the larger resorts in the Pocono Mountains. News will be posted as we have it to share.
Happy Holidays! Blessed Solstice! Happy Tennō tanjōbi! Merry Christmas! Happy Hanukkah! Happy Milad un Nabi! Joyous Kwanzaa! Happy Krampusnacht! Sheng Dan Kuai Le! and joyous wishes for all of the holidays, both religious and secular, that fall in December around the world!!!!!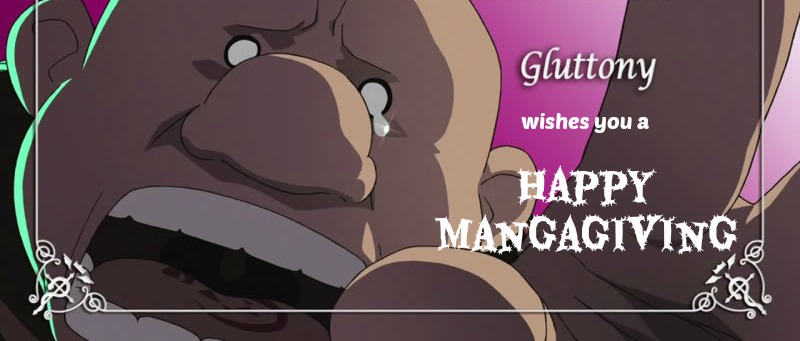 After much delay thanks to having to rebuild the website completely following a massive upgrade to our webhost's servers, our annual Mangagiving Giveaway is open! The entry form is located on the Events page of SaikouCon.com, since Thinksgiving is in a few days and we were delayed the whole month, the entry period will now be November 22 - December 6 with the winner's prizes of two SaikouCon 2016 T-Shirts and a randomly selected manga volume, sent out the following day. As always, winner will be selected by blind drawing, one entry per person; duplicates will not be counted to give every entrant an equal shot at the prize. Stay tuned in the following weeks for the announcement of our 2017 dates and venue location! We'll be announcing everything in December and getting attendee pre-reg and merchant application open immediately following the announcement.
There will be firm dates and a location announced for the next show before the end of 2016. Now for some of the changes coming to the next SaikouCon:
Pre-reg badge prices will no longer have a 20% increase four months out from the show. 3 Day badges will be $30 from the opening of pre-reg until it closes, 1 Day badges will also be $15 from the beginning of pre-reg until it closes. VIP badges will remain the same static rates for 3 Day and 1 Day badges they have had since year two. We will also be keeping the Adult and Teen badge designations for easier badge checking for con staff and volunteers as well as greater protection of young ones seeing panel and screening presentations that they should not.

We will have an outside security team from now on, no more cross-over between con security and con staff, please welcome to the SaikouCon family Mithril Risks Managements!

Venues will of course still have their own security in the future that they wish to have on site to look after the venue's own interests This is completely understandable and acceptable as long as the venue security learn about what SaikouCon is and how to handle an event like ours.

The Vendor/Dealer Room/Hall and Artist Alley will be combined once again into a single area, from here on out both will fall under the title of Merchant at SaikouCon, no more Vendors and Artists, just Merchants. I, Mike Meade the con chair, would like to apologize if this reignites the anger from SaikouCon 2016 vendors and artists that do or do not wish to give us another chance. It is not meant to, but there needs to be equalization between the two types of merchants; at SaikouCon at least. The feedback and flame wars about SaikouCon 2016 on our social media has shown that there needs to stop being an imagined rank of superiority between dealers and artists. You're all trying to make a living doing what you love and we're trying to aid in that.

Merchant registration will remain the static $95 it has always been since the beginning of SaikouCon.

Merchants will be accepted only after passing an application and jury process from here on out, no exceptions, no matter what.

General safety rules will continue to be enforced but will have stricter consequences from here on out if violated. There were far too many attendees in 2016 attempting to break our simple rules of no roller skates/blades indoors and attempts at bringing in cosplay props with live steel. Mithril Risks Managements will exclusively be handling prop and weapons check upon entry into SaikouCon henceforth.